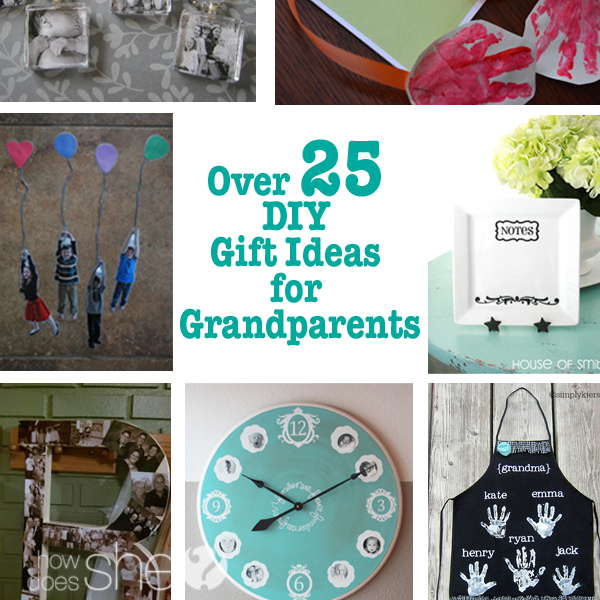 If your family is anything like mine, gift ideas for grandparents can be tricky. It's hard sometimes to find just the right thing. I'm thinking these DIY gifts might just be the way to go. The time and effort put into one of these gifts will be a lasting memory for kids and grandparents both. Check these out to see if they can't help the grandparent gift dilemma!
Gift Ideas for Grandparents
1. Grandkids Picture Sign is such a fun way to show off all the grandkids!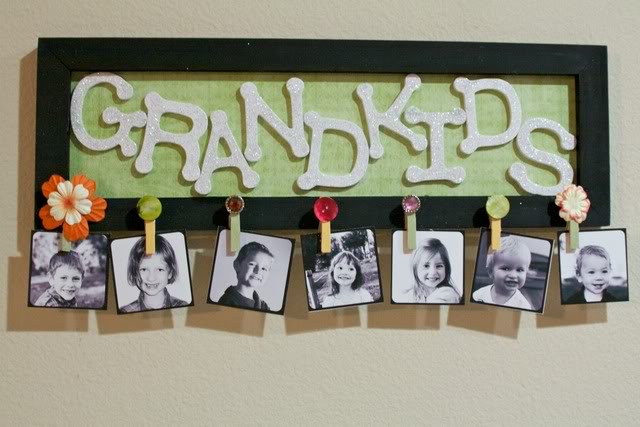 2 – 7. DIY Handprint and Thumbprint Ornaments. 6 great ideas for Grandparents to treasure!
8. These Personalized Photo Pendants are super easy to make and are a great one of a kind gift! Great tutorial here too!
9. You Are My Sunshine footprint art will be sure to put a smile on any grandparent's face! I think I even want one of these for me!

10. Here's a Monogram Picture Album. Cover it with pictures of Christmases gone by and it will be a treasured keepsake!
11. These Hang On Book Marks are the perfect for the grandparent who loves to read! Adorable!

12. Maybe homemade dish towels are more your style? Useful and fun – let your kids stamp their feet and hands on these!
13. If you won't be seeing the grandparents anytime soon, you can always Mail A Hug to them!
14. Loving this Notebook for Grandma! Fill it with questions and she returns it with answers! Great idea!
15. Make them a Family Clock – with pictures. Love this one. Need this too!

16. These DIY Photo Coasters are a great frugal gift without sacrificing the cuteness factor!
17. Surprise grandma with these Grandma Blocks! Easy to make and adorable!
18. Capture their handprints and make grandma a Handprint Apron. Fun for the kids too!
19. Maybe the grandparents could use a heating pad for their achy muscles? Try these No-Sew Microwavable Heating Pads!
20. These Decorative Clothes Pins and a little ribbon are the perfect way to display fun pictures of the grandkids!
21. If you're handy with wood and a saw, we've got a ton of great gift ideas for grandparents that any grandparent would be happy to get!
Check out 10 Fun Things to do with a Block.
22. Here's a gift they can use all year long – a Plate for Notes, super classy and handy too!
23. Make some Homemade Bath Bombs and give your grandma a good excuse to relax in the tub!
24. This Framed Map would be great for grandparents who have lots of family members spread out across the country or the world. Great tutorial too!
25. Loving this birthday board! The perfect solution for busy grandparents who have a lot of birthdays to remember!
DIY Gift Ideas for Grandparents
Time to get your crafting on and make those memorable gifts for the grandparents!