Wait before you read this post …if you hop over to Vitacost they are giving a free $10 in credit for new signups.  You can get your popcorn kernels for free!  Like 2 bags for free.  Cool.  Head over there for additional info.
Confession:  I was not a fan of Kettle Popcorn.  My tastebuds were sent into a whirl wind of salt vs sweet and it overwhelmed them…way too much.  I know that is the reason of the corny obsession that my husband and kids love.  They love the wild ride!  Me…not so much.
UNTIL…my hubby made this Kettle popcorn in the comfort of our own home.
This picture makes me want to eat this for breakfast.  We did have it last night, the night before and 3 other times last week.
So start out with the 4 ingredients:
Pour 7 tablespoons of  sugar into a bowl.  Ya need to be quick when the heat is ready.
Get your popcorn ready too.  2/3 cup.  In a separate bowl.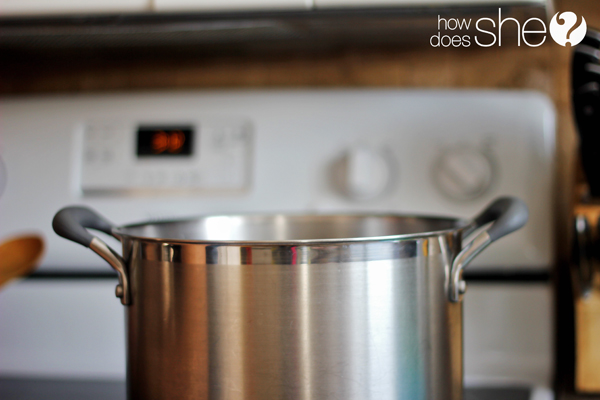 Put your stove to Med-High.  Add the 5 tablespoons of oil.  Okay, so here is the quick acting part…You will see a puff of smoke come off the pot.  Don't miss it.   It should happen pretty quickly.    (In the picture above…the smoke was coming off, but my camera kept focusing on the pot.  Let's just pretend it's visual here).
Or put a couple kernels in with the oil, when they pop, your oil is hot enough to move to the next step.
Once you see that first puff of smoke hurry and sprinkle your sugar in evenly and let it dissolve a bit.  Just a little bit.
Add the 2/3 cup popcorn and stir until it's coated.  This should only take 10 seconds tops.  Hurry!!  Turn down heat to medium-low.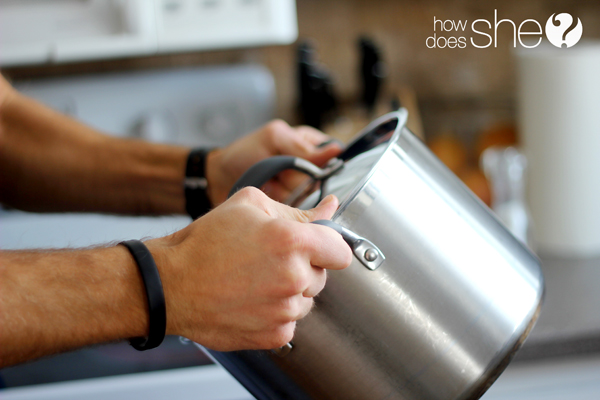 Add your lid and Shake Shake Shake…Shake Shake Shake Shake…Shake that pot.  Shake that pot…
Back to the burner.
Shake the pot every 20 seconds to stir and prevent burned pop corn.
Note:  Those hands and arms are my hubbies.  Mine are not that hairy or manly strong.  He was a shakin' while I was a takin'…pictures for this post.
When the popin' stops or slows down take off the heat.  Open slowly for any last exploding kernels.
Now, here is the best part.  I get to pull my  sweet popcorn out before the salt goes in.  Happy Taste Buds for me!!!
For the others who are super adventurous and enjoy the full kettle corn taste…add your salt here.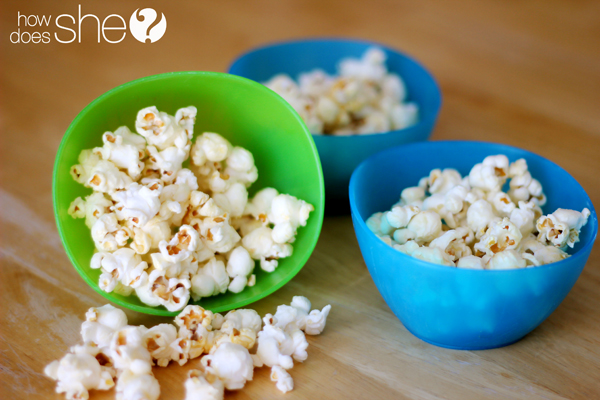 Serve and enjoy.  Sweet for some and sweet and salty for others.  
Note:  this is hot coming out of the pot.  Make sure it cools.  
Enjoy.
BEST Kettle Pop Corn EVER!
Ingredients
5 Tablespoons of Canola Oil
7 Tablespoons of Sugar
2/3 cup of popcorn kernels
Dashes of salt
(Optional: 5 tablespoons of oil works well too.)
Instructions
Get a big pot with a lid. Put the oil into the pot. Heat it on Medium-High until you see a faint puff of smoke. It's faint, so watch for it.
Sprinkle the sugar into the bottom of the pot. Let it dissolve a wee-bit.
Stir in the pop corn.
Stir quickly for 10 seconds.
Turn heat to low.
Put the lid on the pot.
Every 20 seconds...shake it. Shake it good. Caution: Make sure lid is on tightly and you use hot pads. It's hot.
When 'pops' slow pull it off the heat. Add a dash of salt.
Wait for it to cool and devour!
Yum.
https://howdoesshe.com/the-best-kettle-popcorn-ever/
This recipe was a modified out of the 'Our Best Bites Recipe book'.  Here is the link.  And…no I am not being paid to post this.  It's truly a recipe worth sharing.   Here is a link to their blog.  They are sweet girls.  Go over and see what they are all about.
Don't forget your free popcorn!   Hop over to Vitacost they are giving a free $10 in credit for new signups.  You can get your popcorn kernels for free!  Like 2 bags for free.  Cool.  Head over there for additional info.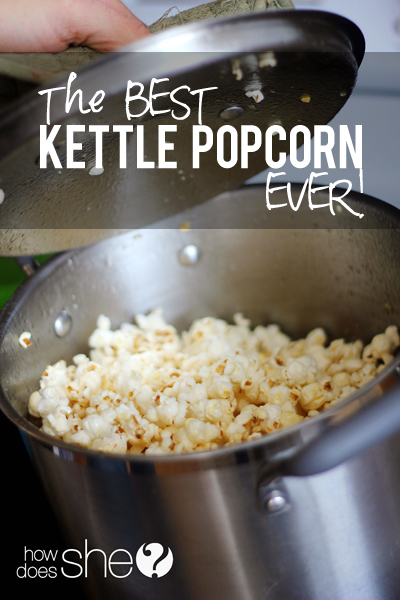 Disclosure: This post may contain affiliate links. This means, we may receive a small commission if you choose to purchase something from a link we post (including links to amazon.com because we are a participant in the Amazon Services LLC Associates Program. Don't worry, it won't cost you anything. This small percentage just helps us keep the power on and the Diet Coke stocked. We appreciate your support!