I hate running to the store for fresh ginger or throwing away an entire container of half & half because the recipe only called for one cup and the rest went bad. Here are 25 foods you didn't know you could freeze that will save you from wasting what is left after making a meal or from having to run to the store in a pinch.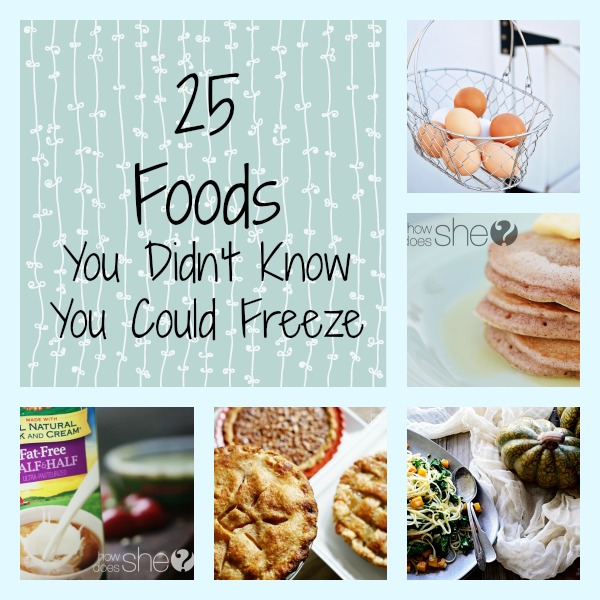 These Foods You Didn't Know You Could Freeze Will Make Life Easier
1. Buttermilk and Half & Half
Most recipes only call for a cup or less of either buttermilk or half & half, but they only come in large containers. Instead of letting them expire in your fridge, you can freeze both buttermilk and half & half in your freezer for up to three months! You can even freeze them in portioned dixie cups or ice cube trays. Smart!
2. Pesto
Pesto can be an expensive ingredient to buy, and you rarely use the entire container at once. You can freeze pesto for months at a time, just make sure your container leaves room for expansion. Try making a large batch of homemade pesto, then freezing what you don't use.
3. Corn on the Cob
Don't let all that beautiful corn on the cob from your garden go to waste! Freeze it, husk and all, immediately after it is picked and it will last up to a year in the freezer. If you want to prevent that "cobby" freezer taste, husk and blanch it before freezing.
4. Avocados for Guacamole
While frozen avocados aren't good in fresh salads (weird texture), they are fantastic for guacamole, or even baby food. First wash the avocado while the skin is on. Next cut the fruit in half and peel, removing the pit. Then put them in a Ziploc bag and freeze.
5. Diced Onions
Dicing onions isn't a very fun chore, so why not get it all out of the way one time and then freeze the rest? This way you'll always have diced onions on hand…brilliant!
6. Chopped Garlic
Same with onions, always have fresh chopped garlic at the ready by keeping it in your freezer in a sealable container (try empty baby food jars!).
7. Eggs Without Shells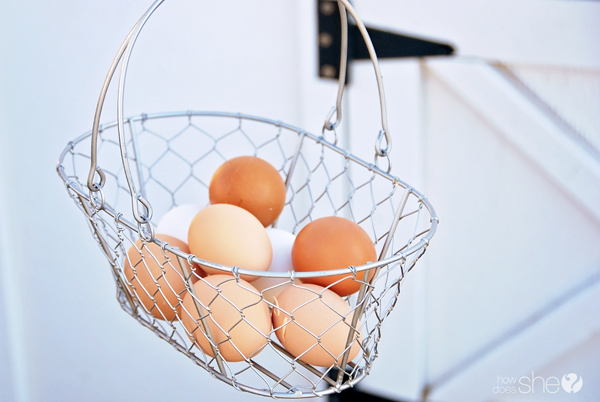 This one was a mind-bender for me. Eggs? You can actually freeze eggs? Yep, eggs can actually be stored for at least one month in the freezer, but you have to crack them first. See directions here.
8. Milk
Ever wonder why milk cartons have those circular indentations in their sides? It's to allow for expansion when freezing! If your milk's sell-by date is approaching, leave a little room in the container for expansion and then freeze for up to three months.
9. Cheese (block or shredded)
You can freeze shredded cheese and even blocks of cheese for later use. Add a little cornstarch or flour to a Ziploc bag of shredded cheese and shake it to make sure it doesn't clump in the freezer.
10. Sour Cream and Cream Cheese
Two other items you can freeze before they reach their sell-by date. However, once sour cream is frozen, the consistency changes, so it's not good to top tacos or baked potatoes with, but frozen sour cream is great for cooking.
11. Butter
Butter freezes well, so the next time there's a sale, stock up and freeze for up to 6 months.
12. Hummus
Oftentimes, you can't eat an entire carton before it goes bad, so hummus is a great item to freeze. Buy or make a big batch of homemade hummus then freeze it in 1/2 cup portions. When you want to eat it, thaw it out in the fridge for a day and then mix well.
13. Ginger
Always have fresh ginger on hand by peeling it when fresh, tossing it in a Ziploc bag, then storing in the freezer. When ready to use, frozen ginger is easy to grate.
14. Tomato paste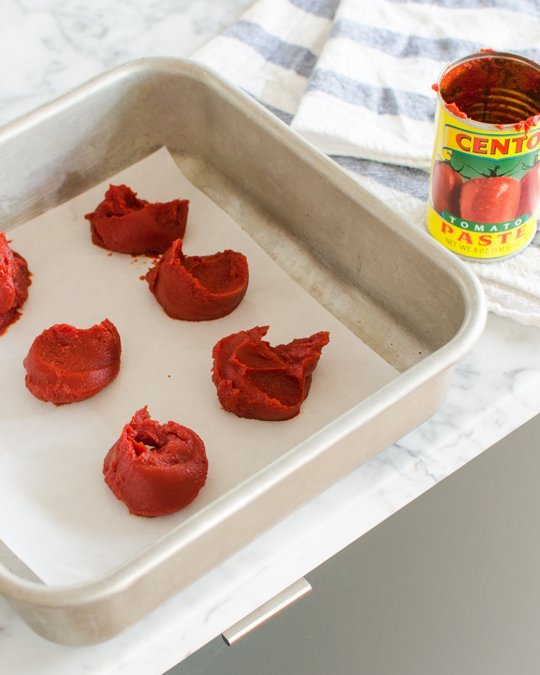 If only I'd learned this one years ago. I have wasted so much tomato paste because my recipes usually call for only 1 TB and I toss the rest. Duh! You can freeze tomato paste in tablespoon portions for months!
15. Excess Sauces
Don't toss your leftover pasta, pizza, or enchilada sauce…freeze it! Save yourself a trip to the store by having these handy leftovers at arm's reach.
16. Herbs
To buy them, herbs can be expensive, and there are only so many Italian dishes you can make with basil before it goes bad. Freeze your summer stash of herbs, or the expensive kind you buy at the store. you can chop then add them to ice cube trays (labeled) with a little water or olive oil.
17. Shredded Chicken
Shredded chicken is one of those things I wish I had on hand more often. The next time you boil chicken for shredding, double or triple your batch and the freeze the rest.
18. Cooked Rice and Pasta
Speaking of making big batches, pasta and rice both freeze well. Turn your leftovers into a second meal for weeks later.
19. Pre-made sandwiches
You can pre-make all kinds of sandwiches, wraps, and burritos to be frozen for quick lunches on the go. Here are a few good recipes and tips.
20. Homemade pancakes and waffles
My kids consume these by the dozens and I finally got wise and quit buying the frozen store version. The next time you make pancakes or waffles for breakfast, make enough to freeze for later.
21. Leftover Mashed Potatoes
I can't believe that being an Idaho girl, I've never tried this one. Use a cookie or ice cream scoop to portion leftover mashed potatoes in a freezer bag and then freeze up to two months for a quick lunch or dinner down the road.
22. Leftover pie
Don't feel like you need to finish the entire pie or send a perfectly pretty pie to the trash. Freeze leftover pie portions for a midnight snack, or to put in shakes (so delicious!).
23. Dough
You can freeze bread dough, pizza dough, and pie dough.
24. Leftover Frosting
Don't toss your beautiful frosting, freeze it in a Ziploc bag for later. When you're ready to use, you can simply cut off the corner of the bag and squeeze.
25. Leftover Soup
Leftover soup can be poured into paper cups and frozen for a quick meal for later.
Were you surprised by these foods you didn't know you could freeze? I know I was!