There are so many chemicals in most store-bought cleaners these days that it is hard to know if one is safe or not. Here we provide 31 hacks and tips for natural cleaning that are not only chemical-free, they are money savers as well!
Natural Cleaning Hacks and Tips for Your Home
1. Clean chrome with a 1:1 vinegar and water mix. No expensive cleaning products needed! Here.
2. Unclog your drains! Pour ½ cup soda, then ½ cup vinegar, down a clogged drain. Cover it with a wet cloth, wait 5 minutes, uncover, and flush with steaming-hot water. Done.
3. Slide an old case over a ceiling fan's blade then pull the fabric back, keeping all the dust and dirt contained.
4. Put a spray nozzle directly on a club soda bottle and use that as a window cleaner! Streak-free clean! Here.
5. Left your leftovers in a ziplock overnight and are afraid to open up the container to clean it? Stuff a balled-up piece of newspaper into a plastic container and let it sit overnight. By morning the paper will have absorbed the offending smell.
6. Soak toothbrushes in peroxide to keep them clean, especially during cold and flu season. Here.
7. Repair hardwood products by rubbing shelled nuts into shallow scratches. Their natural oils help hide the flaws.
8. To freshen up the garbage disposal, just pop a few slices of fresh lemon down the hatch while running the disposal and water. Here.
9. Onion hands from chopping onions? Scrub your hands with salt and a splash of vinegar to eliminate the smell.
10. Clear the air in a dark basement. Cut an onion in half, place it on a plate, and leave it out overnight. You'll have a fresh (non-oniony) atmosphere by morning!
11. Does hubby have greasy hands from working on the kids' bikes, cars or whatever? Use a mixture of sugar and water to scrub off the yuck.
12. For the washer, skip the bleach and add 1/4 to 1/2 cup lemon juice to the wash cycle for brightening dull whites. Here.
13. Use a shower curtain ($1 from the dollar store) as a liner underneath a picnic blanket to avoid soggy bums and grass or mud stains.
14. Rub tub stains away. Create a 1:1 paste of baking soda and cream of tartar and a little lemon juice. Let sit for 30 minutes, then rinse.
15. Clean dirt from green leafy vegetables by washing them in a bath of salt water.
16. Use a blow dryer to get rid of table rings. Here.
17. Hair spray on the bathroom walls? Spray a mixture of one part rubbing alcohol, two parts water, and a dash of dishwashing liquid onto vinyl wallpaper or semigloss (not flat) paint. Wipe clean.
18. Grab a coffee filter to wipe down dusty and staticky computer monitors and TV screens regularly for lint free views.
19. Paper towels are too fuzzy… Use newspapers because they don't leave any streaks. Just spray on a glass cleaner and wipe.
20. Pour a solution of ½ cup of salt for every quart of hot water down the pipe to get slow moving pipes going faster!
21. Throw your sponges in the microwave for 2 minutes. It will kill 99% of the things that are living in them. Yuck be gone.
22. Use tin foil as a glass pan scrubber. Use a bit of dish washing liquid and a ball of foil in place of a steel-wool soap pad and scrub.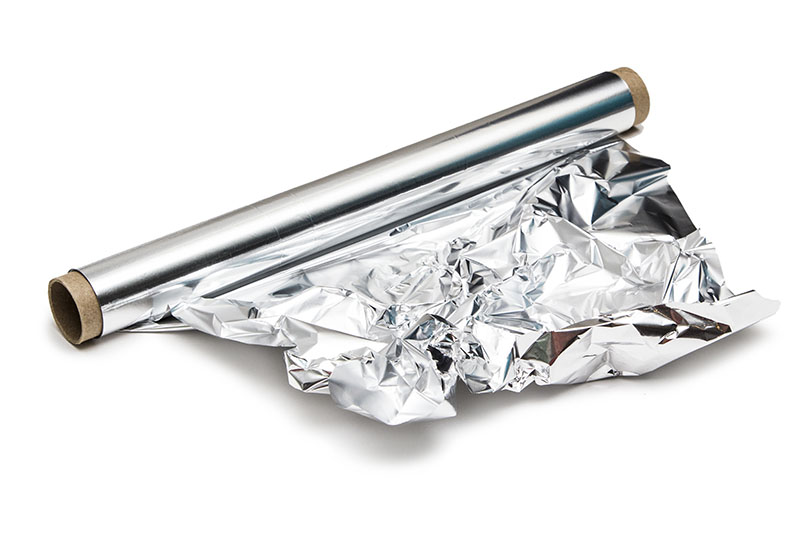 23. Icky Pans? Check out how baking soda and hydrogen peroxide lifted these stains off Jillie's pans. Here.
24. Get lipstick on your shirt (his shirt)? If the fabric is machine washable, saturate the spot with hair spray, let it sit for 10 minutes, then dab with a damp cloth or sponge to remove. Launder as usual to wash out any residual stain and spray.
25. Get hard water off with vinegar. Just soak and wash off. Here.
26. Sticky mess? Put a coaster under your sticky jars. Honey and jam are perfect. The stick will stay on the coaster and not smear on your shelves. Here.
27. Stuff on the bottom of your iron? Use a dryer sheet. With the setting on low, rub the iron over the dryer sheet until the residue disappears.
28. Use broken eggshells to clean the hard-to-reach places in bottles and vases. Drop some crushed shells in the bottle, add warm water and a drop of dishwashing liquid, and give it a shake. The shells will scrape off the gunk you can't get. Here.
29. Dislodge a stubborn price sticker. Paint with several coats of vinegar, let it sit for five minutes, then wipe away. Here.
30. Crayons on the wall? Sprinkle a bit of baking soda on a damp sponge and scrub to erase crayon, pencil, and ink from painted surfaces. Here.
31. Keep 'em scuff free. Keep baseboards free of skid marks when you vacuum. Cover the edges of the vacuum head with masking tape so they won't leave dark smudges.
Want more hacks?