The weather is warming up and strawberries are starting to show their shiny red faces in the markets again! I love this time of year with all of the fresh produce showing back up in the garden and at the market. Lately, we can't get enough of all the strawberries!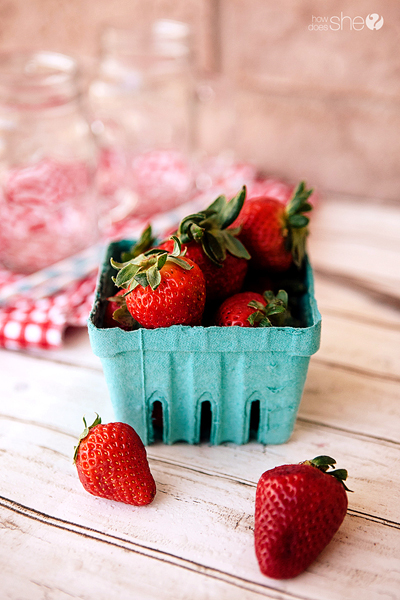 While a good, juicy batch of strawberries is easy enough to just gobble up on their own, we've been buying them in such abundance that we can't always get them eaten before they would go rotten. To prevent waste, I've been sticking the fresh strawberries in the freezer for later. There is no such thing as too many strawberries!
To easily freeze fresh strawberries, wash and hull them first, discarding any that are spoiled. Spread the prepared strawberries in a single layer on a large baking sheet. Place them in the freezer until frozen solid, then transfer them to plastic resealable bags or airtight freezer containers.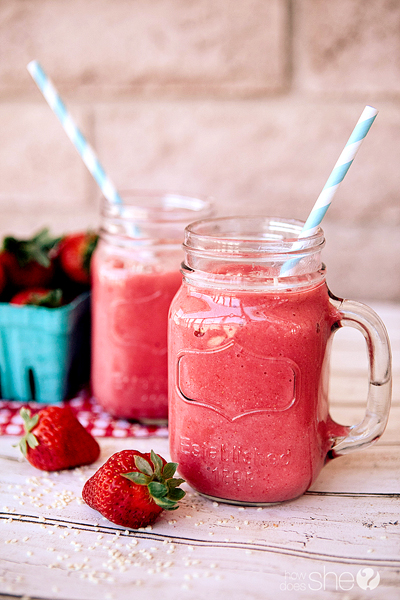 The best way I know to use all those frozen strawberries is in smoothies! You can have that fresh strawberry taste long after the berries have shriveled on their vines.
This Strawberry Sesame Smoothie makes a simple, healthy snack or even dessert that is especially refreshing as the weather gets warmer.
 These days, with a new baby about to make his appearance at our house and three young kids to welcome him, I'm all about simple and quick in the kitchen. There is really no snack, dessert, or quick meal that is more simple than a smoothie! Best of all, the kids love them!
With a good blender, all you have to do is combine all the ingredients in the order listed and blend until smooth! Voila, Strawberry goodness that everyone will enjoy!
 The sesame seeds add protein and a unique flavor that complements the bright strawberry flavors. You can add as much or as little honey as you like. I find that when we have a really good batch of sweet strawberries, we don't need any honey at all!
Strawberry Sesame Smoothie Recipe
Ingredients
1 cup rice milk
1 1/4 cups frozen strawberries
2 tablespoons raw sesame seeds
1 tablespoon raw honey, or to taste
Instructions
Combine all of the ingredients in the order listed in a high powered blender. Blend until smooth. Serve immediately.
Note: This recipe is easily doubled in a larger blender.
https://howdoesshe.com/strawberry-sesame-smoothie-recipe/
Disclosure: This post may contain affiliate links. This means, we may receive a small commission if you choose to purchase something from a link we post (including links to amazon.com because we are a participant in the Amazon Services LLC Associates Program. Don't worry, it won't cost you anything. This small percentage just helps us keep the power on and the Diet Coke stocked. We appreciate your support!