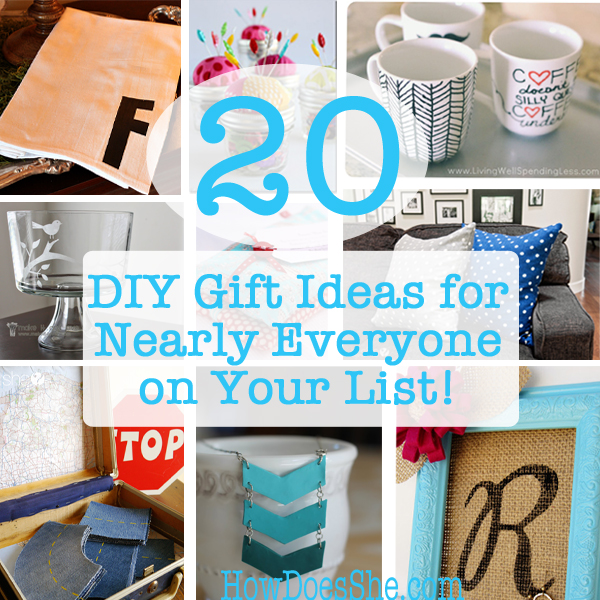 Handmade gifts are a great option when your budget is tight, when you need a little personalization, or when you're buying for the hard to buy for person.  Here's some easy to make gift ideas for nearly everyone on your list!
1.  Picture Frame with Monogram.  Do you have any newlyweds or families on your gift list? This would be perfect for them!
2.  DIY Sharpie Mugs. Would be fun for a grandparent gift!
3.  These are perfect for the hard to buy for tween or teen! Ombre Chevron Necklace.
4.  Mason Jar Pin Cushion Tutorial. Perfect friend gift for the seamstress in your life!
5.  Easy DIY Sports Blanket. Great for the guy in your life who has it all!
6. Easy DIY Road for Toy Cars… made out of your old JEANS! Perfect for the little ones!
7.  Spa Towel DIY. Get those kids ready for summertime and bath time or send the college student back to school with a great towel!  Spa Towels are a hit at my house with the girls!
8.  Framed Burlap Earring Holder.  This is definitely going on the list for the 12 year old at my house!
9.  Perfect for the school teacher!  Framed Crayon Letter.
10. Crayon Monster Art Tote.  I've already got one of these stashed away for Christmas for the 2 year old that I picked up at a craft fair.  Perfect when you need some quiet time!
11. Pillows are always a welcomed gift and great for those hard to buy siblings! Make these from Store Bought Napkins! 
12.  Glass Etching on a casserole dish or any glass really.  Perfect for the newly married couple or the hard to buy for friend or sibling!
13.  Count Your Blessings Board. Great for grandparents!
14. No Sew Monogrammed Towels – I'm thinking for the sisters-in law or sisters this would be a hit!
15.  Homemade Stationary Set – perfect for teachers or your pre-teen. Includes awesome step by step instructions.
16.  Picture Frame Memory Wreath– for the parents who have it all and don't want another thing!
17. Wood Photo Holder. Easy to follow tutorial.  Adorable and easy to make!
18. Photo Tile. Perfect for the Grandparents!
19. Homemade Heat Packs. Perfect for your daughter or your best friend.
20. Perfect for the teenage boys at your house! Wrap up a treat with some green bills!
I'm excited – this list will help knock out many Christmas presents this year! Hurray!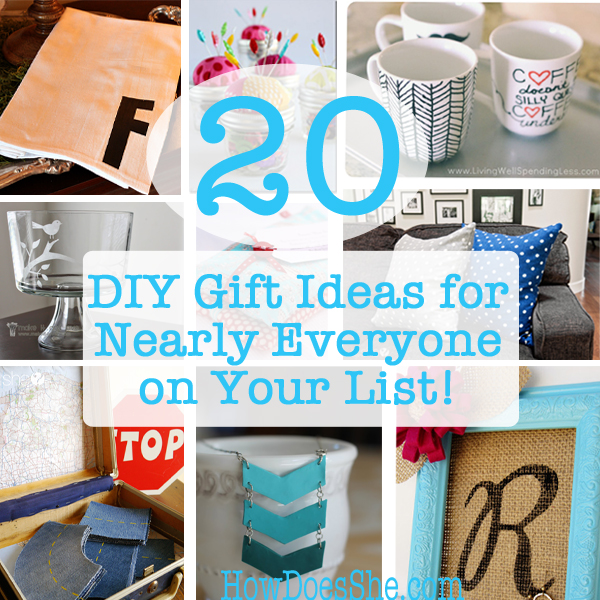 Here's more fun DIY with kids with Toilet Paper Rolls! 
Learn some of the best MOM Hacks!