There's nothing I love more than standing in astounding places and feeling the enormity of God's natural world. From sheer drop-offs of Bryce Canyon National Park to rocks the size of high-rises jutting of Cannon Beach, there are so many places in the United States that you can adequately see in a day. If you're looking for weekend day trips that will leave you in awe, start with these.
14 Day Trips with Incredible Views
1. Destin, FL
The white sandy beaches of Destin, Florida can't be beat and are really something that deserve to be seen–and enjoyed–in person. A favorite of families and honeymooners alike, Destin will woo you with it's small beach town charm and unparalleled sunsets. With many options to stay, play, and eat, a few notable hotspots a little off the beaten path include Ft. Walton Beach where you can play a game of sand volleyball or paddle board in the gentle waves. If you're looking for more quiet and privacy, opt for a resort that has its own private beach. While in Destin, make sure to hit up Donut Hole for amazing fresh donuts.
If you're in Florida, plan a trip to this West coast gem and make sure to take a great camera.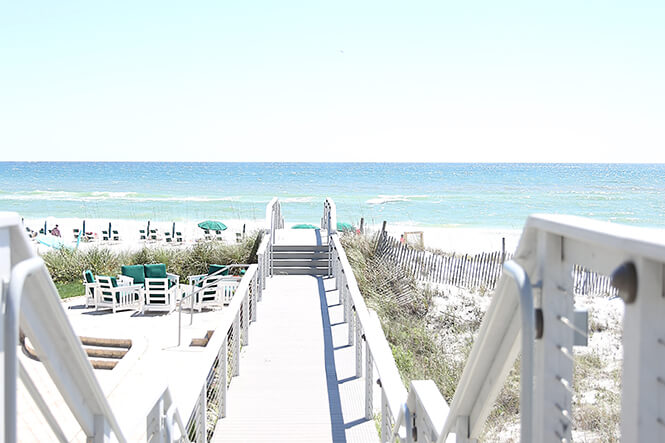 2. St. Augustine, FL
At some point in your life, a visit to the oldest city in the nation is a must. Nestled right on the Northern Atlantic coastline of Florida, St. Augustine is a historic wonder. Contrary to popular belief, Europeans landed in St. Augustine a good 55 years before pilgrims landed at Plymouth Rock and the old Spanish architecture in this town makes it easy to imagine yourself walking the cobbled streets, listening to fishing merchants sell their day's catch.
Among St. Augustine's must-sees, the best thing to do is just spend a day walking around downtown, taking in the sites, and then crossing St. Augustine's notable Bridge of Lions to take in the whole view. Walking the walls of the old fort gives you some great photos ops as well.
3. Savannah, GA
If you vacation in the Southern United States, you've probably heard fellow travelers swooning over Savannah, Georgia. This Southern charmer can definitely be done in a day, but it's most certainly guaranteed that you'll want to go back again and again. If the Spanish moss-draped oak trees don't get you, the Southern drawls will. The city is very pedestrian-friendly and just walking and taking in the eclectic mix of historic houses and their wrap-around porches can satisfy your wanderlust. Make sure to stop at the Forsyth Park fountain for a photo and if you're there on a Saturday morning, the farmers market is a lively affair.
4. Charleston, SC
Not short on charm, the South also boasts of another fun day trip city–Charleston, South Carolina. Horse-drawn buggies clip-clop along the streets and the waterfront town is full of incredible views. Grab some fresh oysters at any of Charleston's highly-rated restaurants and walk the streets of historic downtown. History buffs can visit one of Charleston's verdant plantations or tour the Old Slave Mart Museum or Maritime Center.
5. Mystic, CT
As far as picturesque weekend day trips go, it doesn't get more awe-inspiring than Mystic, Connecticut and a trip to New England wouldn't be complete without it. Sailboats on the waterways, their masts dotting the skyline and the smell of the ocean make visiting Mystic a sensory experience. Make sure to visit Historic Downtown Mystic and grab a basket of New England's finest fish and chips. And don't miss the various lighthouses, especially the New London Ledge Lighthouse in nearby New London which is unique in that it is rectangular and red with a circular lantern room. It's one of the most striking lighthouses on the New England coast.
6. Hot Springs, AR
You might not know about this hidden gem in the Southeastern United States, but it's a good one. Hot Springs, AR makes a good weekend day trip because it's central to a lot of states and is a great place to take the family. If you're traveling with kids, here are some great activities to do there. Horse race lovers will revel in Oaklawn Racing and Gaming where you can experience one of the nation's most premier Thoroughbred racetracks.
It's a beautiful town that is less busy than most, which is one of the reasons it's a great place to visit in a weekend.
7. Grand Canyon National Park, AZ
It's one of the most spectacular views in the entire world and for that reason, the Grand Canyon is on many bucket lists. You could easily stay a week in Grand Canyon National park, but if you're only there for a weekend day trip, even that's enough to cement this experience in your mind forever. One can't easily forget the feeling of standing at the precipice of the North Rim and looking out upon 278 miles of plunging valleys. One of the best parts about visiting the Grand Canyon is that you can enjoy it year round, although the weather is best between April and June.
8. Bryce Canyon National Park, UT
Southern Utah is a natural playground of gorgeous red rock, arches, and in Bryce Canyon National Park…a funny little phenomenon called hoodoos. It's very doable to see all of Bryce Canyon in one day as the park is a relatively small loop with the canyon at the center. But boy are the views incredible. Red rock mountains go on and on in a blue horizon and there really is nothing quite like it in the world as Bryce Canyon is a geological freak of nature–a product of the most unique kind of erosion. There really isn't much in the form of restaurants around, so packing a lunch for a mountain picnic is your best bet (and a memorable one too).
9. Sun Valley, ID
Celebrities and CEOs alike flock to this secluded Idaho city because of the peace, gorgeous views, and vibrant restaurant scene it offers. If you live in Idaho, it's one of the weekend day trips you simply have to visit. In the winter, you'll enjoy world-famous skiing at Bald and Dollar mountains and in the summer, the town turns into a magical affair with live music, charming shops, and if you're lucky…a fresh huckleberry milkshake.
10. Sandpoint, ID
Located less than 60 miles from the Canadian border, Sandpoint, Idaho is possibly one of the most beautiful scenic drives you'll ever take. Pine-clad mountains tower in every direction amid lush green hills and crystal blue lakes. The city of Sandpoint itself is a fun day trip to enjoy walking around its shops (make sure to stop and get ice cream at Panhandle Cone & Coffee). And when in Sandpoint, one must spend an hour or two enjoying Lake Pend Orielle where it's free to park and enjoy building sand castles on the beach or going for a dip.
11. Victoria, British Columbia
You can easily plant your feet in two countries in one day by taking the 2 hour and 45 minute ferry from Seattle to beautiful Victoria, British Columbia. This Canadian providence is on the Southern tip of Vancouver Island and is one of the oldest cities in the Pacific Northwest. It is home of the famous British Columbia Parliament Buildings and the Craigdarroch Castle, both of which make for Instagram-worthy photos. Spend the day simply walking around, shopping, eating, and taking in the views.
12. Catalina Island, CA
If you're in Southern California and looking for weekend day trips, Catalina Island is a cool one and can be accessed via San Pedro, Long Beach, Newport Beach, and Dana Point. What's so neat about this secret island? The weather is always perfect, it's less busy than other California hot spots, and it's a pretty romantic place to spend the day (or night). You'll have no problem finding ways to spend a memorable day in Catalina Island.
13. Cannon Beach, OR
A trip to the Oregon Coast wouldn't be complete without spending the day at Cannon Beach. Any angle you look at it, this beach offers some of the most astounding coastal views, with gigantic rocks thrusting out of the ocean and making this beach so famous. It's also less windy than most Oregon beaches which makes it ideal for bonfires, which at nighttime, scatter the beach, creating a cool ambiance in the dark. If you're near the West coast of Oregon and looking for weekend day trips, this is definitely a memorable one.
14. Fredericksburg, TX
Located in central Texas, this charming town was founded by German pioneers in the mid 1800s and visitors today can enjoy a host of German flavors like architecture, food, and even festivals if you time it just right. Don't miss the Vereins Kirche in the center of town square, a replica of the original German church that once stood there in the 19th century. WWII enthusiasts will geek out over the National Museum of the Pacific War touting impressive exhibits and artifacts.
If you're in or near Central Texas, Fredericksburg is a memorable day trip to take, nestled in the heart of peach orchards and notable wineries.
So plan your next relax and refresh getaway now. And feel free to add your suggestion on other weekend day trips below.