Let your superman show his own superpowers!Kids (and even adults) who love superheroes will fall in love with these incredible superhero theme party ideas that will bring out the kid in everyone! From decor ideas, party foods, and costume ideas to superhero-themed activities and superhero games, we have different ways to cover all of your party needs. These ideas will make you wish you were a kid again and it was your birthday or a special day. If you are willing to arrange your own superhero party, here are some great ideas for your themed party. Try some for your little superhero's next party!
24 Incredible Superhero Party Ideas!
1. Condiments and beverages that really "POP!"

2. Comic strip cones using comic book pages to put all sorts of snacks in. So easy for grabbing! The best part is, you can read after you've finished eating!
3. Easy no-sew superhero capes for party guests in different colors and with super hero logos. Make your own justice league!

4. Get a refrigerator box from Lowes or Home Depot and make a telephone booth for your superheroes to use to change into their superhero alter ego.
5. Or make a jail for the bad guys…No mercy to the bad guys!
6. I absolutely love this superhero photo booth. Just get a sky blue sheet, add some cereal box buildings and some clouds and snap away! It's a great way to give your young kids a fascinating experience. Let them be their favorite superheroes.
7. Oh no! The Joker froze Batman in a big ice cube! Party guests will have a blast squirting him to safety! Melting down the ice with water spray would be much fun at a superhero birthday party.
8. For some real fun, grab some silly string and call it Spidey's web shooter. Guests can practice shooting at a target or just go crazy in the backyard! Let your superman show his own superpowers! Target practice is fun for every age of people.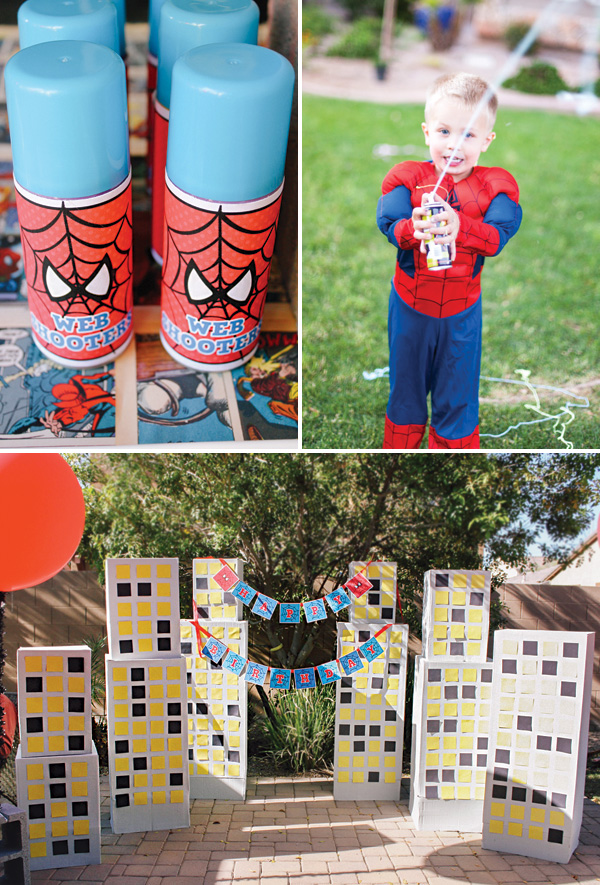 9. Able to LEAP over TALL buildings! These are easy to make with cardboard boxes.
10. Cute superhero sucker party favors.
11. Have guests decorate their own superhero shields. with their own superhero names or logo. Add some superhero accessories, and make your own superhero masks!
12. Too Groovy! Check out directions to make this Captain America tie dye tee. You can design your own character! Perfect for the themed birthday party.
13. Play the Hulk Smash game and win a prize! Most importantly get rid of video games!
14. I love the tablescape of this superhero party, designed for a large group. One of the cool superhero party games and a good idea to organize your group.
15. How cute…I mean MANLY! Thor's hammer cupcakes Best for birthday parties. Bring diversity to the food items, be creative!
16. If you're having a superhero party, you better have a strength training session. These faux barbells look real…good thing they're made of styrofoam.
17. Try your hand at some cool superhero face-painting! You can find everything you need for this in the dollar store.
18. This Avenger's pizza looks good enough to eat! And the Iron Man chili dip…awesome! Much joy taking a bite right on!
19. Hulk smash cake. Looks like he really did some damage. Best Birthday cake ever!
20. Captain America shield cake with star piping. Looks easy enough. Happy Birthday to your little champ!
21. Incredible Hulk pudding cups. Crashing treat for your special event.
22. Have your little superheroes walk the fiery pit by setting up a fog machine (or maybe dry ice?) in a kiddy pool.
23. Comic strip juice boxes
Have you hosted an epic superhero party? Feel free to share your brilliant superhero party ideas below!