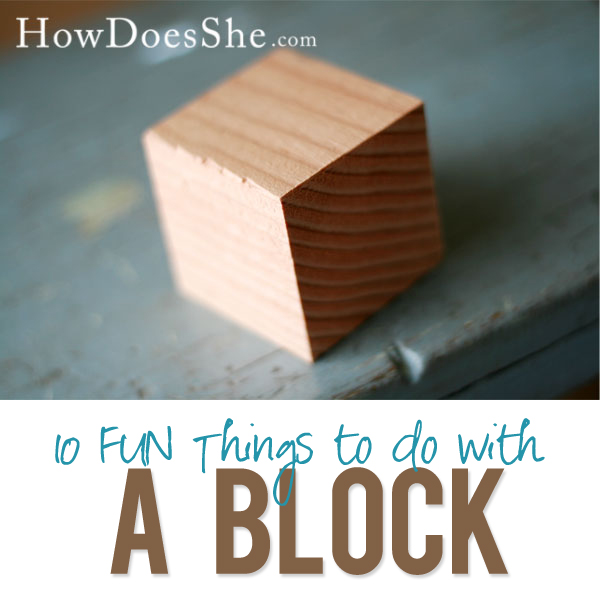 We posted these last year when we had a few followers (thanks to our moms…they were our first followers).  We wanted to make sure you saw the fun things you can do with a simple block.
So on with 10 things to do with a block!
A simple block…who knew?  10 things to do with a block.  We are using a 2×2 block.  We cut down a 4×4 post to an exact 2×2 post.  If you have access to a table saw set your width to 2 inches and cut one line and then flip your post to and cut another line.  Your 2×2 should be cut out and exact! Then you will need to use a chop saw and cut them into 2 inch chunks.  Making your 2×2 block…or just buy them from the craft store!
Idea #1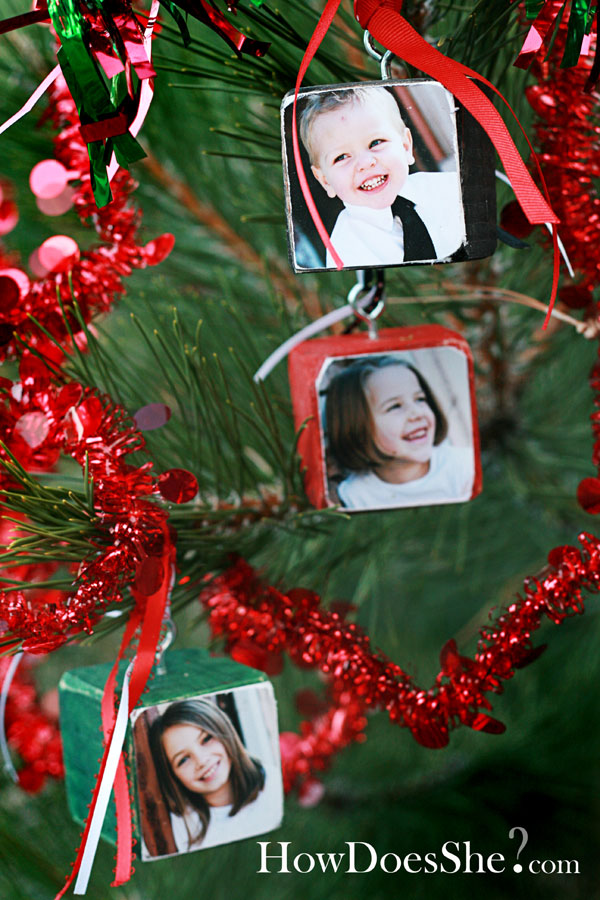 Make a Christmas Ornament
1. Paint your block (I just used craft paint).
2.  Mod Podge a picture on one of the sides.
3.  Sand any leftover picture paper off.
4.  Screw in an 'eye' in the top.
5.  Add ribbon
6. Admire
Idea #2
How about 9 Christmas Ornaments
1.  Mod podge 5 sides of your block with scrap book paper. (For 10 steps for perfect mod podging CLICK HERE)
2.  Mod Podge a picture to the 6th side.
3.  Sand any leftover paper off.  If you want to stain the edges to give it a shabby chic look…this would be the time:)
4.  If you wanted to stain the edges now would be the time.  It will give it a shabby chic look.  Keep it plain for a more sleek look.
5. Make your Christmas tree a true  'family tree'
We wanted to decorate our Christmas tree with pictures of our family and put a big fat red ribbon around the entire tree.  A friend is going to do a BSU themed tree and mod podge BSU paper on the blocks and then take pics of her kids in BSU uniforms…go Amber!  We want to see it when it's done!!!
Idea #3

A Picture Holder
How cute would this be on a fire place mantel or on top of a computer at work!?!
1.  Mod Podge all the sides
2.  Drill a hole in the top and stick a piece of wire in it! I found the wire at Lowe's.  .
3.  Cut out of vinyl the name of the 'featured' and put on one side of block.  You can use yourcraft cutter for this project!
4.  Put in your picture!
Idea #4

Neighbor Gift
1.  You think we'd let this pass with out making a neighbor christmas gift!!!
2.  Mod Podge all sides with cute paper
3.  Put some holiday vinyl on and wrap it like candy(no calories)!
4.  Love the poka dot ribbon!
Idea #5
Stacking Blocks
1.  Mod Podge and add vinyl
2.  Don't let your toddler play with the blocks…the first one said NOEL.
3.  Display on a shelf or in front of the Christmas tree!
Idea #6
Christmas Count Down
1. Mod Podge 4 blocks
2.  Add the numbers: 1,2,6or9,0,7,8 to the first block
3. Add the numbers: 1,4,3,5,2,0 to the second block
Idea #7
Blocks
1. Paint the blocks (easy) …
2. Put the ABC vinyl on them (easier)…I used the 'Narkism' font 1.8×1.8 in dark brown.
You can cut small vinyl letters and sayings with your Silhouette…or craft cutter.
If you are spelling out a name, make sure to put the letters of the name on the blocks first – you don't want to put the 'L' and 'U' on the same block or you can't spell out the name.
How fun would this be to give at a shower or to nieces and nephews for birthdays!
Idea #8
Kid Stackers
(Great for Grandparents…put all the Grandkids!)
1. Mod Podge the blocks, add the picture (just like in the ornaments #1)
2. Drill a hole all the way through the blocks.
3. Put wire though them.
4. The top block will have both wires sticking out. Curl them with wire cutters.
5. Add vinyl 'Family' to it ('Black Boys on Mopeds' Font 1.6×1.6)
Idea #9
Presents
1. Wrap the blocks and stick them around the house for decoration.
2. -OR- put an eyelet in the top and hang them from the tree…just like #1 (Click Here to see it)
…do you see Missy in the photograph?:)
Idea #10
Kid Puzzles
1. Take 9 blocks and put them close together. Mod Podge a 6×6 picture on them. Take an exact-o knife and cut out the individual blocks. OR cut the 6×6 picture into 2×2 squares and Mod Podge them on after you cut them.
2. Flip the blocks to a new side and do it again.
3. Mod Podge all 6 sides with different pictures.
4. You'll have created 6 puzzles with your favorite pictures!
5. Give as a gift to family…ya right…this one is a keeper!!!
HAVE FUN!!!
{We're linking up to these great parties!}