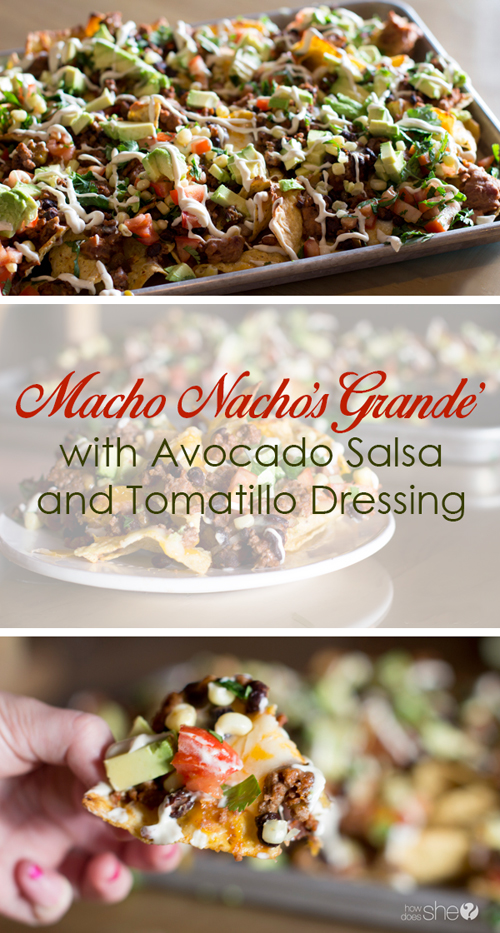 I should time the eating action when these come out of the oven. When I finished these today- I think it was only a record 4 minutes before the entire pan was gone. My family LOVES "Macho Nacho's" as we call them- and I added the 'Grande' because you will want to make them on your largest cookie sheets. With fresh ingredients like avocado, tomato and sweet corn paired with the savory garlic hamburger and topped with a spicy tomatillo dressing- what's not to love?
Start by browning your hamburger, onion, a generous sprinkle of garlic salt and a can of drained back beans.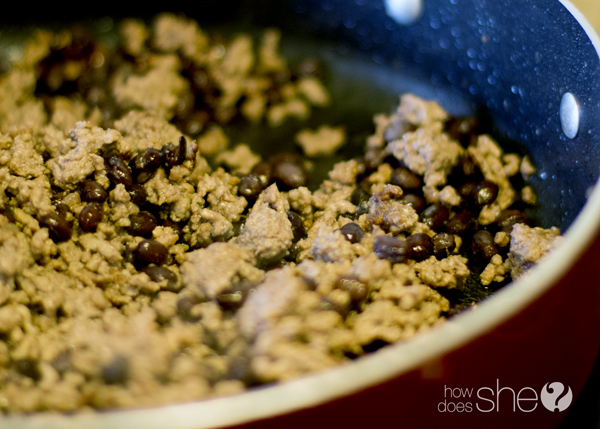 When it is brown and you have drained the hamburger grease off, put it back into the pan and warm it back up with 1 cup of your favorite salsa.
This is what your hamburger mixture will look like- steaming and smelling amazing. You can set it aside and start your layering process.
First chips, get some sturdy chips as they will be carrying a heavy and deeeeelicious load. Don't want them breaking halfway to your mouth!
Grate your cheese- or buy it already grated… this is a mixture of monterey jack cheese and cheddar.
Layer your cheese liberally over the chips (reserve a small handful), topping with the hamburger mixture. We love refried beans so I throw a few spoonfuls on top- and then sprinkle with the remaining cheese.
Broil until the cheese melts (watch it! this only takes 1-2 minutes). I don't even let go of the oven door because if I walk away I ALWAYS forget and burn them. So just do what you have to do for 1-2 minutes people.
We like a fresh-mex taste to our Nachos which makes this avocado salsa the perfect next layer. Dice up your tomatoes and avocado- chop or cut with your herb scissors (I love mine!) the fresh cilantro and stir it all together with some sweet corn. The sweet corn adds delicious pockets of sweetness to your savory hamburger mixture. A splash of lime juice and a sprinkle of salt brings the flavors all together.
After you add your Avocado salsa mixture to you layers of chips and hamburger you will have to keep a sharp eye out for snitching children 🙂
If you want, you can stop here and enjoy- cause this is seriously good stuff… but if you want to add a kick- go on to the next step…
Adding a drizzle of homemade tomatillo dressing to the top! I have this already made in my fridge because we love it on so many things- nachos, tacos and fresh-mex salads.
Tomatillo dressing
1 pkg hidden valley ranch dressing dry mix
1 c buttermilk
1 c mayo
2 tomatillos peeled
1 cloves garlic minced
1/2 bunch cilantro
1/2 tsp lime juice
1/2 small jalapeño, no seeds
Blend all ingredients in a. Blender. add mayo if it is too thin.
And there it is. After just a few minutes with the right ingredients on hand you can have a rockin' Nacho party… or just run with them to your closet and lock the door 😉
Tomatillo Dressing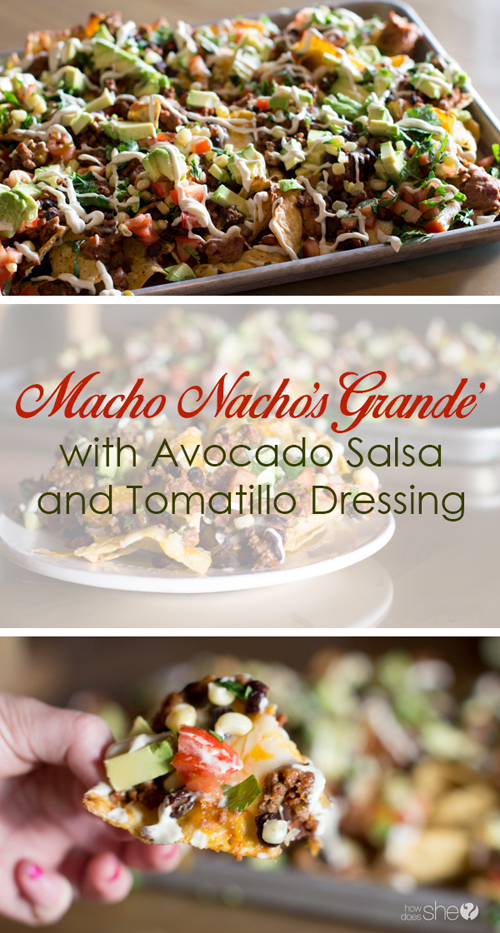 Ingredients
1 pkg hidden valley ranch dressing dry mix
1 c buttermilk
1 c mayo
2 tomatillos peeled
1 cloves garlic minced
1/2 bunch cilantro
1/2 tsp lime juice
1/2 small jalapeño, no seeds
Instructions
Blend all ingredients in a. Blender. add mayo if it is too thin.
If you are looking for even more "Fresh" Mex recipes to add to your repertoire, try some of these other HDS favorites on for size: