*This is a sponsored post on behalf of Gorton's Seafood, but all opinions are my own. And trust me, you'll want to hear this!*
Let me paint a little picture for you – four kids, three different schools, one home sick, one needy dog, a box of spilled cereal next to a glass of spilled milk, the email notifications pinging in the background, laundry piles breeding like rabbits, parent/teacher interviews, visit to the doctor and then the pharmacy, and now it's supper time. Oh, and let me please add – picky eaters all around. Sound familiar? Okay, the details might vary but let's be real – how many truly calm and serene days do mothers enjoy that allow us to prepare pinterest-worthy meals for our kids? I'm pretty sure those days are figments of someone's imagination. Add the holidays into the mix and forget it. Too often I find myself turning to ready-made food products, simply for the sake of convenience, but then I'm sacrificing on quality and even taste. There has got to be a compromise, right? Well, I found one and I can't wait to share it – it's called "Gorton's Seafood" and it's a-mazing. Basically, a mother's dream come true.
Let me tell you why.
Ingredients I recognize – Few things turn my stomach more than reading an ingredient list and seeing one chemical after another. Gorton's was a pleasant surprise. When I read the ingredient list on the back what I noticed was – it is QUALITY seafood – the good stuff, the clean stuff. None of that artificial, un-pronounceable stuff. It's something I felt pretty great about serving to my family – and that makes me feel like I'm winning (even when the day has been less than stellar.) In fact, Gorton's recently announced that they are simplifying ingredients and introducing new, cleaner recipes for all of the brand's items by the end of 2017. Isn't that fantastic? With so much junk out there, it's refreshing to see a company like Gorton's  being an industry leader in providing us with the highest quality seafood. I appreciate that they are always looking for ways to find simpler ingredients, even though their products were already free of synthetic colors, artificial flavors, and MSG in the past.  Too good to be true? Check this out: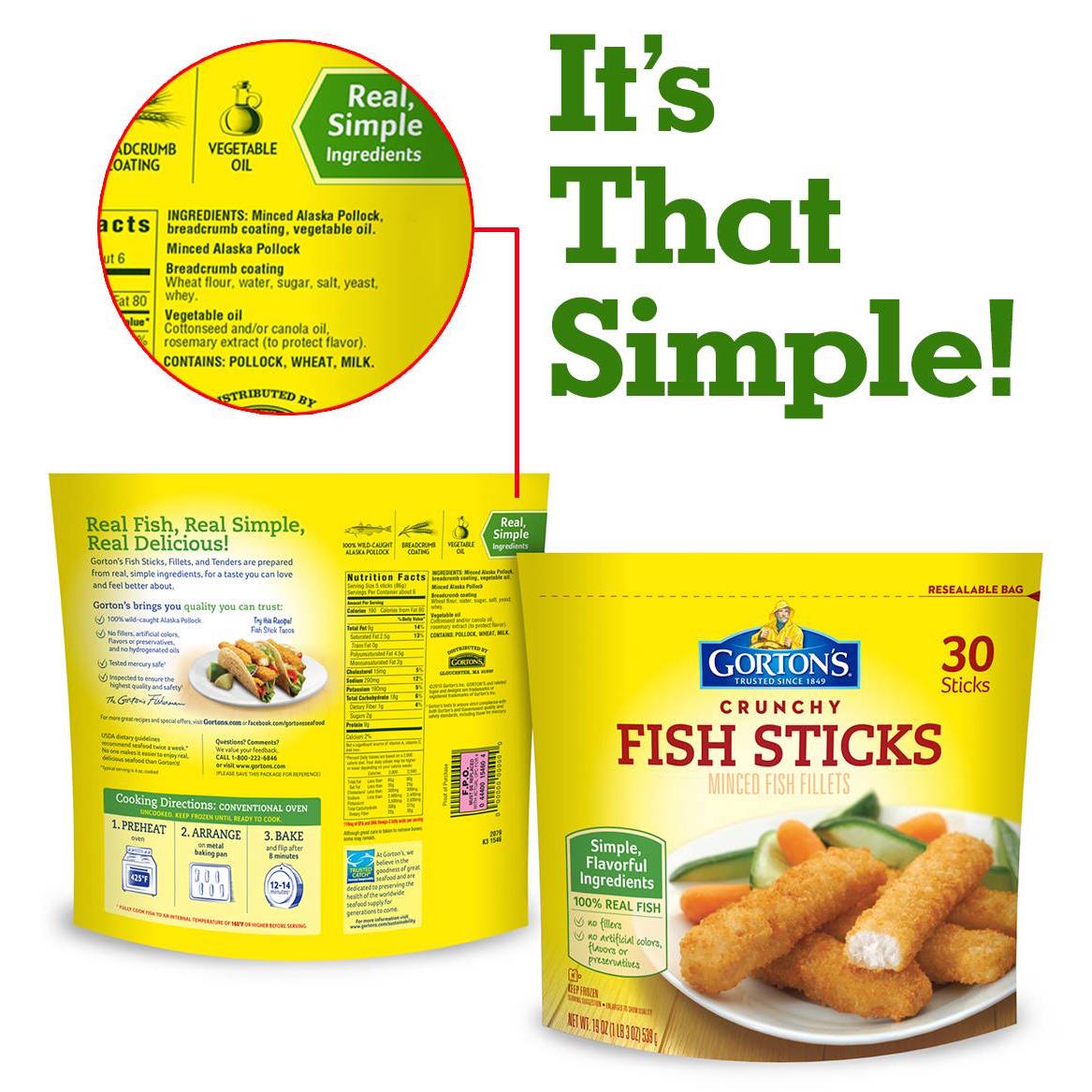 Taste – can't beat it. This is important to me because, let's face it, if it tastes awful no amount of health benefits or natural ingredients will matter. For my kids, it's all about taste, therefore, for me, it's all about taste. And I'll be honest – I can be pretty picky myself. Their beer-battered fillets? Holy moly – so good! For real.
Convenience – another biggie for me. Like I said, life is crazy and it's nice to be able to pop some seafood into the oven and it's ready to go – flavors and all.
Price – it's affordable. That's all.
A little more about our eating habits. We love fish tacos – particularly breaded fish tacos, but the prep work for the fish part always seems to prevent me from making them. I just always run out of time. So, I decided to try making fish tacos using Gorton's fish sticks and let me tell you – YUM YUM YUMMY YUM YUM! Using their fish sticks I was able to focus a little time on throwing together some amazing toppings to serve with them, and now my family pretty much thinks I'm a domestic goddess. Ooh, la la!  I love when that happens.
While the fish sticks were browning and getting crispy in the oven, I made these two fancy, shmancy toppings:
Mango Cucumber Salsa:
2 limes
2 mangoes, diced
1/2 english cucumber, diced
1 red onion, diced
1 jalapeno pepper, seeded and diced
1 tablespoon chili powder
1/2 bunch fresh cilantro leaves, chopped
1/2 red bell pepper, seeded and diced
1/4 cup extra-virgin olive oil
Kosher salt and freshly ground black pepper
Combine in a large bowl – can be prepared ahead of time (in between your favorite T.V. shows or when the littles are napping.)
Avocado Coconut Cream:
1 ripe avocado, peeled and pitted
½ cup coconut milk, from the can
1 Tablespoon fresh lime juice
1 Teaspoon sea salt, or to taste
Combine all ingredients in a blender and blend until smooth. Could this be any easier? And this stuff is good, good, good!
By the time I was done dicing and combining the toppings, the fish sticks were golden, crispy and ready to come out of the oven – I'm talking in less than half an hour, people.
Get yourself some soft tortilla shells (we like the flour tortillas at our house – but use whatever you've got), put in 1-3 fish sticks, top with some shredded cabbage (I bought a bag of some pre-shredded cabbage mix), some mango salsa and a dollop of the avocado coconut cream. Then prepare for your taste buds to sing and dance.
If you don't have these ingredients – use whatever you've got on hand! The fish sticks have such a great flavor, you don't have to go crazy with toppings. Just use what your family likes. It's so easy.
As my husband said – "hey, I want to eat this in real life!" Sponsored post or no – this meal was a big hit. And the fact that it is quality ingredients, affordable, tasty, AND came together in minutes made it a huge hit with this momma.
Because I love you, and because I want to make your dinner prep so much easier (pssst…try the fish tacos!) you can get a coupon $1.00 off ONE (1) Gorton's Seafood item here:
And because I REALLY love you, I'm going to let you in on something fun –  Enter the Wicked Simple Sweepstakes HERE 
where you can enter to win a bunch of fun prizes, including a $2500 cash prize. Gotta love that, right?
Now, what are you waiting for? Go grab some Gorton's seafood and get cookin'!
*This is a sponsored post written by me on behalf of Gorton's Seafood.*