The weather is cold outside.  The snow is falling.  And a cup of hot chocolate will hit the right spot and warm the belly.  Skip the store-bought hot chocolate packets that are filled with corn syrup and hydrogenated oils and make your own hot chocolate using cacao powder in minutes.  Whatever you use, whether its cacao powder or melted chocolate, it's healthier and yummier than any hot chocolate in a box!  This recipe I am going to share with you is so simple to make.  Basically heating up milk and adding powder and a sweetener.  But you know what makes this recipe different than other hot chocolate recipes?  It's made with no refined sugar and uses cacao powder instead of cocoa.  Talk about a guiltless pleasure.
Making Hot Chocolate Using Cacao Powder Instead of Cocoa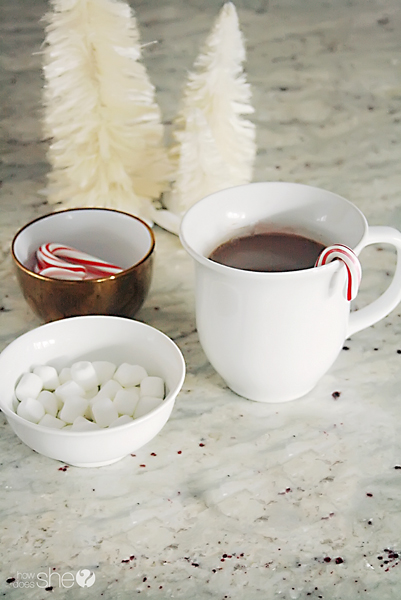 Let's talk about cacao powder.  For those of you who don't know, chocolate comes from the cacao bean.  Cacao is just the raw form of chocolate.  It is considered a superfood and contains more antioxidants than blueberries.  It's high in fiber, iron, and magnesium.  And is known to be one of the highest dietary sources for flavanols and polyphenols.  Most cacao powder comes unsweetened, organic and raw.  Don't think cacao powder is the same as cocoa powder!  When cold-pressed from raw organic beans, cacao powder is cooked at a temperature of 120F, whereas cocoa powder is cooked over 300F degrees, so all the nutrients get burned off.  I like to also put cacao powder in my morning protein shakes when I want a little chocolate.
Since you are going down the healthy path making hot chocolate using cacao powder, you might as well make sure all the other ingredients are in harmony.  You agree, right?  For that, I like to keep it dairy free and use my favorite almond milk.  For sweeteners, avoid refine sugars and use either coconut sugar, agave, maple sugar or honey.
After you mix everything together, add a peppermint stick and enjoy–without the regret!
Hot Chocolate Using Cacao Powder Recipe
12-16 ounce non-dairy milk (almond milk, rice milk, coconut milk, soy milk)
1 tbsp cold-pressed, raw, organic cacao powder
1 tbsp sweetener (coconut sugar, maple syrup, honey, agave)
Directions: Warm up your non-dairy milk in a pot on the stove.  Add your cacao powder to the milk and whisk until blended.  Put the sweetener in while stirring constantly.  Stir until powder and sugar are dissolved.   Turn off the stove and slowly pour into a large mug.  Add a peppermint stick or marshmallow or sprinkle with cinnamon.  Enjoy!
Serving for 1.