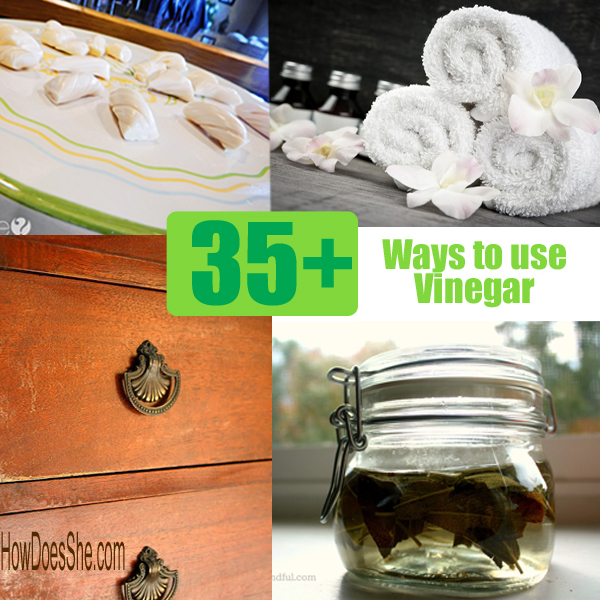 I've been hearing about ways to use vinegar in your everyday life for awhile now but haven't been really sure how to use it beyond the basics. While you may already know some of these, you may be surprised at just how versatile this 'secret' ingredient can be. I've just found some fabulous tips I can't wait to try out and thought I'd share them!
Ways to use vinegar
1. Here's a great Sage infused vinegar, the natural antibacterial cleaner that smells good! Find out more here.
2. Anybody else's irons look grungy looking like this? Learn how to clean your iron here.
3. Got some damaged wood table or chairs? Fix them up! Learn how here.
4. I love the idea of using a natural cleaner in my kids' bathrooms. Find it here.
5. Trap those flies in the summer with this natural fly trap! Here
6. Does your wood floor need daily or almost daily mopping? Use a natural floor cleaner! Check it out here.
7. Clean your refrigerator – one of those jobs that have to be done! Make it easier with vinegar, read about it here.
Household Uses for Vinegar
8. If you need to remove some wallpaper then this is a great tip! Here.
9. Clean toys with vinegar. This looks helpful to know, especially after kids are sick! Check out details here.
10. Cut your laundry expenses drastically by using vinegar! See it here.
Ways to Use Vinegar You'll Love
11. Clean up your paintbrushes and more. Here.
12. Maybe you like using it as a cleanser but don't like the smell? This website has great recipes to make all-purpose CITRUS vinegar cleaners with recipes! Here.
13. One can never have enough fresh smelling towels! Learn how here.
14. Restore your old wood furniture. Here.
15. Unclog those pesky drains. Happens to the best of us! Here.
What to know how to clean those shower and bath drains better? HERE are some more ideas.
Use Vinegar to Clean
16. Avoid those strong smelling oven cleaners at the store, learn how to clean your oven naturally here.
17. Got dirty shower doors? Seriously this article is for me! Get clean doors here.
18. Have you purchased those washing tablets lately for your machine? They are pricey! Learn how to clean your washer with vinegar here.
19. DIY Flea removal for your dog. Get your pet clean here!
20. Since I pretty much iron very little, this will be perfect! Homemade wrinkle release spray. Here.
21. Is your grout looking nasty? Clean it up! Amazing difference! Find it here.
22. Never had this problem (knock on wood), but heard it can be so difficult! Another one of the many ways to use vinegar is to treat head lice naturally. You can learn how here.
23.The worst thing about summertime at our house is all the mosquitos! I'll be using this bug repellent next year!
24. Make a streak free window cleaner. YES! Here.
25. Clean the toilet with "The Toilet Bomb"! The kids will love the science experiment and you'll love the clean toilet! Here.
26. It seems like summer times means fruit flies, at least at our house. How to get rid of them naturally. Here.
27. Need to remove sweat stains from clothes? Great tips found here.
28. Reseason that dutch oven, find out how here.
29. Blinds are another thing that can get super dirty over time, without us even noticing! Love that I can clean my dirty blinds naturally! Here.
30. Like the look of aged wood? Great for decorating! All the details can be found here.
Vinegar Uses for Fruits and Vegetables
31. This special soak will help your vegetables last longer and get cleaner, for pennies on the dollar! Here.
32. I'm always buying a few packages of berries for my kids, but if they don't eat them fast they get moldy. This might just be the perfect solution! Here.
33. It seems like those pesky weeds are always popping up. Treat them with vinegar for a "greener" solution! Here.
34. It doesn't take much to attract the ants, only a few crumbs seem to do the trick! This is a great way to naturally repel them! Here.
35. A super frugal way to Freshen the air! Check it out here!
Ways to Use Vinegar in Your Everyday Life
BONUS- Get that Apple Cider flavor Vinegar handy! You're going to love this- Old Fashioned Vinegar Taffy! Looks delicious! Details and pictures here!
Did I miss any? What's YOUR favorite use for vinegar? I can't wait to learn more!
[/sociallocker]