25 Laundry Hacks to make your life easier!
I've got a laundry room that never seems to get empty.  With 7 of us, there's always a ton of laundry, so I need all the tips I can get.  Thought I'd share my latest finds!
1.  Got grease stains?  Just rub some chalk over it before the wash and it will get absorbed in the wash. Here.
2.  Make your own reusable dryer sheets. This blogger spent $5 at the dollar store and has enough to last months. Here.
 3.  DIY homemade laundry detergent. One of our most popular posts at HowDoesShe. Here.
4. Free printable for The World's Best Homemade Laundry Detergent (see above – #3). Gift the detergent you make so others can enjoy it too!  Here
.
5.  Help your kids remember where their clothes belong.  Or even you.  Includes free templates to use so you can make your own drawer stickers. LOVE this! Here.
6 – 10. 5 ways to speed up Laundry Day.  These are great! Here.
11.  How to take out stains with things you probably have on hand already! Here.
12. I've never heard of this one, using aluminum foil as a dryer sheet.  Very cost effective way to remove static. It's also reusable.  Get all the details here.
13. I've been hanging up my sweaters all wrong. Have you?  This post teaches us how to avoid those sweater bumps!
14. A great way to get the kids to  care of their own laundry. Here.  Wish I had room for this!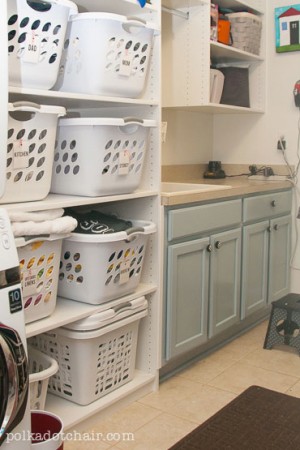 15.  Tips for using Vinegar in the Laundry – includes a free Printable for easy reference! Here!
16. Sorting all that laundry got you down?  Check out this no-sort system!  Genius!
17. Turn your laundry into a system not an asylum. Here.
18.    Laundry ROUTINES. Something I need to do more of!  How to establish a routine and the pros and cons of different systems.  A must read, found here.
19. Raise your hand if you've got some yellow armpit stains to clean up, wait never mind.  I'm so excited to find this tip.  My husband will be too!
20. – 22.  3 tips to get your laundry organized, including adding Lavender Oil to the rinse cycle. Find out why here.
23. Ever thought about line drying your clothes?  Or are you currently line drying? Here's 25 tips to get started or improve.
24.  A laundry binder.  With free downloadable guides to refer to. Check it out here!
25. Can't leave this one out. An easy way to get those grimy toys clean again!  Here.
And I'm off to throw a batch of laundry in, who's with me?
Want more household tips?  These are great!