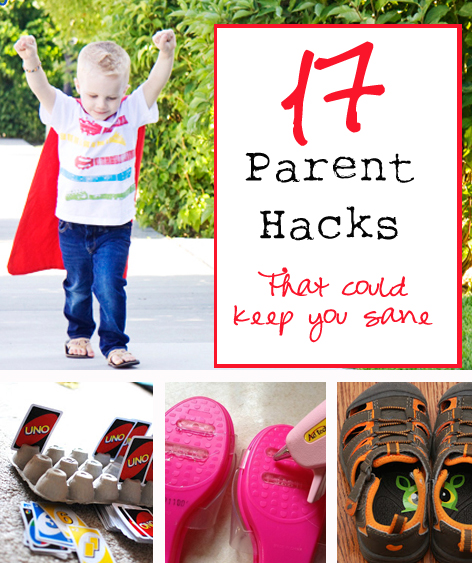 Parent Organizational Hacks
1.  Put your kids to work.  Make it a game.  They will never know the difference.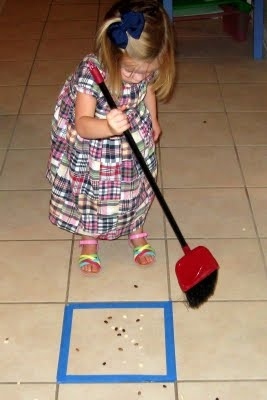 2.  Watch those fingers.  Put a cut foam noodle on the door to keep that door from slamming.
3.  Use that DVD case for a coloring case.  Easy car storage.  Here.
4.  Extend that faucet just a bit more for toddler hands.
5.  Put a pad lock on cords that you don't want plugged in.
6.  If your kids are sacred of Monsters.  Make monster spray.  Here.  Now everyone can go back to bed.
7.  Don't let pesky mosquitoes eat the baby!    Put a crib sheet over a play pin to keep the bites off.  Here.
8.  Eat in the car?  Let you kids eat in the car?  Try a dollar store carrier to decrease the spills!  Here.
9. Glue holes in bath toys to prevent mold from growing on the inside.  Yuck .  Here.
10.  Take a small spray bottle with 2 Tbs of fabric softener and water.   Doll hairspray and it will help with the tangles!

11.  Put a sticker in a pair of shoes so your little guy/girl can get them on the right foot the first time!  Here.
12.  Put magnets on the backs of your cups so they don't get lost or the child keeps pulling out new cups.  Here. 
13.  Those darn slippery princess slippers.  Add a bit of hot glue to the front so they are not as slippery.   Here.
14.  Kids struggle holding all the uno cards?  Use the bottom of an egg carton.   Cut slits so the cards can sit in nicely.  Here.
15.  Use a cereal tupperware container as a trash in your car.
16.  Ahh…now that's a great place to store bibs.  Use a command hook.  Here. 
17.  Use a barrette to keep straps from slipping on kids.  Here.
Check out these other hacks.
17 cake hacks – Pee-a-boo cakes that will make you smile!  Here.
18 kitchen hacks you'll wish you'll knew before.  Here.