It's March HowDoesShe Gals!
That means its time to get 'lucky'! Sounds tempting, doesn't it? Okay, we're talking about St. Patrick's Day which means lots of green, clovers, rainbows, pots of gold, and of course – PINCHING! Ouch. When did that tradition start? Hmmm… I'll need to google that later.
We are ready to HOOK YOU UP with some fantastic and FUN ideas that will be sure to have you seeing GREEN this St. Patrick's Day.
This is brilliant!! I am going to be doing this with my kids. Alison shares her smart idea to actually grow your OWN clover at home with your children. It's a simple and inexpensive activity that will get you all in the "lucky" spirit! Yes, we're letting you in on this fun idea early enough to actually SEE your little clover peeking out well before March 17th. Maybe you'll even find a four leaf clover. How amazing would that be?
Who knew there were so MANY neat ideas for making St. Patrick's Day even more magical? Missy has compiled some of the best ideas on the web in this fantastic post. You`ll find out how to make leprechaun water, discover how much fun an Irish doll can be, and find some cute printable games to play with  YOUR little leprechauns! Oh, and keep an eye out for what one tricky little leprechaun does to Missy`s furniture!
I think this must be one of the BEST ideas around. A Leprechaun trap. There are so many ways to snatch up those little critters. I`m sure YOUR kiddos have a lot of ideas of their own. Missy showcases some fantastic traps that are sure the score you some pots of gold – and some big smiles from your little ones.
Shelley does everything in style, and St. Patrick`s Day is no exception! Read how she spruces up the house to celebrate this lucky day. You'll be feeling 'green' with envy, I'm sure!  😉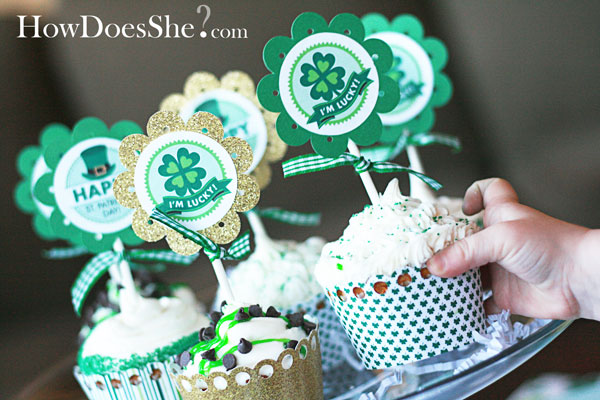 To make your own St. Patrick's Day decorating even easier, we are hooking you up with these adorable FREE printables! Hang them on the wall, stick them on a cupcake, or wear them as a tiara (okay, maybe not that last one) for a quick "green" make-over! You'll be sure to avoid being pinched!
If you don't catch a leprechaun with your sneaky traps, you'll be sure to find one sitting on his pot of gold at the end of this rainbow cake! If you don't find a leprechaun, you might just find ME there! LOL! This is the perfect way to celebrate St. Patrick's Day, am I right? Or ANY day, as far as I'm concerned! YUMMO!
Now you should be set for when March 17th rolls around. And if you aren't sure what to wear, follow the Irish tradition! In Ireland on St. Patrick's Day, people traditionally wear a small bunch of shamrocks on their jackets or caps. Children wear orange, white and green badges, and women and girls wear green ribbons in their hair. If you don't have that, then just wear a smile on your face and a twinkle in your eye! Then you might be mistake for a Leprechaun! Happy crafting!

{Sharing these ideas with these parties!}