Valentine's day is just around the corner and there's nothing funner for the girls in your life than a darling Valentine's hair do!  Here's 15 of the best around. Enjoy!
1. This Heart Braid Hairstyle is beautiful for little girls to adults!
2. The triple heart hair do looks doable!
3. Heart Hair is oh so cute!
4. Or this Heart Braid is the perfect touch for Valentine's Day.
5. 2 Braided Hearts. Great instructions and video. Wow!
6. Here's the super popular Flip-Braided Heart.  There's even  a video tutorial!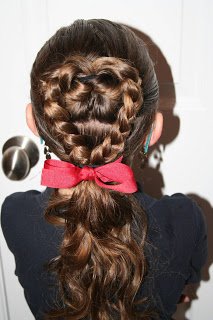 7. The older girls might like this heart bun.
8. Love this fancy Heart Hairstyle!
9. Love this adorable Taped Dutch Braid Heart!
10. These heart braids would be adorable on any little girl!
11. These linked hearts are absolutely amazing!
12. These cornrows and hearts are amazing! Love them!
13. Wow, this Line of Hearts would definitely turn heads!
14. This heart hair do doesn't take any braiding at all and still so adorable!
15. Double hearts and a side pony tail on your girl will make their day!
Happy Valentine's Day!