Thanks to JCPenney and ShopStyle Collective for sponsoring this post! They have everything for everyone on your list! Here's what I got my…
It's time to finish those gifting lists strong! I know how you feel…you just want to sit back and enjoy all of the wonderful things about December without being stressed about crossing off those lists. I hear you! There are music programs to attend, holiday parties to make a splash at, and cozy nights in front of a good holiday movie. Good thing JCPenney has literally everything you need to take care of the rest of your gifting, all at amazing prices!
Get in on JCPenney's Friends and Family Event happening NOW through 12/7. You can shop online or in store! Here are my favorites this month and who I'm gifting them to…
December JCPenney Faves: What I Got My…
Sister…
What a great sister gift, right? And for under $10 it makes a fun one to gift to all the ladies in your life. Fuzzy, fun, and fashionable! I could see myself wearing these on a quick run to buy milk at the store.
Teen Daughter…
My girls both LOVE things like this! And this year, I thought it would be a cool gift for them to give to their closest friends and cousins. Would make a sleepover so much fun!
Grandma…
I only have one grandma left on this earth and she deserves to be spoiled. My husband's grandma loves to do puzzles and this holiday one will make her so happy. It's a GREAT gift under $15!
Bestie…
Isn't this bag just so much fun? Definitely worthy of that best friend with a lot of style and spunk. And CHECK OUT that price!! A steal!
Any Kid…
This gift is always a hit at our cousin exchanges and the best part about it is the talent shows that follow. So much fun!! And kids can just look up the karaoke version of their favorite song on YouTube and prop it up right there on the microphone. This one is a favorite!
Mother-in-Law…
If I know my mother-in-law, I know she loves a cozy heated blanket so this is a no-brainer. It's a GREAT gift for moms and it's 68% off this month!
My Dad…
My dad is a super practical guy, which makes giving him gifts a little tricky. But basically, if he can use it on a daily basis, it's a winner. Which this electric shaver is. Gift it to a guy on your list and they'll think of you all year long.
Husband…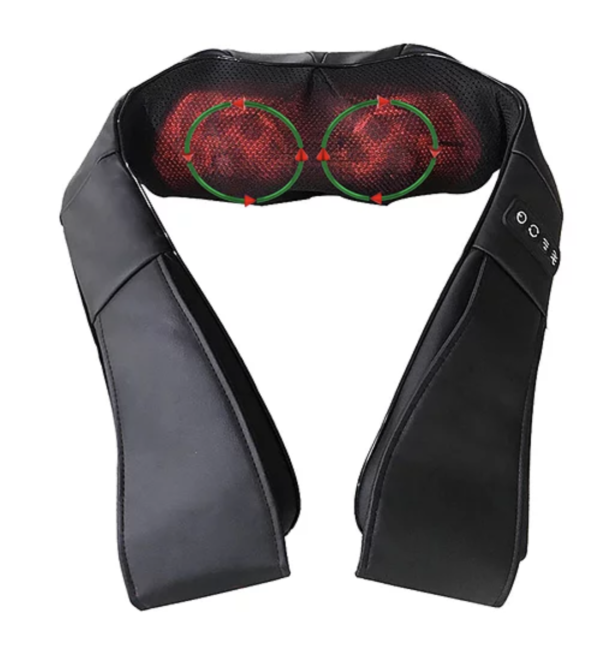 I have to tease my husband that maybe I'm a pain in his neck because he's been hinting about this warming neck massager for a LONG time. Whenever we go to his parent's house, he loves to use this thing so I know it's going to be a gift he absolutely loves. So warm, so relaxing.
Father-in-Law…
Speaking of my father-in-law…he loves to golf. I actually love that he and my husband golf together frequently; it's a great bonding activity for them. So a sharp golf shirt is always a great gift for dad.
Mom…
My mom is always worried about losing her wedding ring…it's the one my grandma gave her. So when I spotted this pretty cocktail ring for UNDER $20, I thought what a fantastic gift it would be for her to wear when she doesn't want to stress about losing her heirloom.
Niece…
I have lots of cute nieces who will have a blast pretending with this nail spa set. Manicures anyone?
These are just a few of my favorites from JCPenney this month. I'm always surprised at the fun deals they have that change all the time, so make sure to check in every now and then so you don't miss anything good! You can shop online and in-store while they're having their Friends & Family event until 12/7 to score additional savings!
Happy holidays and have fun checking off that list so that you can kick back and relax the rest of this holiday season.