Tips for Staying Healthy This Winter
Tips for staying healthy this winter! A few weeks ago our house got hit with a nasty bug, and I got sick for the first time in many years. After I regained my health, I thought about how grateful I was and am to have a body that didn't ache and shiver anymore. And a head that wasn't pounding. How important a healthy body is because life stops when you feel crummy. Once the cold and flu season hits and the chilly season rolls in, I am usually boosting my immune system everyday with basic foods and natural immunity tea which has helped me stay healthy for so many years. This year, I wasn't quick enough, and the bugs got to me first. But– it did make me realize that the key is to take preventative measures to maintain a strong and healthy immune system. So here are my tips to staying healthy this winter. They work for me and my family! All these tips can be found right in your kitchen and are foods that come from the earth. Tips for staying healthy this winter!
Lemon– Lemon is rich in Vitamin C and has antiseptic, antioxidant and cleansing properties. It has an influence on the body against allergies, colds, flu, fever and strengthening the immune system. Lemon juice can kill harmful viruses on contact. Buy organic and only use juice from real lemons. No concentration or lemons from a bottle! Only the real kind. I like to begin each morning with a big glass of lemon water. I squeeze a half a lemon in my cup. It's a great way to start the day off! During the winter months, I try to drink lemon water at least three times a day. Make lemonade, too, by adding a natural sweetener like raw honey or stevia.
Another smart move is to take a daily probiotic, especially during cold and flu season. I like the Physician's Choice 60 Billion probiotic especially because it's an organic prebiotic blend and supports your digestive health as well.
2. Garlic– Whenever there is some kind of sickness going around, garlic is my number one go-to. I've been known to be called the "stinking rose" because I take so much garlic during the winter. And yes, my husband is not a fan! But it works against infection, and it stimulates the body's defense system. Get raw, fresh garlic and a garlic mincer. Not garlic in capsule. Fresh garlic is infinitely more potent and effective. The way I like to take fresh garlic is by a garlic shooter. You can read how I prepare a garlic shooter on my blog. Other ways you can take it is by making garlic tea or putting fresh garlic on salads or other foods.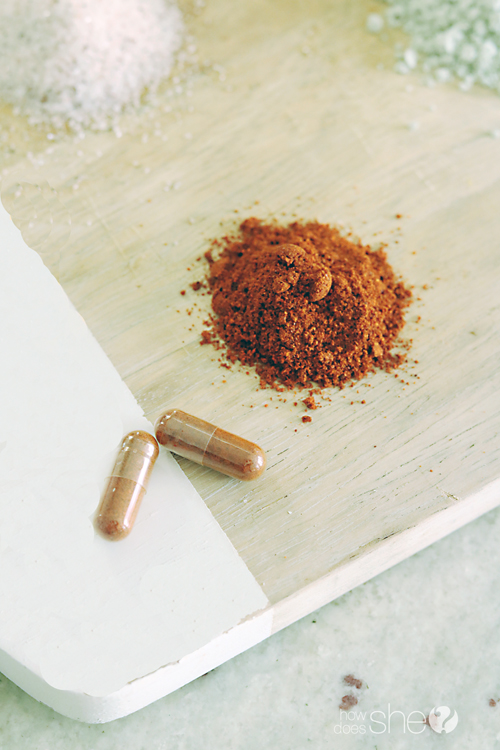 3. Cayenne— Cayenne is high in Vitamin C and especially good to overcome the effects of a cold, chills and cough. It helps build the body's defenses and in cases of tummy aches will often elicit a rapid return to normal gastrointestinal function. The oils in cayenne aid in digestion and relieve gas. Cayenne is recognized by its characteristic 'heat', which stimulates the circulation in the body. Cayenne is every effective with sore throats. I take cayenne daily in a capsule. Buy cayenne in the vitamin section (not the spice section or paprika). Another way to take is put a 1/2 tsp. of cayenne in a glass of warm water and drink it down. You can see another ways I've used cayenne on my blog.
4. Raw Apple Cider Vinegar— Raw apple cider vinegar contains powerful enzymes that promotes digestion, balances the body's pH levels, detoxifies the body and fights bacteria and viruses. After drinking lemon water in the morning, I like to take RACV by taking an apple cider tonic. It's a great way to feel energize in the morning! I also put RACV on my salads as a dressing.
5. Clay— Clay is a sediment of the earth that is putty-like when wet. It has amazing healing qualities and many people take it when they are detoxing. I like to keep a large supply of clay on hand. We use it for insect stings, wounds, face masks (really good for pimples), clay baths and internally when we are sick. Clay is really good to take when you have a fever or a stomach bug. Clay's healing qualities is that it absorbs and eliminates toxins and cleanses the body. Make sure to get the gray clay, which can be taken internally. You can purchase clay at a health food store. To take it internally, put a teaspoon into half a glass of distilled water.
6. Salt— Natural salt is essential element in our body. I'm not talking about table salt but instead sea salt (Himalayan salt). Pure, unrefined sea salt contains minerals that neutralizes toxins and detrimental bacteria. Sea salt regulates water content and water flow in the body. It aids in cleansing the body's system. When you feel an irritation in your throat, gargle salt water. When I had a fever, I soaked in a salt/clay bath for 20 minutes and it brought my fever down.
8. Coconut Oil– Then to end my tips for Staying Healthy This Winter. We love coconut oil and go through it by the pounds. We take it externally and internally…just about everywhere. Coconut oil strengthens the immune system and protects against many degenerative diseases. I use coconut oil in my cooking, butter for toast and oil when stir frying vegetables. I make body rubs with coconut oil and essential oils. Which is great when you have a bad cough.
If you'd like to know more about these tips to staying healthy during winter time, let me know! Along with personal experience, I have many books I have referenced my information from and are all really great read! Tips for Staying Healthy This Winter.

We love sharing tips and remedies that work for us. Check out of few more of our favorites: