*This post is sponsored by CIT Bank and their new Savings Builder account. If you've been thinking it's time to get smart with your money and watch it grow, here are some great tips!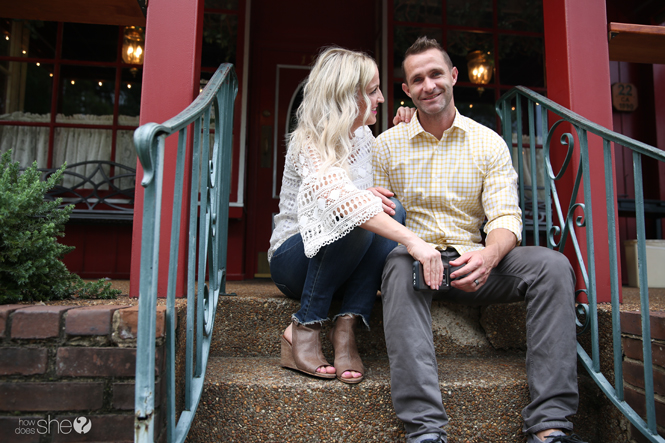 One of the best phases in life is the one where you can start to let your money make money for you. It's like a door opening up to all kinds of financial freedoms. We've all experienced the days of hefty scrimping (remember those .19 cent ramen packets in college?).
When my husband and I were first married, money was so tight that we literally put any spare change we collected throughout the week in a jar and whatever was there by Friday, that's how much we'd get to spend on date night. Some dates consisted of getting a soda at the corner gas station and then driving to the track field to look at the stars.
Later, when we brought home our first baby (and subsequent baby bills) and my husband was still in grad school, I questioned if there'd ever be a day where we wouldn't feel so strapped.
It's Time To Get Smart
Fast-forward ten years and we are there. Not by magic, of course. You know as well as I how much hard work goes into becoming more financially free. There is school to finish, and jobs to grind at, and debt to pay off, but there does come a day where ramen turns into filet mignon. And it feels good.
Most of us are nearing that point, or have dipped our toes in the water, getting a feel for what our money can do for us. Financial freedom—that's the end goal!
Now that we're out there tackling life, it's time get smart. It's time to make our money go the distance. If you're ready to take that next step toward that dream home or bucket-list vacation, get going on these three financial stepping stones.
3 Ways To Let Your Money Make Money for You
1. Switch to a better savings account.
Did you know that unless you are in a high yield APY (Annual Percentage Yield) savings account, your money is probably losing money? It's true! The average savings account—like the one you very well may currently be in—only pays you between .01% and .06%. That is insanely terrible! When you calculate inflation in, you are actually losing your hard-earned dollars in a savings account.
Not CIT Bank's new online Savings Builder savings account. This is a brand new high
APY account that earns you even more money on your savings–2.15% at the top tier. That is awesome!
Your dollars start growing dollars without you barely lifting a finger.
I finally got smart and took that step and let my savings start making money for me.
Here's how it works:
Savings Builder is an online tiered savings account that offers nearly double the annual interest (APY) of regular Joe-Shmoe savings accounts. That means your money is earning a lot more than it would in a traditional savings account. The more money in your Savings Builder, the more money you make in interest.
Open a CIT Savings Builder account with $25,000 or more and earn 2.15% APY on your money—one of the top savings rates in the nation!
Don't quite have the $25K to open an account with? No biggie. You can still earn the 2.15% APY on whatever money you do put in your savings account, as long as you make one monthly deposit of $100 or more. (If you forget, CIT will send you a friendly reminder mid-month to schedule your deposit so you can keep your high APY.)
Learn more/get a Savings Builder account here. (See site for details and disclosures.)
Check this out:
If you're like us, you might have a good chunk of change just sitting in a low-yield savings account. Guess how much it was making a year…$5. Five freaking dollars, that's it!
 Your money is actually losing money in a regular savings account! We finally got smart and moved our savings to a high-yield savings and it has been fun watching it grow. Check out the difference a year makes. With the CIT Savings Builder account, our money can make $1,075 a year, without us even doing anything other than switch.

2. Start now.
The number one tip that financial advisors have for their clients is start now. Don't procrastinate your financial growth plan. You've probably heard this scenario about the gal who starts saving at 25 versus the guy who starts saving at 35. They both put $200 into an account and by the time they retire at 65, Emily has over $400,000 in her account while Dave has $200,000. The outcome is pretty drastic.
Start now.
Open a higher-tiered savings account now, rather than later. You can open a CIT Savings Builder account for just $100 with no opening fees and no maintenance fees. Your money will grow slowly, but it will grow. Now if you're at the stage in life where you've built up a commendable savings of $25,000 or more, you'll qualify for the Savings Builder top tier and earn that higher APY of 2.15%.
It just makes sense to let your money make money for you in this way.
3. Shave off debt, then start saving aggressively.
Getting rid of debt is one of the most rewarding pinnacles to reach. I remember the exact day and time that we made our final student loan payment. The feeling was like a physical burden being lifted. We felt free.
If you've made a significant dent in your debt, way to go. Keep shaving each financial obligation off one by one. Once you pay down debt, it's time to start saving more aggressively. If you're in a high-yield savings account, your money will make money for you while you do nothing. If you want to play a more active role, start investing.
Now that our family is growing older, things are changing. We're ready to build our dream home and ready to help our kids start saving for college.
Reasons to Save and How Savings Builder Can Help
Make the most of your money.Online savings banks offer much higher rates than everyday banks. Open an account with $25,000 or more and earn 2.15% APY on your money—one of the top savings rates in the nation.
Build a habit of savings. If you don't have $25,000 in your account, you can still earn the higher APY Tier by making a monthly $100 or more deposit. Pay yourself first. Start with $100 per month and build your habit of savings-—all while getting a top rate.
Emergency and unexpected events. Whether it's a job loss, pet expense, car or home repair, or medical issue, it's most often the #1 reason people save.
New or next home. Grow your savings faster than at your everyday bank for your first—or next dream home.
Luckily date nights now usually consist of dinner and a movie. But every once in a while, I miss our soda and star-gazing nights. Growing up means becoming more financially free and that is a great feeling. After all, I want to still be holding hands at the movies when we're in our 80s.
If you want to learn more about how a Savings Builder tiered savings account can make money for you while your money just sits there, try CIT Bank online. It's time to sit back and start reaping the benefits of your hard-earned savings. (See site for details and disclosures.)
SaveSave