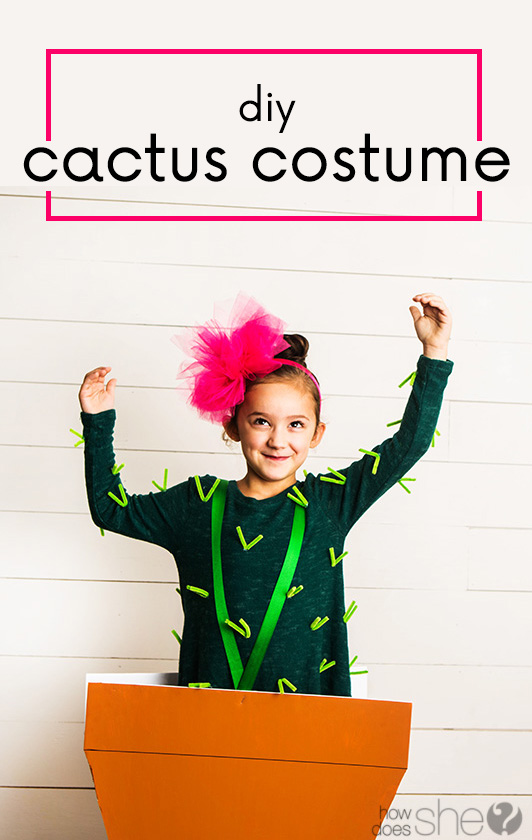 Halloween is just days away and if you're like me you need easy. simple. cheap. Enter this adorable diy cactus costume complete with it's own flower pot. Yep with some pipe cleaners, ribbon, cardboard, and a couple other basic supplies, you can have an easy (and on-trend!) costume that will work for any age. It doesn't get much better than that!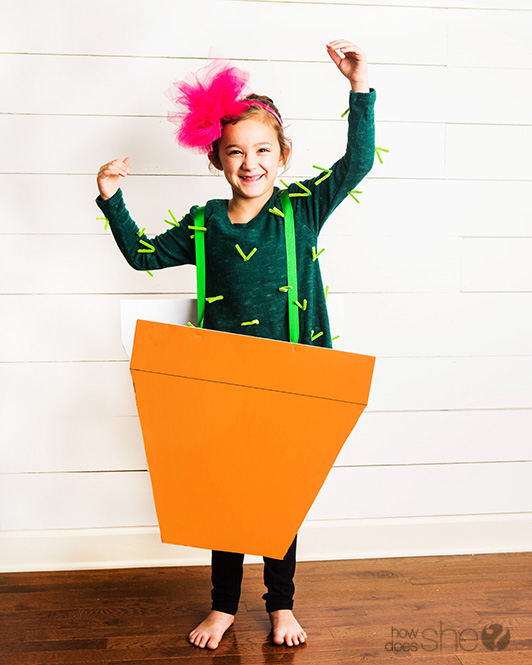 Let's jump right in! We're partnering with Arrow Fastener to show you an adorable costume you can make with a few classic tools. Here are the supplies you'll need to create your own cactus costume plus the two go-to-have tools that should be in any crafter's arsenal.
DIY Cactus Costume
You probably have some of these supplies laying around your house.
Supply List:
green shirt
green pipe cleaners
2 pieces of 20″X36″ white cardboard
terra cotta color paint
paint brush (or sponge)
pink tulle
headband
green ribbon
Tools used:
Scissors
Box cutter
Arrow Fastener MiniPlus Glue Gun (the best glue gun I've ever owned.)
Arrow Fastener Piler Stapler (It comes in SO handy for all kinds of projects!)
Video Tutorial:
If you're the visual type like I am, here is a handy video to follow!
Instructions:
First you'll want to grab your white cardboard and measure down 4″ on the short side.
I'm totally a visual person so here's how I measured out my flower pot:
Measure from the top down 18″. Then measure across 10″ and the X marks the spot. Then measure 5″ to the left and right of the X and mark those spots. That will be the bottom of your flower pot.
Now you'll use a ruler to connect the bottom of each side of your flower pot to the 4″ mark at the top and draw a line. That gives you the tappered sides of your flower pot.
Now, simply take your box cuter and cut out the sides and bottom to give you the flower pot. Repeat with second piece of cardboard so that you have 2 flower pot cut-outs.
Grab your terra cotta paint and paint both flower pots.
While the paint is drying on your flower pots, let's make the headband. Grab some tulle and a magazine and get to wrapping. I wrapped the tulle around 12-15 times.
And because this part is a little harder to explain, here's a quick video to show you how to turn the wrapped tulle into a cute little cactus poof flower:
You deserve to own a good glue gun.
Enter the best glue gun I've ever used (craft supplies excite me obviously, lol) This glue gun is from Arrow Fastener and it's their Miniplus Glue Gun. Even my husband who was zoned out on a football game while I was making the costume, stopped watching tv and wanted to see the glue gun in action. It has a light on the end which was surprisingly extremely useful AND you can unplug it and make it cordless for up to 5 minutes and it keeps the heat.
Yep, you read that right – CORDLESS! I never knew what I was missing out on until using this bad boy. Now that I've seen the light (literally, hehe), I won't be going back to my old crummy glue gun.
It worked like a dream attaching the tulle poof to the headband. I was ewwwing and ahhhing the whole time and so was my husband who had completely abandoned his football watching at this point. 😉
And, it's worth mentioning that Arrow Fastener also has two other awesome glue guns – the dual temp glue gun which features a finer tip and dual temp settings for any project and their professional high temp glue gun which is pretty much the mack daddy of all glue guns. It takes a 10″ glue stick which blows my mind! I'm impressed!
Ok now let's talk prickly cactus details….grab those green pipe cleaners and cut them 3″ long. You'll need several of these, I'd say 25-30.
You'll want to put some cardboard inside your shirt before you attach the pipe cleaners to it so you don't glue your shirt closed. I used left over pieces from the flower pot.
Bend your 3″ pipe cleaners in half. Then grab your glue gun and put a dot of glue on the bend and randomly stick it to your green shirt. This is the fun part! Get crazy with it. There's no rhyme or reason to placement, just have fun.
Easy Attaching
Once your flower pot paint is dry, you'll want to attach the ribbon. Once again I used an awesome product by Arrow Fastener for the job. Plier staplers should just be a necessity around the home like a screw driver or hammer. I'm not sure why I haven't already invested in this product but it's like 1000x easier than your typical stapler. It stapled the ribbon to the cardboard like butter. No jammed staples or not going through all the way – just a simple staple and done. Easy peasy. I'm a fan of anything that makes my life simpler.
I cut the ribbon at about 25″ each and played around with placement and ended up stapling both ribbons to the middle of the flower pot and then the same thing on the backside flower pot. I adjusted the ribbon for my daughter's height so just play around with placement and length of the ribbon in relation to who is wearing the costume.
And done! A cute little cactus costume perfect for an easy Halloween costume. Works for about any age and simple supplies and quick/easy instructions to make it yourself. Perfect for trick or treating!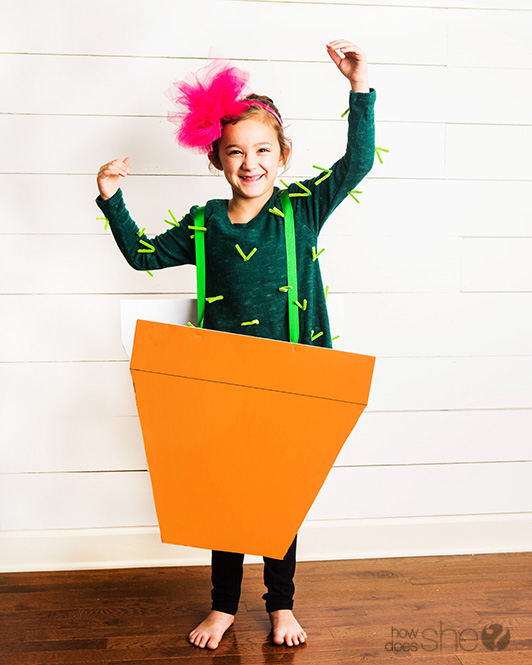 For more of my favorite Arrow Fastener tools (that should just be a staple in any home IMO), check out arrowfastener.com.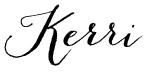 *A huge thanks to Arrow Fastener for sponsoring this post. All opinions are honestly and completely my own!