You guys LOVED our original Felt Quiet Book so you will be as excited to see these new Fall Quiet Book Patterns as I am to show you!
These 3 FALL themed quiet book patterns are the first in a series of 12 that will depict all 4 seasons when complete. You could make 1 smaller book for each season, or once they are all released, put them all together into 1 bigger book.
I didn't think the Quiet Book could get any more adorable…but Chickabug has done it again! See for yourself, watch this video!
Fall Quiet Book Patterns You and Your Kids Will Love
Scroll through these photos and picture how adorable your book is going to turn out and how much the little one you make it for is going to LOVE it!..(hint: buy it now and be ready for Christmas!) These quiet books are perfect for technology-free fun and imaginative play.
#1 Haunted House
$3.99

__________
#2 Jack O' Lantern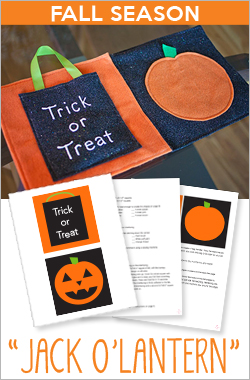 $3.99

__________
#3 THANKSGIVING
$3.99

__________
You can also see these patterns and ALL the original quiet book patterns in our HowDoesShe Store!
*PLEASE NOTE: THESE ARE DIY PRINTABLE PATTERNS AND NO PHYSICAL ITEMS WILL BE SHIPPED – NO REFUNDS WILL BE OFFERED.
We hope you love these as much as we do! As you make them (or gift them), please share pictures with us on Instagram and Facebook using hashtag: #hdsquietbook
And get excited for the next season, WINTER, to add to your collection!