Most people hear the word "canned" and they run for the hills. Either they're intimidated by the canning process or they are afraid it won't taste good once it's been processed. Don't be scared – this is not pressure canning – simply a water bath. This recipe, easy canned salsa for beginners, will debunk all your canning fears!
I can remember my mom canning salsa at least two times every summer. We had a garden partly to restock the salsa shelf in the pantry! Several years ago, living a thousand miles away from my favorite salsa, I started making it myself and it was easier than I ever imagined.
I will tell you, plucking the tomatoes and the peppers from your own garden always makes for better salsa. However, I now live in the desert and it is far cheaper to buy produce than to pay to water a garden and the salsa is still delicious. This recipe makes around 20 pints. If you don't want to be stuck in the kitchen for the better part of a day, cut the recipe in half.
20 lbs Tomatoes (I always use roma)
4 lbs onions  1/2 yellow, 1/2 white
12 tsp salt (1/3 cup)
4 cup Apple cider vinegar
12 jalapeno peppers (this is to taste, I often put in more depending on the hotness level desired and the hotness of your peppers)
8 cloves of garlic (The minced garlic in a jar from the grocery store works great)
3 tsp cumin
2 tsp chili powder
2 tsp sugar
2 or 3 cans tomato paste (12 oz)
First, blanch your tomatoes to remove all skins. To do this, boil a large pot of water and put some tomatoes in the pot, wait up to 30 seconds and then remove them with a ladle and immediately put them in cold water in your sink. I often put a metal colander in my stock pot to make this step easier. Do this for all 20lbs.
Use a paring knife to remove the skins and remove the stem area.
Blend all your ingredients except the tomato paste and spices. I typically put a little of each ingredient in the food processor/blender multiple times and dump it into a large stock pot. Add spices and let it cook for an hour or so, it'll change from a light red to a dark red. I continue to cook the salsa until it's the consistency I like – the longer you cook it the thicker it will become. I prefer a thicker salsa, so I let a lot of the water cook out. Add the tomato paste and let it cook just a bit longer.


When it tastes the way you like and it's the consistency you like, you're ready to can it. Don't let this step scare you. You can use a stock pot or a traditional canner (black with white speckles). Fill as many jars as you can fit in your pot, make sure your jars are at room temperature or warm, since you'll be adding warm salsa. Fill with salsa and clean off the top of the jar so you get a good seal. Add a lid and ring to the jar and place it in the pot of boiling water. After all jars are added, make sure there's an inch of water over all the jars. Let it boil for 25 minutes.
Remove jars and cool. Remove rings after jars sit for 24 hours. Make sure the lid has a good seal by pressing down and making sure it doesn't pop back up.
Grab yourself a bag of chips and enjoy a batch of salsa!

See more of my adventures and projects at www.lifewithfingerprints.com
A nice bowl of salsa with some tortilla chips is such a satisfying snack. And it works so well with so many other dishes! Here are a few more ways to make and use salsa in your weekly menu:
Macho Nacho's Grande' with Avocado Salsa and Tomatillo Dressing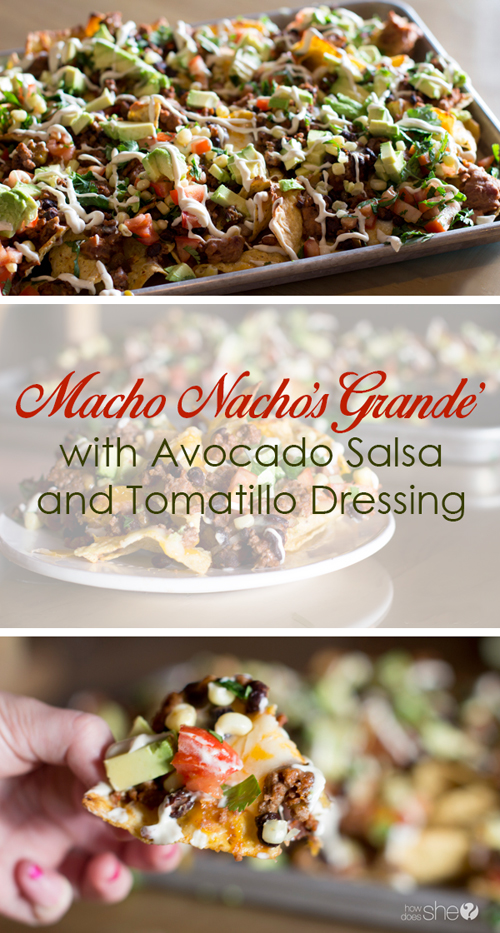 Fresh Grilled Corn and Cucumber Salsa