A big thanks to Banana Republic Factory and ShopStyle Collective for partnering with us on this sponsored post!
Right now, the entire Banana Republic Factory site is AT LEAST 50% off right now + an extra 15% taken off automatically at checkout…sweet! And get free shipping o $50 by becoming a Rewards Member (it's FREE!).
This is the summer to restock your wardrobe with classic Banana Republic Factory fashions that are chic and modern.
Picnics, sunny baseball games, and outdoor concerts…it's going to be great getting back to our favorites normalcies this summer! It's reason enough to celebrate with a new chic summer wardrobe that you can wear to art in the park, or a stroll through your local farmers market.
15 Chic Pieces To Fuel Your Summer
Airy light fabrics, transitional cuts, and fresh new styles–this sale and these pieces are too good to miss!
Here are my personal faves:
Tiered lilac skirt: Sorry ladies, I already snagged one of these before my size sold out because I fell in love with this skirt from the second I saw it. How lovely, how fun. And with that gorgeous color, I couldn't add it to my cart fast enough!
Light and oversized sweater: I love the light sky blue of this layering sweater. It's the perfect piece to take along when the sun sets on your outdoor concert and the air cools off just enough to want something cozy.
Linen shorts: The fit and fabric on these shorts is just perfection. Wear them to a baseball game or small town parade and you'll feel like you're wearing barely nothing at all. Looks like the waist fits true to size.
Perfect layering denim jacket: One of the best pieces you will EVER stock in your closet. A classic denim jacket like this one from Banana Republic Factory is probably my #1 favorite article of clothing. It goes with everything and is just so cool.
Accessorize Like a Pro
Faux Suede Espradrilles: While I can never say their name correctly, I love these strappy wedge sandals. How lovely would these look with the lilac skirt or linen shorts above?
Chic fedora hat: Top off your outfit with this cool statement piece.
Tortoise sunglasses: No summer outfit would be complete without them. And the price on these sunnies is incredible! (These are also on their way to my front door!)
Dress for Success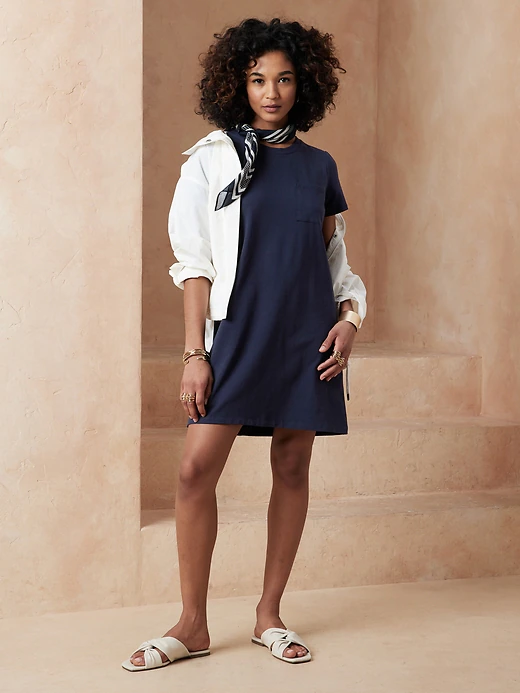 Comfy t-shirt dress: One of the easiest outfits to put together in the summertime. It's simple, versatile, and always looks amazing.
Tank midi dress: Be photo-ready in a dress that's just as show-stopping as it is comfortable. Great for those summer weddings or family pictures!
Embroidered sleeve blouse: I love the attention to detail these sleeves embody. Wow. What a chic blouse to have in your arsenal.
Lace tank: One thing I love about Banana Republic Factory is that their clothes are just so classy while still being fresh and fashionable. Sport this tank for a day out on the lake or a night out on the town.
Modern Straw Tote: Take this high-end tote to the farmers market and come home with all kinds of fresh and local goodies.
Men's Favorites:
Banana Republic Factory is a great place to shop for the man in your life. Their classic pieces are perfect for guys who like a no-fuss look and carry plenty of cool vibes.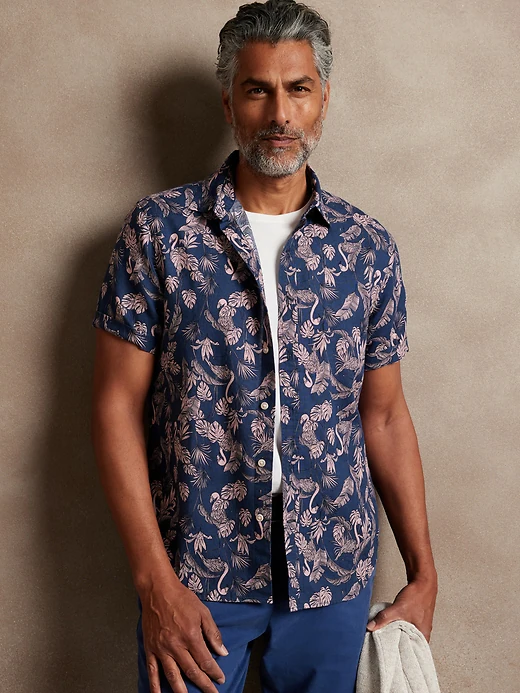 Flamingo shirt: From the beach to the streets, this is a fun shirt to put in your guy's lineup.
Men's shorts: It is hard to find shorts that my husband likes to wear but these check off all the boxes. Perfect length, lightweight cotton blend, and an AMAZING PRICE!! (Seriously, stock up on these ones for your teens and guys!)
Men's rayon shirt: A must for those backyard barbecues, this shirt comes in four great summery patterns that is sure to make your guy the life of the party.
Don't miss out on some incredible deals going on right now at Banana Republic Factory. These classic clothes will fuel your summer fun and keep you looking fresh and chic as you get back to all your favorite activities!