*Thanks to Cricut for partnering with us on this sponsored post. All opinions are our own and the Cricut machine is pretty awesome!
My first introduction to a Cricut cutting machine was a few years ago when my sister-in-law got one for Christmas and was showing me all the cool things it could do. I watched as the blade intricately cut out perfect designs for handmade birthday cards and vinyl messages quickly and easily.
It seemed that the Cricut machine was a DIYer's best friend. After hearing so many great things about it, I decided to see for myself. First, you should know that I am NOT a naturally gifted crafter. Many of my projects would end up on the 'Pinterest Fail' list and I think that's what I love most about Cricut…it makes you look good.
Like, really good.
Here are a few easy projects for beginners on a Cricut Explore Air 2.
4 Cool Projects You Can Do with a Cricut Machine
First, you gotta know that getting started with your Cricut machine can be a bit overwhelming. Luckily, your machine comes with step-by-step instructions to follow that make it quite easy.
A Cricut machine works hand-in-hand with your computer. I set mine up with my laptop and I'm so glad since it made everything mobile. You'll download Cricut Design Space and this is where you'll find and create all designs for your projects.
Cricut can cut all kinds of materials like vinyl (for signs, decor, and labeling), iron-on transfer vinyl (for making your own graphic t-shirts, bags, hats, and more!), cardstock, and leather.
This makes for an endless possibility of cool projects you can do! Once I started, I couldn't stop. Here are a few fun projects you can easily do on a Cricut machine.
1. Custom T-shirts
I think I'm most excited about this one! You can use a Cricut machine to make your own t-shirts! Think for family vacations, the gym, Christmas pj's, you name it!
You'll also need iron-on transfer sheets and Cricut has so many fun colors and textures! Glitter iron-ons, Disney prints, and so many more. They also have the coolest thing called a Cricut EasyPress.
This baby comes in three sizes and is like the world's most awesome iron. It's made especially for iron-on projects. You have to go check out all the cool things you can do with it—like spicing up a plain pair of shoes!
I use mine to make fun t-shirts for the gym. These are great to gift too! Actually, there are plenty of people using their Cricut machine as a side hustle to make and sell unique items on Etsy and Facebook.
2. Home Decor Signs
We all know home decor can be so expensive. Well, if you have an idea, a Cricut machine can make anything with vinyl! I go to home decor stores to get ideas and then make them myself with my Cricut.
You can design anything you want in Cricut Design Space, or if you're creatively challenged like me, opt for Cricut Access. It's a subscription to over 100,000 designs and images already made so you don't have to waste time creating your own.
I saw something similar to these above signs at Hobby Lobby and wanted to try them out on my Cricut. I used two cheap white canvases, cut out the Naughty and Nice lettering on my Cricut with red vinyl, added some pom-poms, and it was the easiest holiday decor ever!
Below, I found a cheap wooden state sign at Walmart, and used Cricut Design Space to cut out the rest. So easy.
You can also search the web for free svg files (cut designs that are compatible for your Cricut) that lots of cool people have created and are kindly offering up.
Bottom line, you want a sign…your Cricut can make it!
(Hint: It may not seem like it, but your Cricut is actually cutting with such precision that you can barely see it! I found this tool kit extremely handy for removing vinyl and strategically placing it onto these projects.)
3. Leather Earrings
Those leather earrings that are so hot right now? Yep, a Cricut can make them. You'll need leather or faux leather (and make sure you select which material you're using in Cricut Design Space). I suggest faux leather for the Cricut Explore Air 2 as it's easier to cut through.
These make great gifts!
4. Santa's Cookie Plate
Finally, here's an easy and fun project for Christmas that you can use in your own family or give as an inexpensive gift.
Santa's cookie plate! I got a $2 plate at Hobby Lobby, uploaded a free font to my Cricut Design Space (you can find lots of free fonts online). This took about five minutes to make. Easy, cute, and cheap!
And really, this is just the tip of the iceberg of things you can create with a Cricut machine.
Find more inspiration and ideas at Cricut.com and let us know what you've done with your Cricut!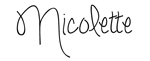 This is a sponsored conversation written by me on behalf of Cricut. The opinions and text are all mine.