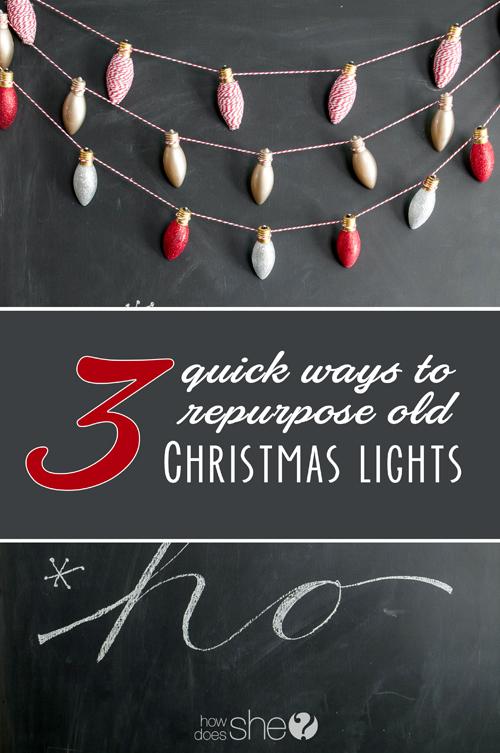 I'm pretty sure every year we end up throwing away another two strands of Christmas lights because the frustration of figuring out which bulb is the culprit making the entire string not work is just not worth it. And although your strands may seem worthless – here are 3 quick ways to repurpose old Christmas lights when they go out on you – (these are c9 bulbs).
Wrap them in bakers twine

Use a little super/hot glue as you go and the bakers twine will stay in place as you wrap the bulb.

Spray paint them

Spray them with a fun metallic or glitter paint.

Cover them in glitter

Brush the bulb with regular school glue and then sprinkle with glitter (I like to use really fine glitter). Spray clear spray paint on them afterwards to minimize the glitter falling off.
Once your lights are transformed you can use them as vase filler, table decor or string them with some bakers twine and make a garland out of them.

Whatever you choose to do – you'll wish you had more lights burned out! You could always pick some up at a thrift store or even find them for cheap after Christmas. A little tip: many people search for lights after Christmas to find a good deal – but rarely do people stock up on the replacement bulbs – they usually end up with a pretty steep discount and all you need is the bulb!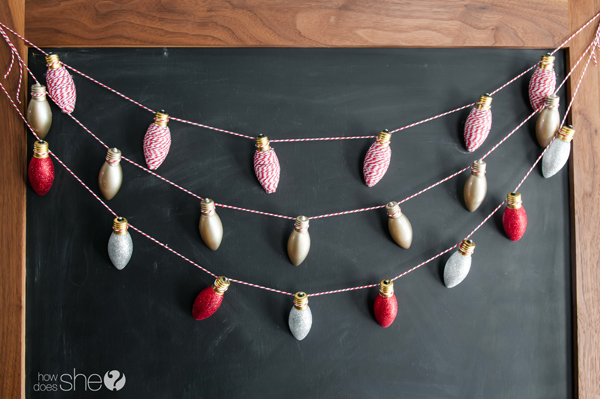 See more of my adventures and projects at www.lifewithfingerprints.com
We love affordable and EASY ways to decorate for the holidays. Check out a few of our favorite ideas that we've shared in the past: