I don't know about you, but I'm a huge fan of DIY gifts.  I love to make them and I love to give them away.  If you're careful, it will also save you a bit of money too!  I've rounded up a list of inexpensive gifts that won't break the bank!  Enjoy!
1.  Flower Monogram Frame.  Grandparents would love this one!
2.  Make your own Cake/cookie stand.  Add some oreos and you've got a great gift for a teacher or friend!
3. Here's a creative gift – a Crayon Vase. Easy to make and adorable!
4.  The coasters are fabulous and super cheap!  Great tutorial here!
5.  Baking Sheet Magnet Boards would be perfect to keep the little ones busy!  (And keep your fridge clutter free!)
6.  Make a Glass Tile Pendant.  Teenage girls would love this!
7.  Lotion Bars are super easy! Recipe included!
8.   This Fabric Flower Belt is gorgeous! Great step by step instructions!
9.  Word Bracelets.  Inspiration on your wrist!
10.  Fabric Scrap Keychains.  Loving that fabric!  Perfect for a friend!
 11. DIY Hand Warmers. Easy to make – the kids will love these!
12. What a great gift for grandparents! Photo Display tutorial.
13.  This LOVE Bookshelf is the perfect surprise for your sweetheart! I've even seen these at wedding receptions with pictures of the married couple displayed on them. LOVE it!
14.  Mistle Toes gift baskets are perfect for teachers.  Include some fuzzy socks and nail polish!
15.  Easy to make Twisted Turban Headband.  Up-cyle an old shirt, includes great instructions!
16. Letter blocks for Dad.  Great idea for the dad who has everything!
17.  Peppermint Candy Cane Sugar Scrub.   So pretty and useful!
18.  Erase Board Frames are perfect for quick notes to family members, a weekly menu list, or even leaving a note to your locker partner!
19. This Photo Display Gift is only $3 and includes free printables! So Cute!
20.  Great step by step on how to Etch Wine Glasses.  Doesn't take much to get a professional looking gift!
I'm excited to start on my DIY gifts this year, how about you?

Mason Jar Crafts are cute and also make a great gift!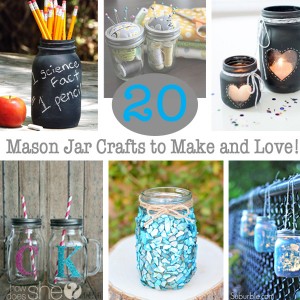 Show your creative side with these fun bobby pin ideas!