I'm in love with Mason jar crafts. They are simply adorable. When all decorated up, it really looks like you know what you're doing in the craft department. Ha! I think that's why I like them so much! Read on and you'll see what I mean. So easy yet so adorable!
20 Adorable Mason Jar Crafts You'll Love
1. Chalky Painted Mason Jars. Aren't these to die for? I must get me some of this paint!
2. Beachy Mason Jar Terrarium. Maybe this is what I should do with the sand I brought home from the beach in Mexico 4 years ago? Ha!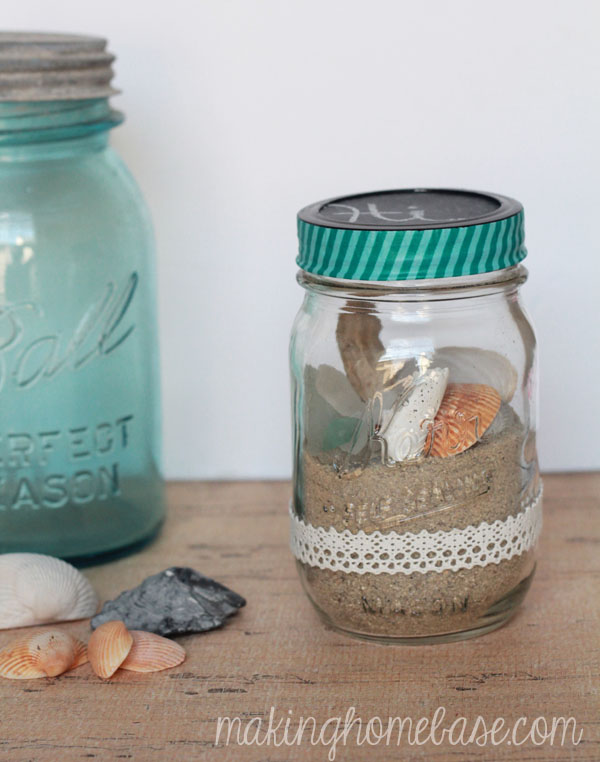 3. Mason Jar Superhero Banks. A fun way to get kids to save their money!
4. Fall Mason Jar Vases. Could use any word and make several!
5. A treat for the teacher. DIY Apple Jars.
6. Mason Jar Sewing Kits. I think I want to take up sewing just so I can use these! Perfect step by step directions!
7. These Silhouette Mason Jars are gorgeous and perfect for any occasion!
8. Mickey and Minnie Money Banks. An adorable way to save up for your next vacation!
9. My kids would love these! Snowman Mason Jar Luminary Ornament.
10. Mason Jar Lanterns. Perfect for enjoying those summer evenings. Great directions and pictures!
11. Chalkboard Mason Jar Candle Centerpiece. So simple to make but looks amazing!
12. This Beach Inspired Mason Jar Craft doesn't require any trips to the beach, just the craft store. Although if you need an excuse to get yourself to the beach, then here you go!
13. The Jingle Bells Jar and other Mason Jar Crafts are so easy I bet even I could make them! I'm loving all her different types!
14. Have you seen these DIY Pumpkin Mason Jars floating around Pinterest like me? Here's the step by step. I'm thinking these would be great for school teachers!
15. Create a football game party to remember! These Football Mason Jar drinks are easy and just too cute. Can footballs be cute?
16. What teacher wouldn't love this Chalk Board Mason Jar? Perfect inexpensive gift! I might have just found my teacher gifts this year! 🙂 Also includes Free thank you printables!
17. Help the kids know where to put things away in the bathroom with this Bathroom Organization.
18. Who doesn't love seeing their initial in glitter? These Glitter Monogram Mason Jars would make a great gift for the teenager's friends.
19. Mason Jar Donut Bouquet. Way fun centerpiece!
20. Do you have Frozen fans at your house? This Olaf Mason Jar is way too cute!
Dig out those Mason jars and get started on the Mason jar crafts you can't wait to make! And we've found that heat transfer vinyl works the best for these mason jar crafts as well as lots of other DIY products!
Want more Mason Jar Craft ideas? Check out this great find on Amazon!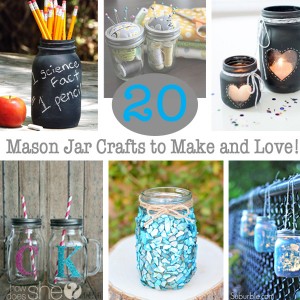 Get using that slow cooker! You'll love it!