Whether it's after school or on the weekends, we're always on the lookout at this house for some easy and healthy snacks for kids. How about you? Here are 40 amazing ideas that should help us all out! I know my kids are seriously going to drool over these ideas.
Healthy Snacks for Kids that Everyone Will Love
1. Fruit Kabobs. A great healthy snack, that is simply irresistible!
2. Frozen Yogurt Pops! Those look yummy enough for me to eat!
3. Apple and Grape Car Snacks. I can pretty much guarantee this snack will be eaten! So fun!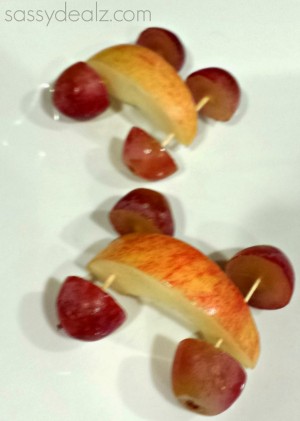 4. Butterfly Snack Bags. These will fly off the cookie sheet they will be so popular!
5 – 7. 3 Great Easy On the Go Snack Mix Recipes. Includes tips on how to prepackage them!
8. No-Bake Energy Bites. Super healthy and convenient! Try adding some yummy protein powder for bonus nutrition.
9. Easy Apple Chips. Love how simple this healthy snack for kids is.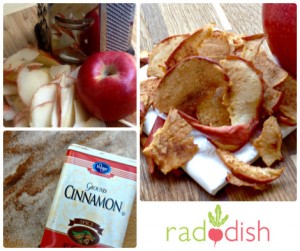 10. Did you know it is so easy to make your own Fruit Leather? I've got to make this for the kids! They will love it!
*Bonus Mom-pick: This kids protein drink. My kids love the taste and they always ask for the "special chocolate milk." Plus, look at all those nutrients!
11. Frozen Chocolate Bananas. Takes a little time to freeze it, so plan ahead, but still super easy!
12. Here's a great go-to Simple, Delicious, Fruit Dip that will for sure help your kids get their daily fruit in!
13. Healthy Frozen Banana Treat. This one blew my mind. I like to add a scoop of this protein powder to get an even better health boost!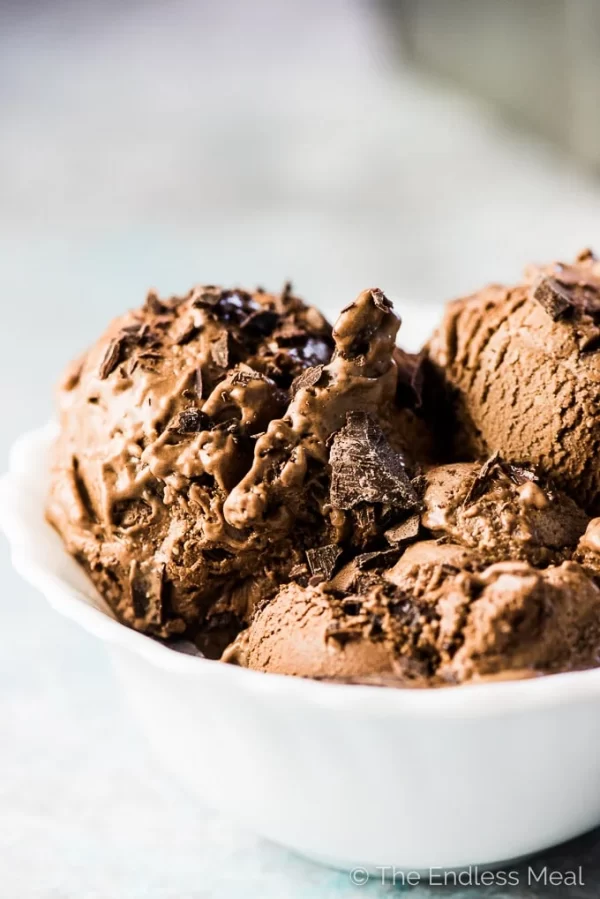 14. Breakfast Cookies. Sounds like a great start to the day!
15. A guide to making the snacks not only healthy but adorable. Check out the Easy Apple Turtles here.
16. Witches Brooms. 2 ingredients, String Cheese and Pretzel sticks. LOVE IT!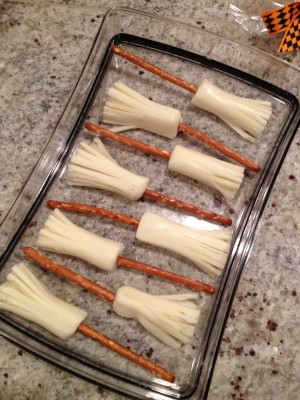 17. Sour Patch Grapes. Just add grapes and jello powder make for an awesome snack! My kids LOVE these grapes!
18. Easy and Delicious Coconut Oil Popcorn. The coconut oil adds a bit of sweetness and nutrition!
19. Homemade Frozen Yogurt Raspberries. Yum! Super easy to make and takes no time at all! Can't wait until it's raspberry season!
20. Frozen Yogurt Dots. Super cute and colorful!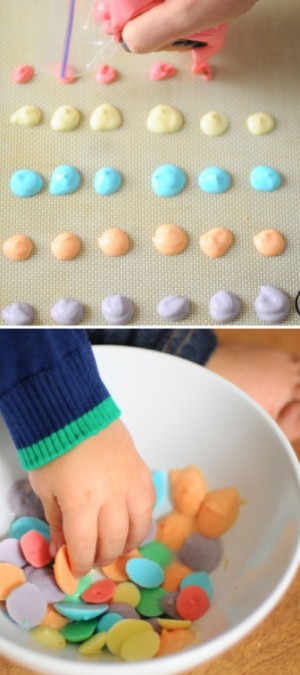 21. Fruit cones. Looks like pretty much the perfect camping snack for kids and adults!
22. Happy Toast. Great for a good laugh as well as great nutrition!
23. Homemade Gluten Free Goldfish and Cheez-it Crackers. Awesome step by step instructions!
24. Mini Zucchini Muffins. A great way to use up all those zucchinis from the garden!
25. Apple Teeth. Perfect after a preschool lesson about apples or even after learning about the dentist!
26. Mini Fruit Pizzas This version is a quick no-bake variety that is sure to please kids and adults alike.
27. Homemade Creamy Pudding Pops. Just a few ingredients and you've got a cheap knockoff Creamies dessert. Perfect for me because I'm a huge fan of Creamies!
28. My kids always love it when I make a smoothie. It's a great way to sneak in some fruit and even some protein. Protein Smoothie for Kids looks delicious to kids. And for moms…you'll feel like you're cheating with this "grownup" shake, but it's actually crazy-healthy!
29. Grinch Kabobs. I think my kids would eat these any time of year!
30. Great lunchbox treat! S'more Snack Mix. You just can't go wrong with these ingredients!
31. These are a super creative way to celebrate Halloween! Mini Pumpkin Quesadillas. Perfect for a Halloween lunch or an anyday lunch!
32. This Lunchmeat and Cheese Roll Up is perfect for a great snack without the bread!
33. UFO Apple Snacks is simple to make! Guaranteed to be a hit after school!
34. Even the kids get in on the action here! These Fruit Trains are amazingly adorable!
35. Monster Mix! Great way to use up the cereal! Perfect for snacks at the park!
36. I love feeding my kids muffins! Super healthy and they are bound to get filled up! Try these Apple Oatmeal Muffins. They sound amazing!
37. Tree Snack for Kids. Perfect for preschoolers who are learning their letters!
38. Sourdough Pretzel Bites. Great way to avoid the processed snacks from the store!
39. LEGO Snacks for kids. Perfect for the LEGO party your kids are begging to have!
40. Homemade Healthy Fruit Snacks. A great healthy idea and I can't believe how easy it looks to make!
What's a favorite snack at your house?
Bonus: I'm loving this Easy Way to Save $ on Snacks for Kids! You might too! The perfect solution for those days when the kids need a snack but you are swamped!
My favorite late-night snack? A glass of this –tastes just like vanilla cake (but it's sneaky-healthy!)
For more snack ideas, check out our Pinterest Board, Snack & Salad Recipes.
Check out this round up of Slow Cooker Meals!
These Sandwiches are way too fun!