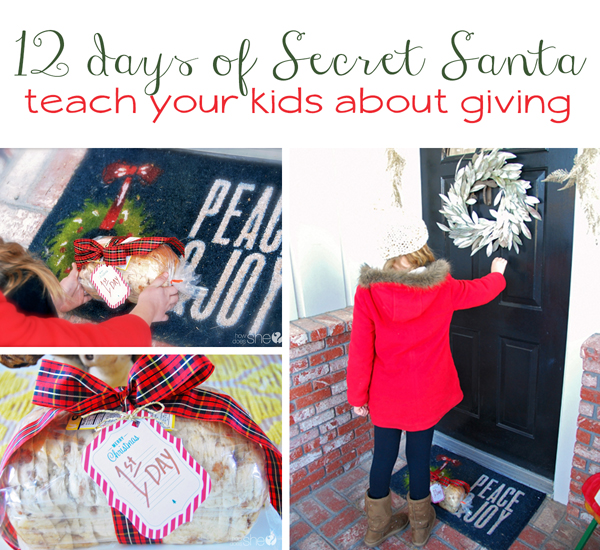 My mom always told me to keep my alms in secret. To be honest, I never had a clue what that meant, but I figured it out watching my mom and grandmother around Christmas time.  I learned about the value and pleasure of giving through the 12 days of Secret Santa.
 12 Days of Christmas and Secret Santa Ideas Service Project
I remember going into my Grandmothers basement and seeing an entire chocolate factory. She spent hours making the most decadent treats. She worked full-time as an elementary school teacher, and though she did not have much time or money, she put everything she had into making those chocolate treats. I was so excited. I dreamed of eating chocolate treats for every meal.
 That's when I got the bad news: We were giving away all the treats. All that chocolate and bread and all those cinnamon rolls were going to other people–some of whom we did not even know. I had a lot to learn about service.
 Luckily my mom taught me that giving away Christmas goodies can be just as fun as eating them. Every year my mom planned a "Twelve Days of Christmas Service Project". Two weeks before Christmas she would pick a family that we wanted to make treats for, then every night for twelve nights we would secretly deliver the treats to their door, and then run away before we were caught.
Giving in Secret was a Big Part of the Fun
Secretly getting the treats to the door was always a fun challenge–especially when we were little. Sometimes we weren't fast enough to make it back to mom's car and we would have to walk home. Other times we would blow our cover by accidentally leaving a hat or some mittens with our name on them by the door. Other times, we were so slow getting away from the front porch that we would have to dive into the front yard bushes just to avoid getting caught. However, as the years passed our Christmas giving ninja skills got more and more refined and the unsuspecting recipients had no chance of ever knowing who had left the surprise holiday treats.
The best thing about the Twelve Days of Christmas Project is we learned to give and we had fun doing it. Not only did we have a chance to channel our mischievous natures toward giving a little holiday cheer, we also learned how good it felt to give.
Teach Your Children About Giving With the 12 Days of Secret Santa
Today I am teaching the same lesson to my kids. Not only do they get to learn about giving, it gives me an excuse to make a lot of Holiday goodies. Here are some ideas for Twelve Days of Christmas treats (not all of them have to be sweets):
A small Christmas tree with ornaments
Sparkling cider
Hot cocoa or coffee kit (marshmallow, cups, and cocoa or coffee)
Holiday CD's or movies
lotions
gift cards
bread and jam
candles
Christmas tree with lights
a fresh wreath
handmade hat or clothing
ornaments
homemade cookies and other treats
you can also just run by the Dollar Store and let your kids pick out a cart full of items.
I love to buy pretty labels for each gift.  You can print the days on each label or write on them.  My kids also love to write notes and fun poems on them before we deliver them.
I got these for half off at Michael's Craft.
I love giving handmade items because it costs very little and I know that people appreciate the time that went into the gift.
It is also fun putting a hot cocoa kit together.  You can add marshmallows, chocolate, whip cream and candy canes.  These paper cups can be found at Target.
You never know what someone is going through in life.  The 12 Days of Secret Santa could help provide just the surprise that they need to make it through a bad day or week.  Just writing about it gets me excited to give and to keep my alms in secret.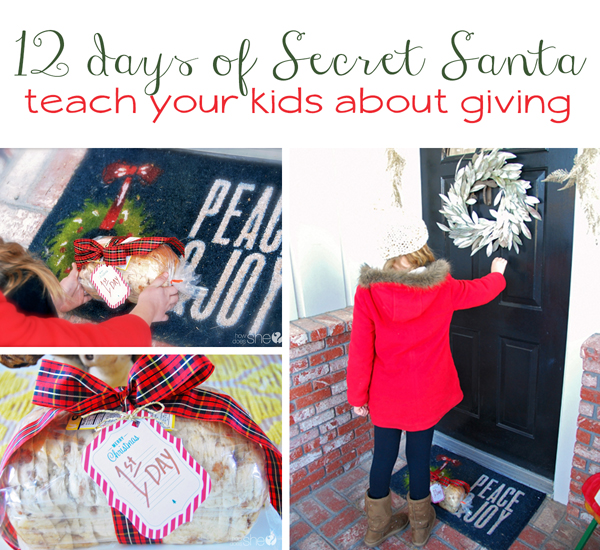 Share Your Family's Holiday Service Traditions
I can't wait to hear about your family and friends holiday service traditions.
Do you do the 12 days of Secret Santa for your family and friends?
What are your favorite gifts to give?
HAPPY EVERYTHING!