Wait until you see these amazing transformations brought to you by the Fancy Farmgirls!
So happy you are back! If you missed them before, you can learn more about  them, here.  Be sure to catch all the info about their upcoming sale at the bottom – my favorite sale of the year!!!  Last year they even had people drive in from Utah and Oregon just to come get in on the action!
Teach us!….
———————————-
One Man's Trash……
I'm not much of a fluorescent color girl, muted pastels are more my thing.  But come May, there's no more beautiful color than the sight of a neon green sign on the side of the road on a Saturday morning.  Aw, yes, yard sale season.
The time of year that truly makes my heart go pitter patter.  Yes, I'm one of those and yes, I truly get giddy every Friday night in anticipation of not sleeping in and driving around randomly in search of the beautiful neon sign.  One man's trash, is this girl's treasure.   Take this stash of "junk" for example.
What do you see?
Grody chairs that should have bypassed the yard sale and gone straight to the curb.
An 80's brass light fixture.
Old paint splattered ladder.
70's scenery picture that looks very similar to the one in your Grandmother's basement.
Oversized lamp missing it's shade.
White pitcher with "lovely" fruit motif that also looks very similar to the one in your Grandma's kitchen.
Beat up wooden side table.
Really?  Come on, look again!
Here is what I see…
Grody chairs with beautiful lines that could be reupholstered in linen.
The frame painted white and distressed and glazed.
The brass light fixture would look really cute painted hot pink hanging in a little girl's room.
The old paint splattered ladder could use some sanding and white washing, leaning against your bathroom wall with white fluffy towels draped over each rung.
70's scenery picture that will receive the chalkboard paint treatment and will now become your family's message center.
The oversized lamp could be painted a fun turquoise color with a crisp white shade.
The fruit pitcher will be spray painted white and look cute displayed in a hutch  or on your kitchen counter holding your utensils.
The wooden side table painted any color to match any décor.
See!  That's not junk, that's treasure!  So, how do you spot the treasure? Don't look at it for what it is, look at it for what it can become.
We bought this dining set last week at a yard sale which, without a blink of an eye, the lady dropped from full price to half, just because we asked (never hurts to ask, remember these people don't want this stuff anymore).  It's your typical oak table with outdated dirty upholstery.  But, the lines were great.  Look at the backs of the chairs and the legs of the table.  We saw it with new paint and new fabric seats and VOILA!
Pretty huh!
Rethink the function of the piece.
It's not too often we have the need for an old door.  However, the old patina on this one was calling our name.  Use it as a backdrop leaning against a wall to add a fun pop of color.  Hang it horizontally to become a headboard.  lay it across some sawhorses and cover it with glass to become a very rustic, original desk.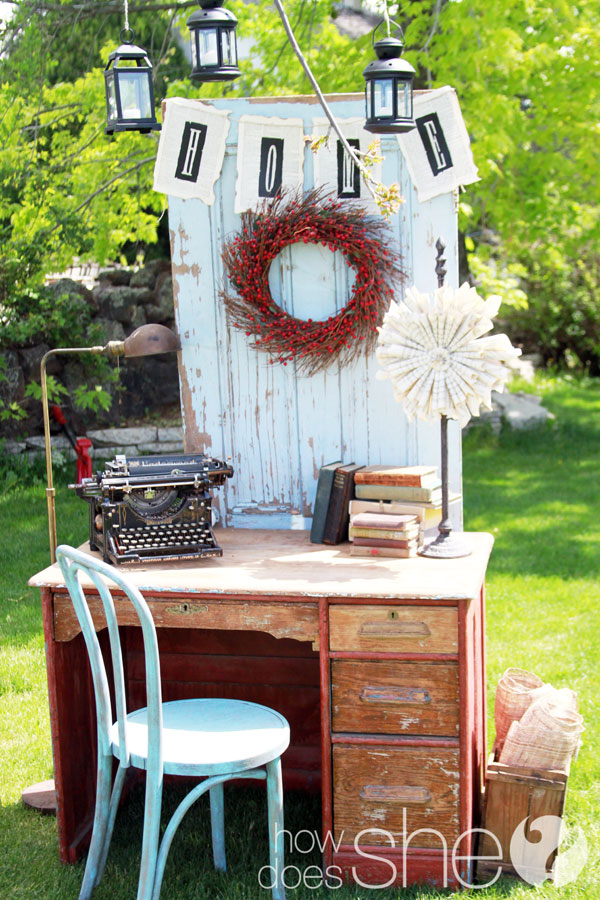 Think paint, paint, paint!
There's a lot of old, outdated furniture out there.  It usually comes with its fair share of wear and tear but it also comes with a lot of character and great lines!  Paint is the ultimate in freshening up a piece.
I bet this Grandfather clock is a lot cuter than the one in your Grandfather's house.
This hutch was your typical dark wood with brassy handles.  She had her fair share of dings and scrapes, but take a look at the lady now!  I love the pop of blue in the back.
And yes, all these white dishes have been acquired  over time, all second hand.  And let's not overlook that dresser.
They just don't make furniture like that anymore.  I got this for a steal!  It was her Grandma's and the seller was scared to death that her Grandma might show up at her yard sale and see what she was doing with the family heirloom.  She wanted it gone fast.  It's o.k. Grandma, I looove your family heirloom.
Enjoy the process and give it time.
See that chandelier?  You want to know how much I got it for don't you.  Are you ready…?  Six Bucks!!! I know! That's what I said too.  I've had her for about 9 months and have yet to install it, but I'm happy to wait for my room to slowly come together so that she will fit in and look fantastic.
You really can find "treasure" in the "trash".  Beauty can happen on a budget and you can have a lot of fun in the process. So what do you do with three girls addicted to thrifting and yard saling and refurbishing?  You get a barn full of treasures!  Come check out our stash without spending a lot of cash!
Fancy Farmgirls
Sale
Friday, June 3rd 9:00 a.m. to 6:00 p.m.
Saturday, June 4th 9:00 a.m. to 1:00 p.m.
9901 Lake Hazel Rd. Boise, Id.
Check us out at fancyfarmgirls.blogspot.com to be updated on upcoming sales!
————————————-
WOW.
WOW.
WOW.
You girls are so talented!  Thanks for sharing those awesome tips.  I REALLY need some fun colored paint.  I NEED to paint something now!
If you need more of the Fancy Farmgirls creative goodness, don't miss this post or this post!
I'm counting down the days until June 3…..