This post is sponsored by QVC and ShopStyle Collective. Come see these sizzling July finds!
There are a lot of vacuums out there, believe me…I have four of them. Seems excessive, but they each perform very unique and vital purposes in our home. Oh, and they each have a name, so there's that. Yes, we name our vacuums like they're our friends. We have Robby, our robot vacuum, Betty our cordless, John…the downstairs vacuum who is old but hecka-reliable so he just stays downstairs with the kids, and this guy we call Jaws because he's a Shark and devours every crumb in his path.
So if you're looking for a GREAT new vacuum, (or heck, another great vacuum) the Shark Ultralight HyperVelocity Corded Stick Vacuum is it and here's why.
**DEAL ALERT! Limited time UNBEATABLE price here!
It's here this month, gone next. You DON'T want to miss this!
Oh, and if this is your first purchase at QVC, make sure to use code OFFER for an extra $15 off. Second-timers can use HELLO10 FOR $15 off any order of $25 or more.
The Vacuum That Has My Heart and 10 Sizzling QVC Finds
Brand: Shark
Model: Ultralight HyperVelocity Corded Stick Vacuum
Found: at QVC on Today's Special Value
What I love about it:
It's corded: I have a cordless vacuum, which I love also, but it tends to lose battery quickly and lacks the power that some jobs require. I don't know how many times I've been mid-job and the cordless vacuum quits. That's why I love my Shark Ultralight HyperVelocity Corded Stick Vacuum–the cord is nice and long and it's what I use to vacuum all the stairs and bedrooms in my house. You'll never lose power on a long vacuum job and you don't have to wait for it to charge.
It only weighs 3 pounds! Another thing I love about this vacuum is that it's sleek and light which makes it easy to maneuver and is a perfect vacuum for my kids to use. And believe me, you DO NOT sacrifice power for size…this vacuum acts like a big guy in a little body. It exceeded my expectations as far as power was concerned!
Great for pets and hair: This vacuum is designed handle hair, pet or human, and I can speak from experience. We don't have pets, but we have three girls with lots of hair but you never see it on the floor or furniture because this vacuum does its job like a beast!
It's like the Transformer of vacuums: Possibly my favorite aspect of this vacuum is that it detaches in two places to create a mini vacuum that is ideal for stairs (we use this feature pretty much daily) or to become a handheld vacuum with 4 handy attachments which I use on furniture and…in my CAR!
Excellent price point:
If you get in on QVC's ONE DAY DEAL, then this vacuum is an absolute steal! I'd snag it again and again. I bought mine at a lesser deal, and it was still an excellent price point for the quality of the product. When it comes to vacuums, I think a lot of them are over-priced and over-hyped, but the one thing I appreciate about Shark vacuums is that they are incredible quality for very reasonable prices. I think they match up equally with of those expensive brands–in fact, I have one of those "expensive" vacuums and in my experience, this Shark is JUST as good and a fraction of the price.
Get in on Today's Special Value here!
10 Other *HOT* QVC Finds:
1.tarte Shape Tape Concealer Duo with sponge: This isn't your regular concealer…it can give you overall face coverage that is light and absolutely lovely. I saw this duo on QVC this month and had to try it.
I rarely wear foundation because I don't like the heaviness on my face. But this goes on so light and clean with the sponge and gives just the right amount of coverage over my SPF in the summertime. (Watch the video…you'll be mesmerized.)
2. iPad 10.2″ Gen 9 with voucher and accessories: on killer deal for a few days. Great for back-to-school!
3. ELEMIS Rosy Glow Marine Cream SPF Kit: An extra hot buy this month as these high-end beauty faves are a fraction of the price as they normally are individually. What a great steal for a great glowing face!
4. WOW Sports 10′ Splash Pad: How much fun would this be for your kids or grandkids in the back yard? Cool off and pass a few hours a day with this hot buy!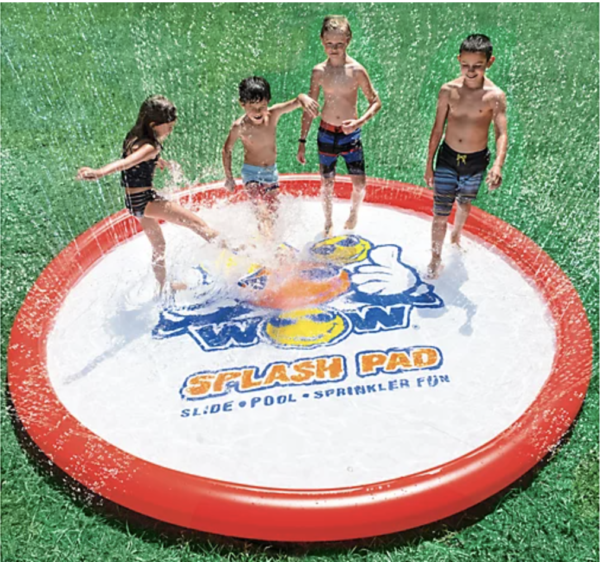 5. 7′ Snow Tipped Aspen LED Christmas Tree: If your Christmas tree is more than a few years old, there's a huge chance that it's time to update. Many of today's holiday trees have built in LED lights meaning you don't have to string them up and you don't have to worry about burnt out bulbs.
And check out the fun Christmas in July event going on at QVC right now! It's a chance to grab your favorite holiday items at big deal prices!
Fun Sweet Treat Finds
6. This Ninja CREAM 7-in-1 Frozen Treat Maker: Many of my friends say this is their FAVORITE way to make ice cream. It's a huge chunk off the regular price right now with free shipping. What a fun and easy way to have frozen treats year round.
7. Nostalgia Electrics Gummy Candy Maker: The second I saw this, I knew my kids would go crazy over it. They love being creative and making things, especially when they're home on summer break. I've already add this to my QVC cart because I know it will more than pay for itself in fun.
8. Dyson TP01 Tower Fan and Air Purifier: We need a fan in our workout room, especially in these hot summer months. This one is phenomenal. I've personally used it and not only is it a great fan, it purifies the air which is immensely helpful for my little guy with seasonal allergies. And right now it's at a BIG PROMO price!
9. tarte Shape Tape Cloud Cream SPF 15: Heavenly coverage, natural ingredients like mushroom extract and licorice root extract, and perfect sun protection, all in one light 24-hour coverage. If ever there was an ideal "foundation" for summer, this is it, and at a nice deal too!
10. This Inflatable Stand Up Paddle Board is $100 off right now! Paddle boards are so much fun and a game changer for vacations on the water. We love floating the river on our paddle boards and take them on pretty much every vacation. I prefer inflatable paddle boards because they're easier to transport and don't require a rack on your car.
And QVC's July deals don't stop there! Check in often (I quickly touch base daily) to see what one-day sales are going on on my favorite home and beauty brands and new things that are fun to try.
First-timers…make sure to use code OFFER to get and extra $15 off your purchase! Second-timers, you can use HELLO15 FOR $15 off any order of $35 or more.
Stay cool out there.