Who needs the water park when you can create one just as fun in your own backyard?
It all started when my oldest was 3 and I didn't want to haul all our gear to the local water park so I decided to fill the backyard blow up pool with water and call it good.  We invited over some friends and eventually the Little Tykes slide ended up landing in the pool and we had our very own water park perfect for a 3 year old.  Funny thing is, the tradition stuck and every year our Backyard Water Park opens for business every summer.
Here are some pics of some ideas to create some water park fun.
This year the water balloons were definitely the hit of the party.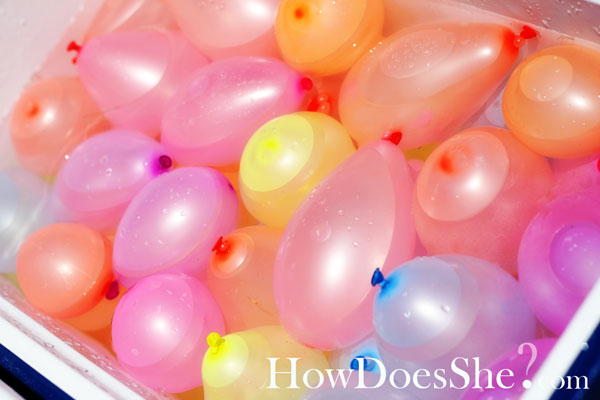 Luckily one of the neighbor kids could fill and tie them – my fingers were sore after filling two coolers full!  Look at the line!  This lasted for over an hour of fun!
Two coolers full of water balloons, going, going, GONE in world record time!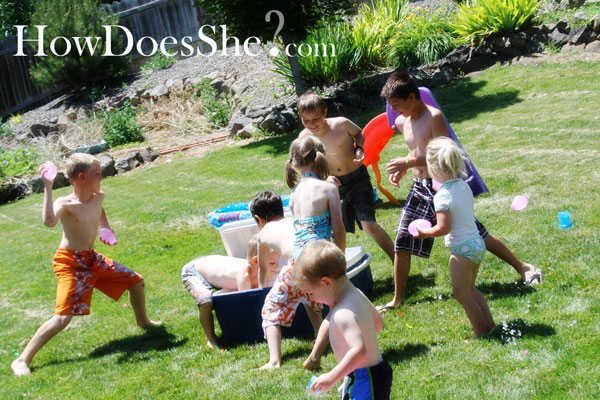 The little blow up pool was perfect for the toddlers,
Splash O Rama
Look at those cute toes:)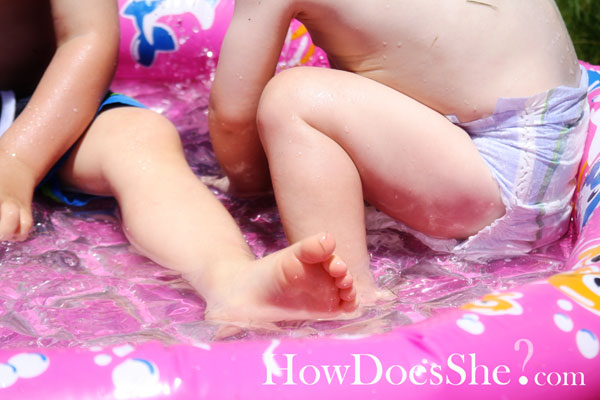 Here is our homemade water slide, the ever popular,
Wedgie Drop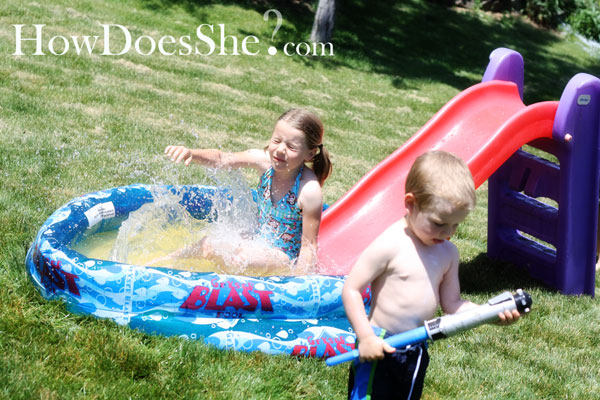 Shelley recommended this next water toy because her little ones LOVE it.  I bought my own and I am glad I did because it was all the toddler's highlight,
Super Spiral Soakenator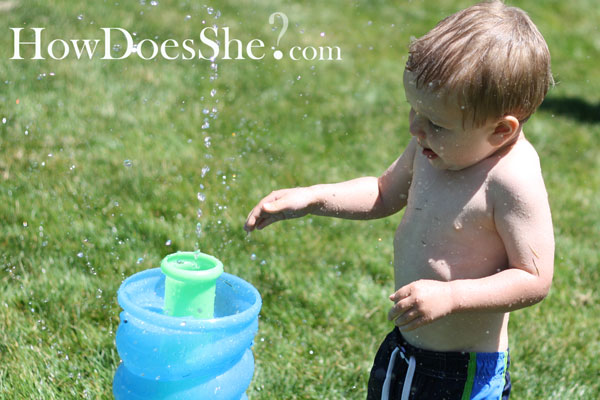 Okay maybe it was the MOM's highlight because we were laughing so hard when the ball sneaks out and bops them in the head.  Too funny.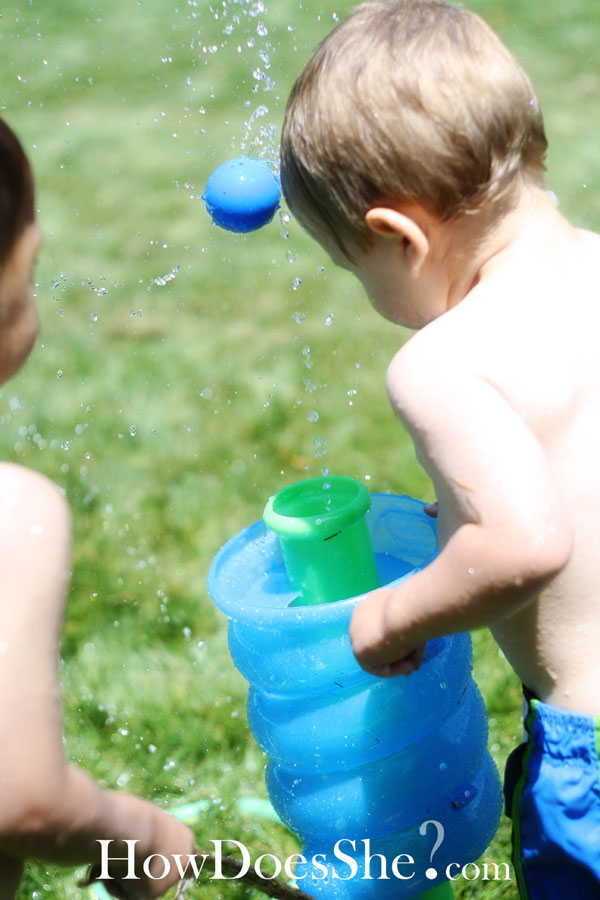 If you get the water pressure just right, you can get the ball to float at just the right level to be used as a baseball T.  I didn't get  a good picture of this, but it was FUN!
This makes the toy fun for all ages!
Here is a link to to get it on Amazon, you might find it cheaper somewhere else, but this is what it looks like, Little Tikes Super Spiral.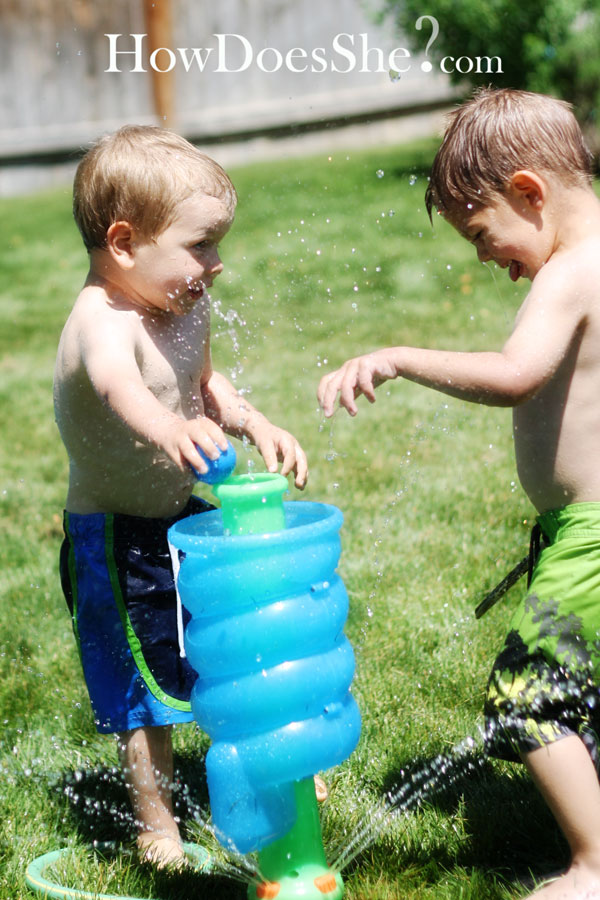 While I was looking for the Super Spiral, I got distracted with these other fun water toys I need to add to my collection…
Little Tikes Beach Ball Sprayer
and then the
SW Express Geyser Blast Sprinkler
and then the
Banzai Cannonball Splash Water Slide
Just had to throw in this adorable picture of one of Shelley's cuties.
And last, but not least…
the Slip N Slide!
The water parks can't compete with this back yard staple!
Ready, Set…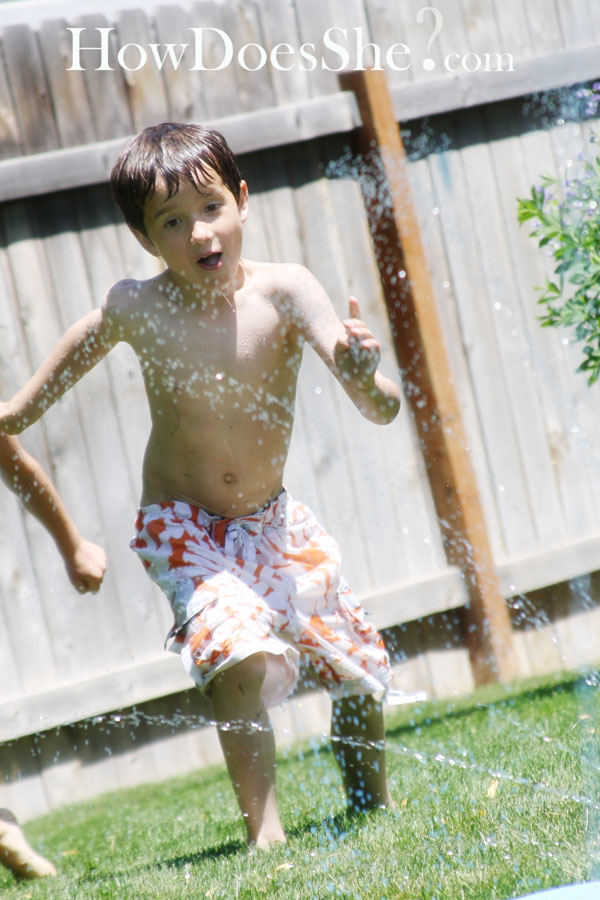 GO!!!
I didn't get these out because I didn't have enough for everyone, but don't forget your
water squirt bottles
This is Shelley's homemade version – a big black tarp sprayed with water from the hose – it doesn't get any easier, or better, than that!
Now that you have all the ideas, no excuses – open up your own backyard water park and
beat that summer heat!