**This post is sponsored by Walmart and RewardStyle. All opinions are my own.***

My bedroom is my sanctuary.
I can't tell you how many times when my kids were little, I'd run in there just to catch a breather. I was never alone, and it was a beautiful, but sometimes taxing time.
Now my kids are getting older and I have teenagers (plus a couple little kids!). Getting my kids TOGETHER and near me isn't as easy as it used to be.
I'm learning what times are "prime time" for conversation, and to appreciate even just the quiet moments when we're together.


One of those times is bedtime. It always seems like once I'm cozied into a bed with a good book, a knock comes to the door and kiddos pile into my room. I've learned to just LOVE those moments and want to foster them, so I thought it might be perfect to create some extra seating in my room. A "reading nook" if you will where my younger kids can be near me and read and my teens can come in after nights out with friends and "spill the tea".

I knew Walmart was just the place to find what I needed!
Walmart always has an awesome home selection, quick shipping and budget friendly prices I can count on.

I grabbed these faux leather chairs first!


I love the sleek, modern design of these chairs! The faux leather looks so real and is kid friendly.
I love the legs of this chair in particular because they're just so unique.
They're a comfortable chair in design, but also have a slim enough profile to fit into even a smaller space.



They look perfect paired with this pretty pillow that adds a nice pop of texture.
I've used these pillows in several different spaces of my house and feel like they're incredibly versatile AND inexpensive.
I wanted my kids to have easy access to books, so these woven baskets were the perfect addition!
I think they'd also look awesome in a closet or pantry for added organization.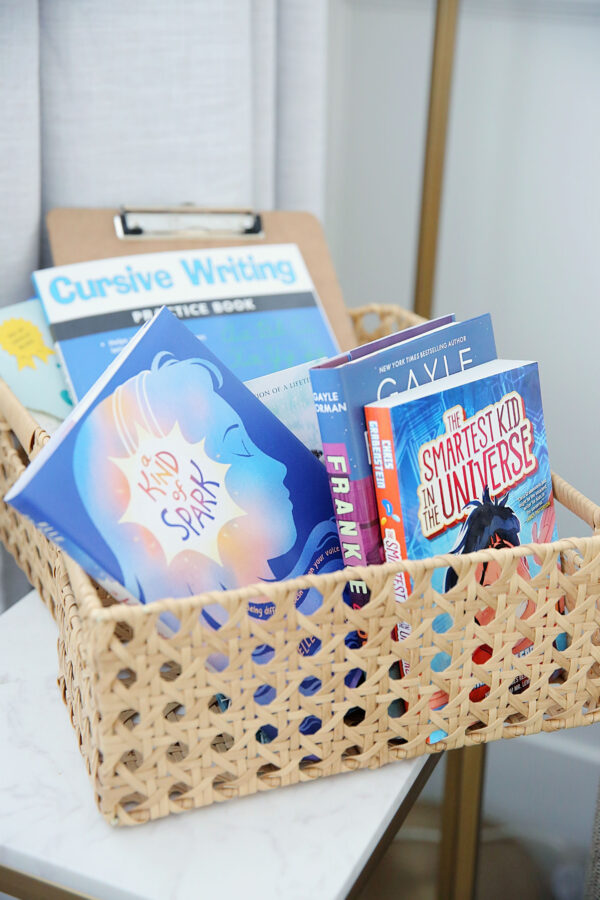 I also grabbed this wooden tray. It's the perfect bedside/tableside tray for all the "stuff".
I put a couple candles in mine to make it bedroom perfect.




Perhaps my most FAVORITE additions to our little bedroom nook are these little faux marble and gold side tables!
Oh my goodness, they're so gorgeous! The gold. The marble looking top. All of it is perfection and wait till you see the price! It's very reasonable.

These floor lamps are old, but I found some very similar (and better priced) HERE.




Sidenote: I wanted a small vacuum to get around the furniture in my room and I found the BEST handheld option ever. I love it and it's on rollback right now too HERE! Grab it because you will use it constantly.



This simple area is really bringing me joy! It's just so cozy, comfy, and yet, eye appealing.
If you're looking for an easy and budget friendly way to create a special space in YOUR house, make Walmart your first stop!
I feel like it will be a place for our family to gather for years to come.