***This post is sponsored by Carter's and ShopStyle Collective. All opinions are our own. I have shopped at Carter's for YEARS!***

Every year for the past 13 years, I've purchased Christmas pj's for my kids.
Our family tradition begins with a holiday kickoff on Thanksgiving eve. I gift each kid a pair of holiday PJ's and an ornament that depicts some thing or some important event from in each child's life that year. It's a fun tradition that my kids look forward to annually. It's awesome to look back over the years at all these treasured pictures and see how the kids have grown!

Know what else is a tradition?
Each year, I purchase these pj's at Carter's.
I can count on them releasing darling Christmas pj's every year and with sizes newborn – 14, I can always find all the sizes I need for my 6 kids at prices I can fit into the budget!
Plus, I know I'm getting quality I can count on and true to size sizing.

I'm so excited to share with you this year's Christmas jammies just a little bit early!




I mean, can you EVEN?
Total framer.

I loved these plaid styles because they match, but not perfectly.
The boys prefer the 2-piece button up style, while the girls are all about the snugger style.
I ordered all my kids their true size, and everything fit perfectly.
I love being able to count on Carter's sizing so I never have to make returns!




Not to mention, I need things that can hold up well!
No one can keep up with this 3 year old lunatic, so I need clothes/pajamas that can!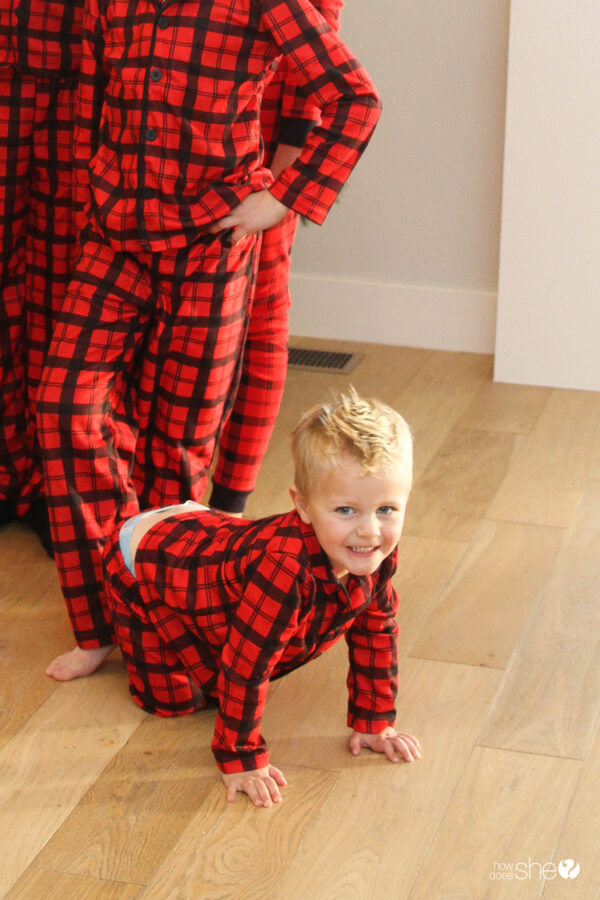 Carter's clothing always washes well for me and that's a bonus as well!




I'm so excited for them to come down the stairs Christmas morning!
I forced a little reenactment, and I couldn't have asked for better expressions.
Matching PJs mean killer pictures mom can hold on to forever!




Carter's isn't just full of holiday PJ's, they also have a gorgeous selection of dressier options for all your holiday events. I love browsing their holiday shop!
I can often find different coordinating options if I decide to go that route.




My 6 year old LOVES Carter's leggings because they're so comfortable! They're a great alternative to jeans every day.
This double pack allows you to mix things up in different ways too! It's like 2 outfits in one.
We paired it with a classic cable knit sweater. I love timeless pieces like this. They'll never go out of style!

Now check out this little stud!




I mean, I know I'm his mom, but pair that blonde hair with this get up and you've got the cutest Christmas elf!
He hates coats, so I loved the layering options!
This green vest pairs perfectly with the Christmas plaid shirt.



And you can never go wrong with a pair of classic khakis!
They go with anything!
These faux leather slip on sneakers are dressy enough for church, but casual enough for preschool.
All this dressing up will take it out of a guy, but at least he looks good for whatever Christmas fun comes our way!




Our whole family really loves shopping Carter's. The kids (big and little) can both finds styles they love year-round and I like knowing I'm getting clothing that will stand the test of time!
Right now, Carters has
their big Black Friday promotion through 11/29! You can score 50-60% sitewide PLUS free shipping while supplies last!
Because who likes to pay for shipping!?
It's a great time to stock up on all the holiday pj's and clothing you need AND purchase for Christmas gifts!
Happy Shopping!
Be sure to take some pictures of your cute kiddos in all the Carter's goodness!