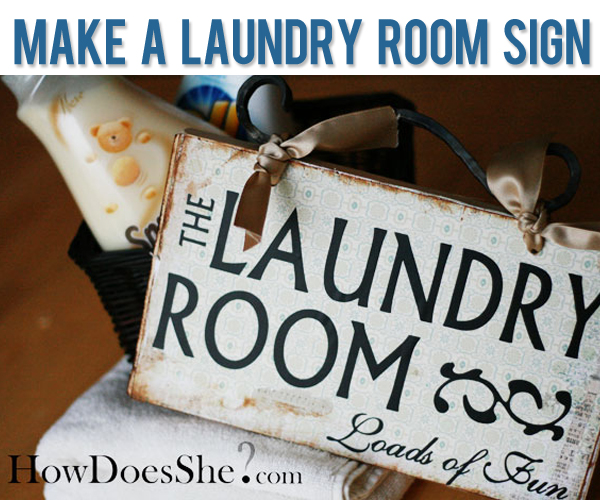 Back when HowDoesShe was a wee 7 days old, Alison created an adorable Laundry Room sign.  We pulled it from our archives knowing most of you probably haven't seen it. 
Super cute right?!  I just made one and gave it to my mother-in law as a house warming gift.
—
Now, back when, we didn't know to take a bjillion pictures of our projects as we did them, so you only get one. 😉  Here are some detailed instructions on how to make this easy project:
1.  Use a 1×8  pine board and cut it 12 inches long.  Just ask at any Lowe's/Home Depot…they will know what you are talking about and most will cut it for you!
2.  Mod Podge on your favorite paper (Click here for 10 steps for perfect mod podging)
3.  Sand the edges down (just use any sandpaper)
4.  Stain the edges (I used an antique stamp pad from Michaels)
5.  Apply Vinyl towards the bottom of the board. Use your Silhouette or if you need pre-cut custom vinyl, The vinyl is 6.5 inches tall and 11 inches long.  The 'The Laundry Room" font is in 'Narkism' and the 'Loads of Fun' is in a scrolly font).
6.  Drill 2 holes in the top.
7.  String ribbon through the holes (I used a 1 inch cream satin ribbon…no wire)
8.  Tie on your rod handle.  If you can't find any rod handles…you can just use ribbon.
9.  Hang it with pride!  Or, make a few and give them to friends!
******
We're linking up to these parties!
—
Now only if LAUNDRY truly was 'Loads of Fun' 😉