*This post is sponsored by Bosch. We love how their tools promote continued memories with fathers and children.
—
—

Ever since I can remember, the men in my life have been fixers. Perhaps you can say the same. And where would we be without handy hubbies, dads, grandpas, and brothers? I'd either be off the road with a broken car, or combating a geysering toilet with a tennis racket.
Growing up, we lived very near both sets of grandparents. I remember gingerly walking into my grandpa's "tool palace," and gazing up at the strange thingy-majigs and dooey-dads hanging on the wall like sports cars meticulously parked in their spot. Each tool was pristine and had its shape outlined in black permanent marker. Hammer goes here, needle nose pliers there. The #1 rule of grandpa's garage was if you use it, put it back where it's supposed to go.
On several occasions, grandpa's shop became sanctuary for busted bicycles, malfunctioning pogo sticks, and old lawn mowers turned into racing cars. Grandkids lined up their broken treasures, anxiously awaiting their turn to be fixed. And with 32 grandkids, that was a lot of fixin'.
Luckily, my grandpa's DIY know-how got passed down to my dad. I remember sitting by his side, wielding my little toy saw as he went to town chiseling, drilling, and shaping what would days later become a new swing set for my siblings and I to act like monkeys on.
My dad doesn't ask for much, but his unspoken rule for Father's Day gifts—it has to be useful. No highfalutin sponge to wash his hiney in the shower. No fancy nuts he needs a contraption to crack. No clothes (his ones from high school are just fine), no gift cards ("What do I use this for?"), and definitely no cologne (a little deodorant does the trick).
So my siblings and I always settle on the best gift for dad: tools. They are something he can hold in his hands and create something useful with.
If this sort of practicality sounds like a guy you know, Bosch tools are the perfect Father's Day gift!
My dad actually got his gift a bit early this year—the Bosch Driver Kit.  This 18V drill driver and impact driver was just what he needed to build my dream porch swing (hee hee!).  A bit selfish, I know, but he was THRILLED to get the Bosch Driver Kit, which is an exceptional value on a high-quality tool.
My brother, an amazing DIY carpenter, got his Father's Day gift early too–the Bosch Planer which cuts deep with professional accuracy, a tool he will use for many, many future projects.
The thing I love about gifting Bosch tools is that I reap the benefits! Not only can my dad come over and fix my broken door hinges, but he can also pass along his expertise to my kids. I gift my dad tools for Father's Day so he can continue building memories with my kids.
I have this dream of a beautiful porch swing where my little family can sit and relax when the air cools off. We're all swinging, making jokes, and drinking in the vitality of family life. My dad and brother building this swing for me means more than they will ever know.
I love the way this DIY swing project brought multi-generations together. My kids buddied up with grandpa, questioning how things work and asking to hold each tool just like I did at their age.
To make this DIY porch swing, my dad and brother used the Bosch Driver Kit, Bosch Planer, and Bosch Driver Combo. The fun news is, you can make one too when you win your very own Bosch Driver Kit (valued at $229) below!
And no tears if you don't win. You can find the Bosch Driver Kit, Planer, Driver Combo, and Job Site Radio all for a practical price that is well-within your Father's Day budget. Even better, team up with your siblings to get him the Bosch tools he really wants!
Bosch Job Site Radio is bluetooth capable and such a great tool. Listening to music while you work just adds to the memories.
The Bosch Planer and Bosch Driver Kit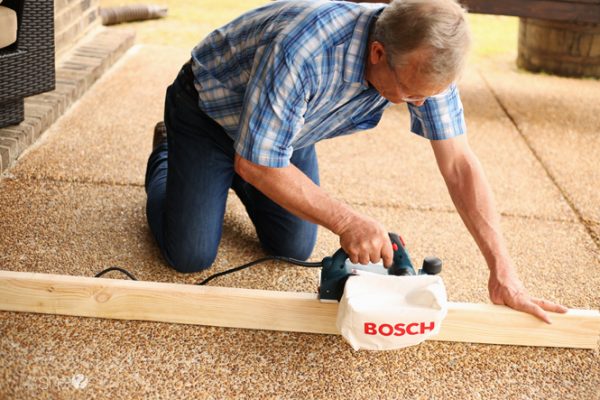 The Bosch Planer
A lot of hard work and love went into this swing, and a lot of love will come out of it.
Props to all those fix-anything guys out there, we hope your DIY adventures continue and that you keep passing along your wisdom and mad handyman skills.
—
To help you along your DIY path, Bosch is graciously giving a lucky HowDoesShe reader one Bosch Driver Kit (retail value $229)! So sign up and win your man something "useful" for Father's Day!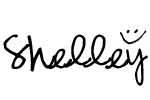 *This post was sponsored by Bosch.