Have you noticed the trend of hand-print art this year? It melts my heart to see little hand prints turned into all kinds of things. Last year, my sweet friend turned my son's hand print into a Santa. I honestly choked up a little when I saw it. It was made into an ornament and proudly hung on my tree. This year, when we decorated our tree, I noticed this small hand print and decided we needed to do this as a family.
Meet Ho, Ho, Ho, Ho, & Ho…
All you need for this project is burlap, paintbrushes, red, cream, and white paint.
Don't forget the main ingredient, HANDS (preferably small chubby ones). 😉
My children (ages 4, 2, & 2) literally squealed in delight when we started putting paint all over their hands. Let's be honest, my husband thought it was kinda of cool too. 
The end result, a Santa family.
You could add googly eyes, fur for the top of that hat (I forgot about that detail), names, and the year. Any ideas on how to do names and the year? Maybe vinyl over the glass frame? Still working on the final details, but this definitely melts my heart.
Sentimental, classic, and by far my favorite Christmas decoration in my home.
These five Santas will be a treasure of mine for years and years to come. I can't wait to pull this out in 15 years from now and physically hold a sweet sweet memory.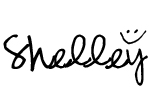 Thank you for supporting HowDoesShe by shopping through amazon this holiday season. Merry Christmas!
{We're also linking up to these great parties!}