Thanks to Fossil for sponsoring this post. Get in on the HUGE Labor Day sale and make a big impression with these sophisticated accessories!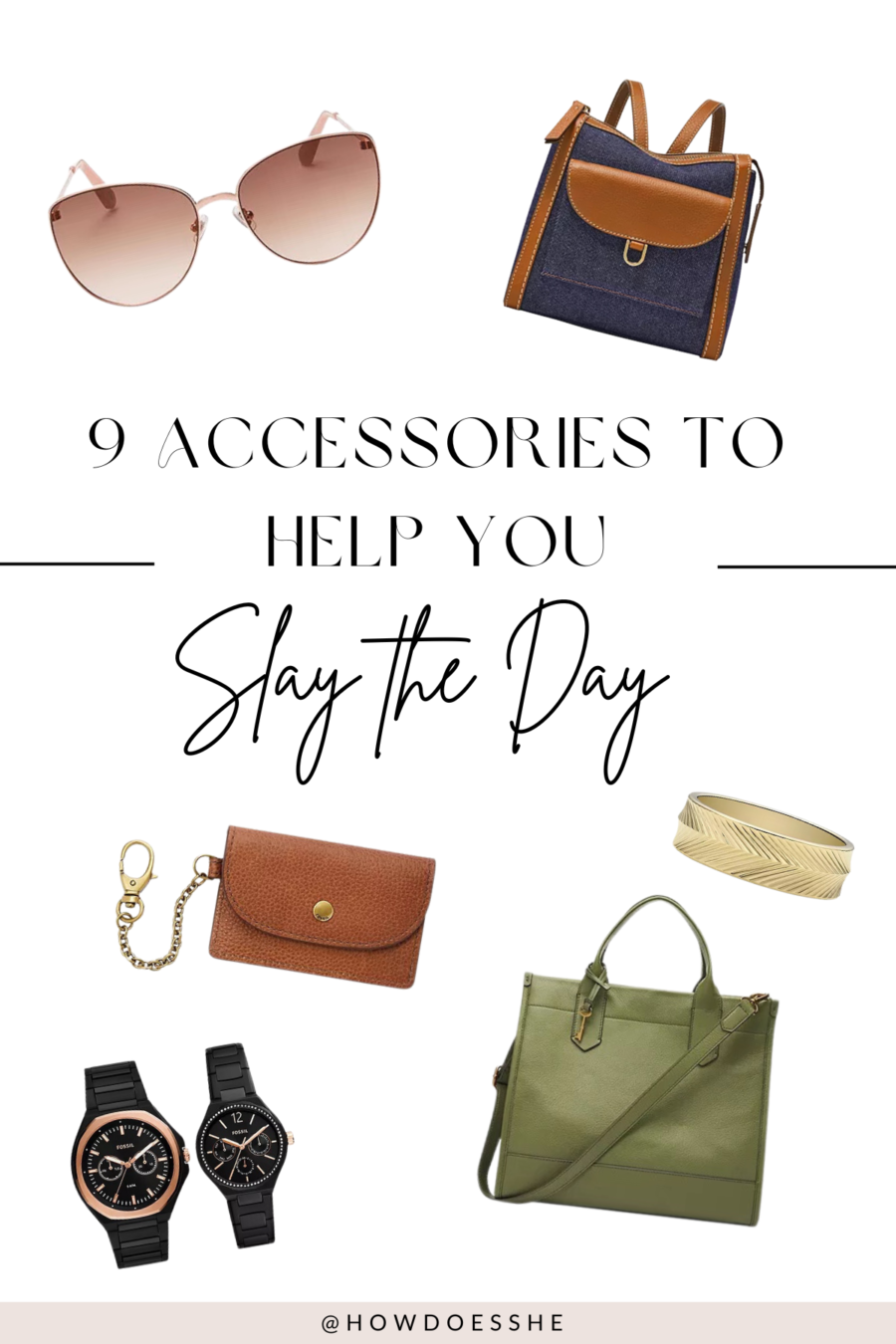 Whenever I need a little style inspiration, I think of my favorite glam movie icon Audrey Hepburn and I think, What would Audrey wear? She's my guide in everything that's gorgeous and classy and I'd like to think that if she were walking the streets today, heading to lunch with girlfriends, she'd wear all of these pieces.
Ladies, get excited because Fossil is having one of the BEST Labor Day sales I've ever seen and it lasts all week! 30% off YOUR PURCHASE! That means 30% off any regular-priced products and an EXTRA 30% off all outlet items! With FREE SHIPPING on every order!
Oh my gosh, I'm having a hey-day! Here are some favorites I picked out that are definitely Audrey-approved and will help you slay any outfit.
9 Accessories To Help You Slay the Day
We'll start with some regular-priced favorites that RARELY go on sale so if you can snatch them at 30% off, that is a huge win!
Crafted with meticulous attention to detail, this pretty denim mini backpack flaunts current trends while being practical to fit everything you need. Its sleek silhouette and contemporary design make it a perfect companion for both casual days out and elegant nights on the town. Take advantage of 30% off to get something special for yourself!
Indulge in fashion with this exquisite trendy wallet that effortlessly merges style and functionality. Plus, it's so dang cool! I love the criss-cross design and that sleek gold bar. It can fit practically your whole life inside. Score big with 30% off and look like an A-list celeb when you walk into the room.
I was just at a very trendy boutique in Florida for a girls trip and these rings were all the craze. So pretty, so bold, and so gold! And this one is three times less than the ones I saw in that shop. GRAB NOW!
Here are some faves from the Fossil Outlet that are all an EXTRA 30% off the lowest price for some of the most amazing deals I've seen in a long time!
This best-seller has been in my visions ever since I first saw it. That green! And the softest leather imaginable. This is the reason I'm so obsessed with handbags. And down from $295 to just $89!! When can you ever get a high-end handbag for that? Heads will turn.
It's the perfect accessory for your key chain or backpack! Carry your cards with ease and look like a fashionista doing it. Regularly $50, you can grab these for under $20 making them fun friend and teacher gifts to have on hand!
Now is my favorite time to stock up on Fossil jewelry and at an additional 30% off, you can score some really amazing deals on deluxe pieces. This earring/necklace combo is so delicate and sweet and an absolute bargain for around $25 shipped for both.
This sleek backpack caught my attention immediately in the outlet. As a mom of four, it's way easier for me to carry a bag on my back a lot of times so I can be hands-free. I can wear this one to football games and stuff a blanket and some snacks in there and still have my arms available for carrying chairs and kids. Gorgeous and an amazing deal!
Stock up on your high-end sunglasses now ladies because they are on smoking prices!! I love my Fossil sunglasses! They're great quality, super trendy, but affordable so that you're not worried too much about losing them.
Last but not least on my list of favorites is this bite-sized bifold that girls everywhere are carrying around with their tumblers. So trendy, so handy, and you can fit your cash and cards neatly inside without having to haul a bag when you don't need it. And get this…down from $70 to $20 shipped!
Have an anniversary coming up? Celebrate with the perfect gift of his and her Fossil watches that are sleek, modern, and very cool. This set is a BEST-SELLER for a reason. Down from $330 to less than $100 for BOTH–that is incredible! Stack them with your favorite bracelets or grab some from here!
So stock up during the Labor Day sale at Fossil and slay the day at your next girls lunch, business meeting, or kids' soccer match. And make sure to watch for more fun coming up from Fossil (hint, hint!). I can't WAIT!