These are so great for cold toes after sledding or just being out in the cold.  You just pop them in the mirco for a couple minutes, put on your cold toes or hands, AAHH instant warmth.  They are also great for sore muscles.
tag idea:  Stay warm and toasty this Holiday Season, Merry Christmas!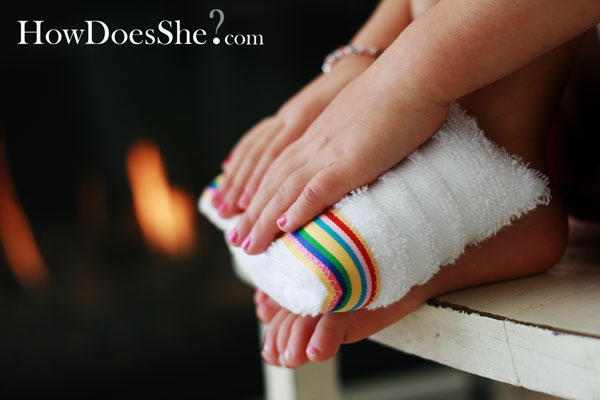 To make:  You just sew a pouch, fill with wheat or rice, sew the pouch closed – DONE!  So Easy!  I used a washcloth for my material and added a ribbon embelishment, but you could use any fabric.  (Be sure not to use ribbon with wire in it – for obvious reasons)
If you want a more detailed tutorial, click here.
For our 30 Neighbor Christmas Gift Ideas countdown, click here.
Disclosure: This post may contain affiliate links. This means, we may receive a small commission if you choose to purchase something from a link we post (including links to amazon.com because we are a participant in the Amazon Services LLC Associates Program. Don't worry, it won't cost you anything. This small percentage just helps us keep the power on and the Diet Coke stocked. We appreciate your support!