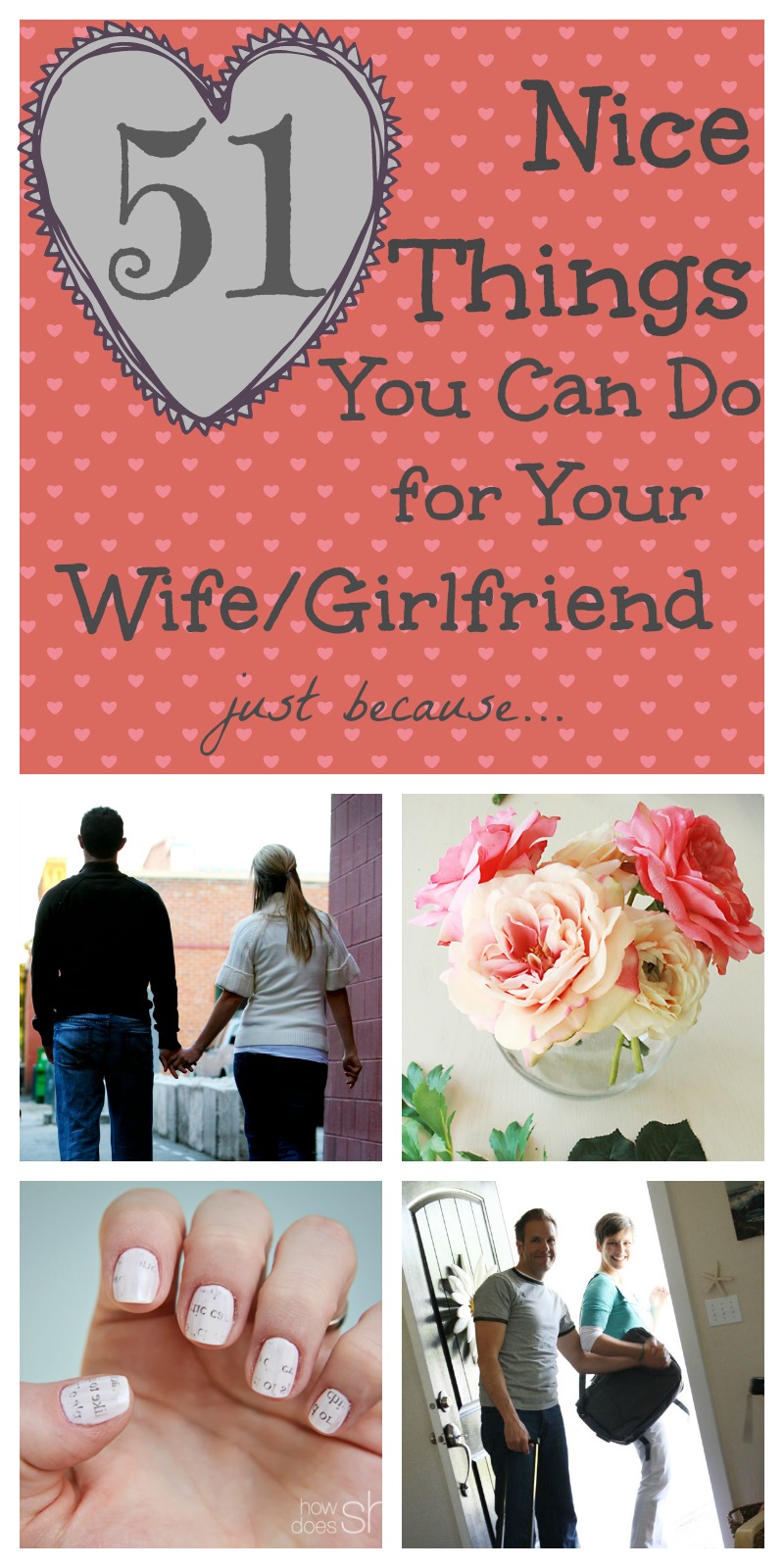 Nice Things to do for your Wife/Girlfriend
We've had such a great response to this post, it was only fair to create one for us ladies! When it comes to doing something nice for us, most guys want to, they just need things spelled out more clearly. So guys, based on this extensive Facebook conversation…here are 51 different ways to show your unique love language to your wife or girlfriend.
Hint, hint: The best way to do something for your girl is to do it for the first time without being asked! It will go a LONG WAY in her book and you will be sure to get bonus points with your best friend!
1. Make the bed. This is simple but one of the best things you can do for your girl.
2. Take the kids for a whole day so she can be a person, not a mom for a bit. This is something that you can do on a regular basis.
3. Grab her hand in public. For a lot of women, showing physical touch in front of others is a great way to make a sweet gesture.
4. Take her for a walk, sans kids. This is a wonderful way to improve both of your mental health.
5. Plan an entire date from start to finish. Book a sitter, a restaurant, and plan an activity. Promise, she will absolutely love this. Most women are down for a date night!
6. Give her a no-strings-attached massage.
7. Give her a spa certificate. This is going to be a good time for her to have a spa day alone, or you can schedule a couples massage to have some quality time together. This is one of the best gifts to take your relationship to the next level.
8. Make her laugh. Social media makes us laugh daily, but you want to put a smile on her face every day as well.
9. Take the kids on a date. She will love the time off, and love the fact that you are spending time with them. See some kid date ideas here.
10. Buy her a birthday or Christmas gift without asking her what she wants. Put some thought and effort into surprising her. You can also surprise her by sending her one of the funny birthday ecards from Hallmark.
11. Bring her flowers or chocolates for no reason. Make her feel like every day is your first date.
12. She makes a meal, and you do the dishes after. This is one of my favorite things that my man does!
13. Cook a special dinner. Give it a professional chef's effort—she'll be impressed.
14. Send her to get a manicure/pedicure. This is a great gift idea and it will give her a break from the hard work she does daily.
15. Look at her and tell her she's beautiful. This is something to get in the habit of in the long run.
16. Give your phone a break and give your undivided attention to her and your family. This is good advice that will allow for extra time with loved ones.
17. Let her pick the movie…even if it is a chick-flick. No complaining.
18. Fill up her car with gas. Wash it and vacuum it too. Next time, maybe she will do your car as well!
19. Surprise her with an entire planned weekend getaway. That would blow her mind.
"Wake me up first thing in the morning, telling me to get dressed. That he has our bags packed and we are headed on a romantic get away. Everything has been done. Kids at the babysitter's house are already set to leave. We are good gone for the weekend. No one else, just us. If he did this, it would blow my mind."–Dawn from Facebook
20. Play with her hair.
21. Carry her to bed…and let her take a nap! Uninterrupted. It never hurts to go the extra mile.
22. Heat the bed for her.
"Last night my guy put a heating pad on my side of the bed so it'd be warm when I came in more men should do that!!! It was amazing!"–Kelsey from Facebook
23. Pick up everything on the bedroom floor or closet floor.
24. Book a hotel room for her for a day. Give her a break from the craziness at home.
25. Paint her toenails.
26. Take an active role in planning and preparing for your family (i.e. packing kids' lunches, wrapping gifts, helping with holidays, etc.
27. Clean something she normally hates to clean.
28. Put the kids to bed and let her read a book.
29. If she typically does the grocery shopping, do it for her.
30. Make her coffee in the morning.
31. Lead her to the couch, pick up her feet, and give her a foot rub.
32. Give her a gift card and let her go shopping.
33. Have lunch delivered to her.
34. Write her a song or a poem about your love story.
35. Give her a DIY pedicure/manicure.
36. Prepare a bath for her.
37. Hire professionals to clean the entire house.
38. Dance with her.
39. Get her little gifts. Grab her favorite candy bar when you're at the store. Get a single rose, some chapstick…sometimes the little things speak volumes.
40. Get in the car and go for a drive. It would be great to go in the morning to get that beautiful morning sun .
41. Make her breakfast.
42. Get up with the kids on a Saturday morning and let her sleep in.
43. Pack a picnic and go. Bring a photo album and reminisce on your memories together.
44. Tell her you love her more often.
45. Write her a love note.
46. Bring home her favorite ice cream.
47. Send her a sweet text during the day.
48. Bring home dinner.
49. Compliment her on something specific.
50. Thank her for something specific.
51. Give her the remote.
There you have it guys…consider this your gentle nudge. And if you want to hear exactly what women want, read this enlightening conversation. Bottom line: it doesn't have to be big…it's the small things that add up.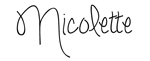 You might also like: