Minky Blanket Tutorial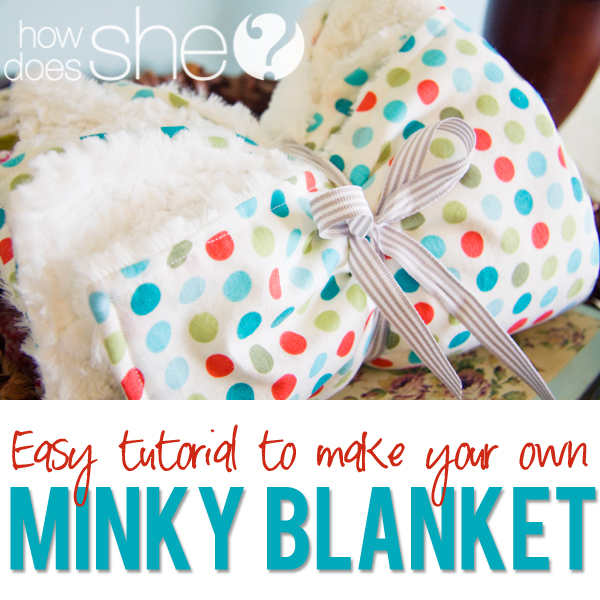 I always find myself wanting to start projects this time of year. The cold winter months seem to drag unless I keep myself busy! It is also a great time of year to get organized and start the year on the right foot. I love to be prepared for birthdays, baby showers, wedding showers, etc. At the beginning of the year, I always try to collect and make my "gift stash" for the rest of the year. My favorite baby shower gift is this darling designer style minky blanket. I used this custom baby blanket several times when I had my baby and let me tell ya… they are the best! Not just for the baby – I also feel tempted to use it when I touch the soft minky blanket.
This is such a simple blanket to cut and sew. It is cheaper than a double sided minky blanket with binding. Plus it's perfect for Winter and Summer babies!
The supplies you will need:
1 1/4 yard woven cotton print fabric
1 1.4 yard minky fabric
thread to match
and sewing supplies
Minky Baby Blanket Instructions
Start off by washing and drying your fabric according to the directions (check the bolt or online guides when purchasing). A new blanket could be irritating to the baby's skin because it is soft and sensitive, so washing the fabric may help with that. Once they are dry, iron the cotton fabric. If you are planning to gift this to someone, I would suggest you select premium cotton. It is the type of fabric that creates velvety comfort with a lightweight and silky soft embrace for the baby.
I like to make my blankets a little bigger, so the width of fabric is important. My favorite size is 40 x 40 inches, it seems just perfect to wrap up and snuggle a little baby. Most minky fabric comes 60 inches wide, so if you wanted to get more for your money, you could make 2 blankets with the width by making them 30 x 36 inches. Decide the dimensions you want for your blanket.
The BEST way to cut 100% cotton woven fabric is to tear it. Start out by tearing the edge off of 2 touching sides. This will give you a perfectly straight line to work with. Then measure your dimensions (adding 1 inch for seam allowance) and tear the fabric at the correct length. To tear: clip the fabric about an inch in from the edge and pull on either side of the cut. I tore my fabric to be 41 x 41 inches.
Preparing to Sew
Once your woven fabric is torn you will have a perfectly square or rectangle piece to work with. Press the torn edges of the cotton fabric. Next lay out the minky fabric with the fuzzy side UP. You can be creative with the top part. Make your minky side with unique monochromatic prints or a high contrast unique fabric pattern. Keep solid colors on the reverse side. The best part of this easy baby blanket is that you can design it according to your plan in no time. Lay the cotton fabric with the print side DOWN. This will make the right sides face each other (My fabric below is opposite what you should do ;)). Line one of the cotton fabric edges with the selvage of the minky fabric.
Cut the minky against the edge of the cotton fabric. You won't need to cut the selvage edge since it should already be lined up with the other fabric.
The right sides will already be facing each other. So place several pins about 5-6 inches apart around the edge of the blanket. Make sure you place a pin in every corner.
Sewing Your Minky Blanket
You'll need a sewing machine, so if you have one, start the sewing project. Sew around the blanket with 1/2 inch seam. Leave a 2-3 inch opening. Don't forget to back stitch!
Once it is sewn you will flip the blanket through the little opening you left. Push out all 4 corners. Speaking of corners, check out our Perfect Corners Every Time baby blanket tutorial for more inspiration! Happy sewing!
Smooth the edges and top stitch around the edge of the blanket at 1/4 inch. Be careful when you sew over the opening you left, make sure you close the hole completely!
If you need to press the edges use only a warm iron. Then you're done!
Your perfectly adorable little blanket! From start to finish this only takes about 30 minutes! Tie it with a ribbon and you are ready with the perfect gift! It would make a great christening gift too!
Let me give a warning… You might get carried away with all the cute prints and different designs out there! I have to make one of these out of every cute fabric I find…… and…. I may or may not have some for myself 😉
You can find tons of adorable printed fabric and great deals on minky at Fabric.com. It is my favorite place to online shop.
Some of our other favorite homemade gift ideas for the little ones:
or order some for FREE – check out this post to get your FREE nursing cover, car seat canopy, and baby sling! There are a bunch of different trendy fabrics to choose from…so cute!