We are thrilled to welcome guest contributor, Kristin Ammerman, who is here to share a fabulous round up that anyone with kids will want to check out:
Have you ever looked at the picture books that make the New York Times Best Seller list? It's a long list… with the same repeating authors every week. Sure, these authors are fabulous and talented, but what about all the 5 million other books that are published every year? What if you've already read the top 10 best-selling children's books and you want to see what else is out there? How do you know which ones are worth bringing home?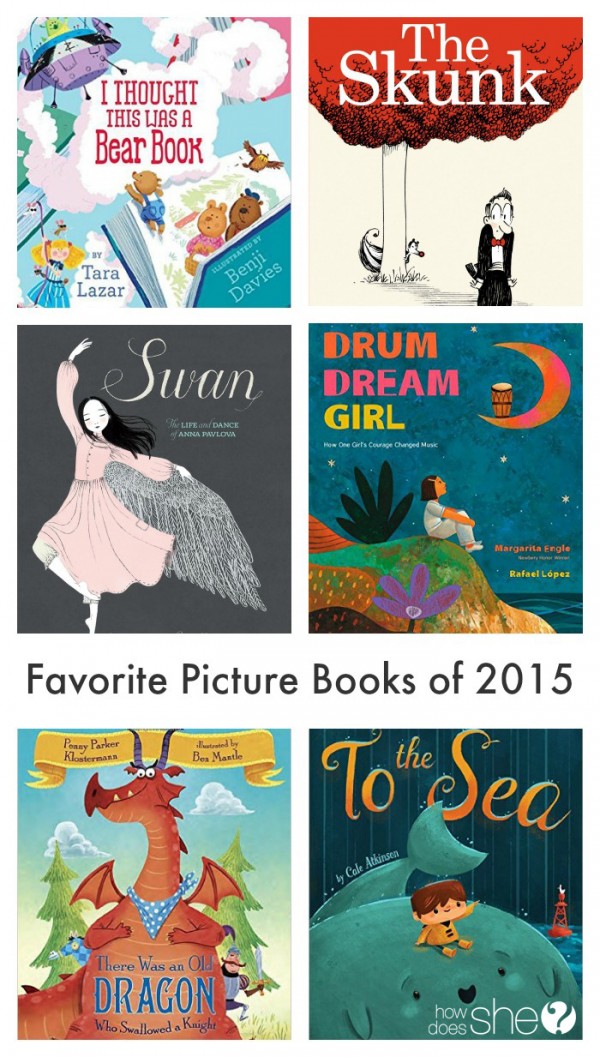 There are many amazing picture books published every year and this year has been no exception. In honor of Picture Book Month, I researched this year's publications, and made a "long list" of top picture books. The criteria I set was that the books had to publish between January 2015 and October 2015 and couldn't appear on the NYT Best Seller list. With the help of a handful of young boy and girl readers who read, reviewed and ranked the books, I whittled the list down to our eleven favorites.
You might know author Mark Pett from his retro book, "The Girl and The Bicycle," last year. This book, "Lizard from the Park," is a sweet story about exploring the world and friendship. The pictures are soft and the theme is kind, so I was pleasantly surprised to see that the book ranked as one of the top favorites with kid readers (or should I say "listeners").
"Lizard from the Park" reminded me of "The Mysterious Tadpole" which is beloved at our house!
#2 "Bug in a Vacuum"
We all know that parents read books to kids over and over. And over. And over. It can get boring! Melanie Watt is one of the few authors who has the ability make a book funny for both kids and adults. Maybe it's because she's had all that practice with her popular Scaredy Squirrel series?
This book is about the stages of grief and overcoming challenges. Older picture book readers, like 1st – 3rd graders, will especially enjoy this longer 96-page story. My first grader was delighted to discover that the items around the house ended up inside the vacuum with the bug. This book was ranked in the top three by my kid testers. There was some fighting over this book. But, not to worry, no pages were torn in the making of this article.
#3: The Skunk
This quirky book has simple illustrations and easy to follow plot, making the tale ideal for a wide age range of readers. Younger kids can follow the story while older kids can reflect on the deeper meanings of the book. "The Skunk" is about a skunk who is following a tuxedo-clad man…until the tables are turned.
The white space on the page allows the text and illustration lots of room to breathe. All that room works well as this book uses dapper words like "saucer of milk", "rapt" and "opera" (ummm, never mind the sewer pipe chase). The simplified black, white and red color palette, and matte pages lend a retro vibe. If your child is satisfied without a defined ending, Mac Barnett is the author for you; he likes to leave things open ended so the child can imagine what might happen after the last page turn.
#4 Drum Dream Girl: How One Girl's Courage Changed Music
"Drum Dream Girl" is a nonfiction book about a Cuban-African-Chinese girl who becomes the first female drummer in Cuba. I loved this book! The colorful pages with Cuban artistic influences. The culture. The story.
This book shares the story of a young girl who has big dreams and is successful in breaking through societal glass ceilings. It's important to me that kids, boys and girls, celebrate that with the character. Beyond the girl-power aspect, the Cuban culture featured in the story is very different from what my children have ever experienced. They were confused as to why a girl wouldn't be allowed to play the drums. "Drum Dream Girl" presents an opportunity to discuss cultural and historical topics.
#5 There Was An Old Dragon Who Swallowed a Knight
If you're looking for a fun, rhyming book, check this one out. This was another top-three contender with my group of readers. The story is a twist on "There was an old woman who swallowed a fly," which kids find hilarious. But the illustrations are what sealed the deal on this one.
Kids like the glossy pages and the colors. The many intriguing elements of the pictures drew the kids into them for further investigation. Even the front end pages and back end pages were closely examined.
This lyrical story is told through the eyes of a family dog about hearth and home in Vietnam. There aren't many small print publishers can grab attention, especially with an illustrator with only one other picture book under her belt. But the narrative and artwork of this book are amazing! Plus, the topic of family is always a good one. In this story, you'll see a mother and baby through the eyes of the family dog. The mother is preparing dinner while anticipating the father's return from fishing. I loved that the house is on the side of the cliffs. What a view!
The surprise twist in this story is that the dog spies a cricket under the floorboards. The cricket is a master artist who sees things in his mind the dog cannot see. Very meta, right? The cricket paints to convey to the reader the rest of the story. This book is a beautiful way to show kids about another culture and about the bond of families no matter what country you live in.
#7 To The Sea
In this story about friendship, a boy named Tim is almost invisible until he meets someone else named Sam. Sam is literally almost invisible in the illustration…but Tim can see him. P.S. Sam is a whale!
This orange, teal and navy blue-dominant book talks about the pain of being shy and alone without saying the words "shy" or "alone"… or "lonely". Between the colors of the story, the whale, the glossy pages and the topic, this book was a favorite of, not surprisingly, one of the kids who struggles with being social at school.
#8 Swan: The Life and Dance of Anna Pavlova
I'm not saying when I read this book that I teared up at the end. But, I'm not saying that I didn't either. This nonfiction book about Anna Pavlova, a Russian ballerina, is a masterpiece. The soft illustrations and the text are beautifully laid out on the pages.
Additional information about Anna's story is included in the back of the book. I highly recommend reading those so that you can talk about the story in more depth as you read it again and again with your child. This lyrical story is about Anna's life (and death), but the focus is on hope and dance. If you have a child who loves dance and particularly ballet, this is a picture book to add to your collection.
#9 Who Done It
This mystery-clue book looked like a board book at first glance. The cover and back are thick boards, but the interior pages are regular, paper-thin, matt pages. This is something you don't normally see, but we all liked it! Each 2-page spread asks a mysterious question at the top, like "Whose arm hurts". And below each question are several illustrations. Kids have to look at the illustrations for clues as to whose arm hurts. Spoiler alert! It's the character with the bandage on his arm.
This book is great for a one or two time read for older kids. They'll especially love the "Who couldn't hold it" potty question. But, this book is better for younger kids in the 3-5 year old age range.
#10: I Thought This Was a Bear Book
This book is high gloss, high action, and high color. If your child likes busy, colorful books with a lot going on, this is for you. The story tells of a Martian who falls out of his book into "Goldilocks and the Three Bears." Just imagine a shiny, technological machine tumbling into the soft, idyllic world of the three bears. And the Martian needs to return to his own world to avoid disaster. An adventure ensues!
As the adult, I noticed that the pictures and the story jumped around a bit. But all the kids loved this one; so the author, Tara Lazar, definitely knew her market when she wrote this book.
#11 Just A Duck
Carin Bramson brings us another book in her series about a duck and a cat. This book is about being who you are and finding the positive things that you can do. The illustrations of the soft, fluffy duck are adorable. This book made our top 11 because preschoolers find this book hilarious! "Just A Duck" is a great book for preschool teachers to read to their classes.
This list of books is great for teenagers looking for something entertaining to bring babysitting, for teachers considering read-aloud books for school, and, of course, for parents reserving books from the library, or looking to purchase a literary addition for their home. Do you have a favorite book that was published this year, but didn't make the NYT best seller list? We'd love to hear about it!
Kristin oversees the brand and business strategy of literary clients through messaging on their websites, social channels, partnerships and print media. She currently works as the Project Manager for Picture Book Summit and KidLit TV. You can find her articles on Social Media Examiner, Socially Sorted, My Kids' Adventures and KidLit TV. Kristin is a member of the Society of Children's Book Writers and Illustrators and she's currently working on a middle grade fantasy novel for kids. She likes to mix it up by writing short fiction and was published in an anthology with Port Yonder Press. Kristin is addicted to middle reader epic fantasy. She swears she's just trying to keep up with her kids' reading, but we know she not-so-secretly loves it. Visit her on Twitter @KristinImagines
 Check out our 19 DIY Bookshelves That Will Help Your Kids Have a Desire to Read More:

Or try creating this cozy book nook where you child will love curling up with their favorite read:

Disclosure: This post may contain affiliate links. This means, we may receive a small commission if you choose to purchase something from a link we post (including links to amazon.com because we are a participant in the Amazon Services LLC Associates Program. Don't worry, it won't cost you anything. This small percentage just helps us keep the power on and the Diet Coke stocked. We appreciate your support!