Motivation to Clean and Organize Your Life – What Can You Bear to Do Today?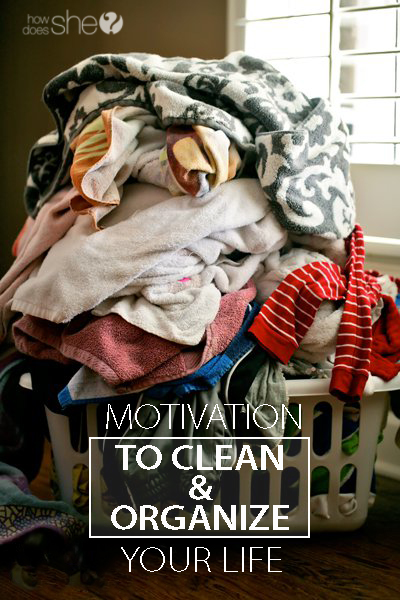 Do you ever hit that point where you know what you need to do, you know that now is the time to get it done, and you also know that you can't possibly bring yourself to do it? I get to that point more often than I'd like to admit, especially during the winter months here in Seattle, so I've come up with some great strategies to pick myself up, dust off the 'Blahs', and make some progress toward my goals.
If you're looking to organize your life or clean your home but you lack the motivation to make it happen, you've come to the right place; Kathryn's House of How-Does-She-Stay-Motivated-When-All-She-Wants-To-Do-is-Snuggle-Up-in-Bed-with-a-Good-Book.
Here are ten steps to help you get going:
1. Snuggle up in bed with a good book – Take a few minutes to rest and give yourself a break. You know how sometimes you really, really want to eat a snickers bar but you eat a carrot instead but you still have the munchies so you eat a few crackers but you're still hungry so you eat a quesadilla and eventually you break down and eat the chocolate because that's what you really wanted all along? Sometimes if you really, really feel like being lazy, it helps to just give in and be lazy on purpose with no guilt for half an hour, regroup, and try again to be productive.
2. Make a list – Evacuate your brain onto a piece of paper. List everything you want to get done today and break each item down into bite-sized pieces. If "clean the kitchen" is on your list, break it down to "empty the dishwasher," "wipe the counters," "clear the table," "load the dishwasher," "wash the pots," "sweep," "mop," "recycle the cookies into your mouth."
3. Order the list by priority – Things that MUST be done for your family to survive until tomorrow go first and then end the list with things that kinda sorta might be nice to accomplish today.
4. Spin some tunes – Blast some pump-you-up songs to get your energy flowing.
5. Decide what you can bear to do – This is the most important step on an I-can't-face-the-grind kind of day. Look at that overwhelming list of must-dos and might-dos and choose to do the thing that you can bear to do. Start by looking at the top item on your priority list and think of one thing you can bear to do to move that project forward. If, "pay bills" is at the top of your list, maybe you can bear to "gather all the bills." If your top item is "write a blog post," maybe you can bear to open a file and type one sentence. This won't get the job done, but it will get you closer and there's a good chance that once you get started you'll end up paying some of the bills. If there's not one tiny part of that top item that you can physically bring yourself to do, work your way down the list until you find something you can peck away at.
6. Set a timer for how long you can stand to be productive – So you're going to gather the bills. Maybe you're willing to gather and sort them for 5 minutes. Set a timer so you know you can stop and do more of the couch laying as soon as it beeps.
7. Do one thing – Do the thing you planned to do for as long as you planned to do it. If you feel momentum building and you want to work past the time, I give you permission to do so.
8. Decide what you can bear to do next.
9. Set another timer.
10. Do one more thing.
This system works for any project you want to tackle, whether it's organizing your papers, cleaning your kitchen, or building a rocket on the launch pad in your back yard. It may sound like a pathetic way to do things, but it's designed for times when you sort of feel pathetic. Whether it's due to sickness, depression, or simple exhaustion, we all feel like that now and then and it's okay. I feel confident that even on your worst days, you can do something. Then magic happens because the best way to feel the motivation to accomplish something is to accomplish something. Productivity feeds on itself.
So, if you feel stuck, doing even one tiny thing can put you on track to do more and more. Some days it might not. Some days you'll do one tiny thing and then find yourself reclaimed by the sofa. But you'll be one tiny step closer to your goal and that is a very good thing. What can you bear to do today? You got this!

Now that you are feeling SUPER motivated to clean and organize, check out some of our favorite posts to help with just that: