How to teach your child to clean ANY bedroom in 10 minutes
(without using a blowtorch)
I can't tell you how happy I am to have the hilarious Chris Haskell back on the blog with his co-worker, Bonnie Fife to explain how to teach your child to clean! You might remember Chris from this post, Keep the Sparks Hot. It has been crazy successful on the blog! The even better news is, Chris and Bonnie are going to be regular contributors to HDS so we are sure to get our lol quota taken care of and learn a thing or two in the process.
UPDATE:
You asked for it! We received so many requests to make a printable with these steps! Download a FREE PRINTABLE of these steps to refer to….before you revert to using a blow torch – see bottom of post for a picture.
Welcome Chris and Bonnie!
Does your child live in a room that could serve as a set in the crime drama "CSI-Magic Kingdom"?
It's mind-boggling to imagine how your child's room went from looking like the beautiful IKEA showroom you designed to what now resembles a gruesome, triple homicide in a princess-themed flophouse. Sometimes your dream of a clean room remains unattainable.
Your friend: "Oh, how cute! Olivia's bedroom door adorned with police caution tape. That's so clever, so urban. I'd love to see how you decorated inside."
You: "It's nothing really. Let me distract you in the kitchen…"
Friend: "Don't be modest. Your living room is 'totes adorbs'. Didn't I see an Instagram of Olivia's new curtains and …" <reaches for door>
You: "If you open that door I will EAT YOUR FACE!"
Until now, you may have felt that your biggest failing as a parent was the inability of your child to keep her room clean. It's not. Your biggest failing is the "All Denim" family photo from 2010. But, the room and perhaps your first attempt at cutting hair, are certainly a close second. Sure, you've already considered many options to overcome the horror, which is a child's bedroom. A chambermaid, arson, FEMA; all are potential, yet impractical solutions (and even illegal, in the case of FEMA).You might have given up all hope of tidy living and a clean bedroom, suffering from Sudden Onset Voluntary Dirtiness Dissociative Disorder as a personal coping strategy while passing the messy bedroom door. You wish you could develop a sense of order in your child. Unfortunately, there is no simple way to do it.
But what if we told you there is a way to teach your child how to clean on their own quickly, or build up good habits of cleaning, thoroughly and effectively? What if we told you it could be done in only ten minutes? Would you stop day-drinking your cooking wine and saying you "spilled it again"?
The process is simple. Broken down, it's a five step approach in which the child is making easy decisions between few distinct options. This method is as much about teaching good, sustainable cleaning strategies as it is getting a room in order. But in order to be successful, you must be willing to let go of the minutia of adult-level details in favor of quick success. Don't expect your little kid to become a professional organizer at once. Pausing to lecture your child about "Mommy's Perfect Folding Technique for Underwear" not only makes it impossible to finish swiftly, it has also been scientifically proven that nitpicked children are guaranteed to select the career "back-alley tattoo artist." At least, that's what the research says.
A word of warning: It is likely you will uncover things in the cleaning process that normally, might make you angry. But in the long run, it will become their daily routine. Before you start cleaning, prepare yourself to keep cool by repeating this suggested phrase looking into the bathroom mirror. "I think you've been harboring more feral cats than anyone in your whole school. Oh,sweetie, that's so <shudder>. . . cute."
Now you are ready to begin.
Step #1:
Clear the bed and make it.
(1-2 minutes)
No matter how atrocious the bed and floor seem, the first step is to throw EVERYTHING off the bed to the floor. I know, I know it does not seem to be a good idea. This is how the mess was created in the first place. But it is also an important step in cleaning the room. With the bed clear, it is easy to make. And, a made bed makes any room look cleaner, which will feel inspiring to continue the autopsy,…er, room cleaning. To clean the entire room at once would be a nightmare for your child, so start small.
If you are one of these parents who demands "hospital corners," we need to have a talk. The Geneva Convention strictly prohibits the use of hospital corners in bed making by children, husbands, and libertarians. Just get it made.
Step #2:
Put all clothes on the bed.
(2 minutes)
Using the "full hands" philosophy, collect every piece of clothing, towel, fabric, etc. Place it all in a pile at the foot of the bed. "But, you just told me to clear the bed! Now I'm supposed to dump a mixture of clean and dirty clothes on it?" you say, incredulously.
In short, yes. For children (and husbands), it's best to keep it simple; this or that. The floor is littered with clothing, toys, things to keep, and trash. Basically, there are clothes and not clothes. Your child is making a plain choice between two clear options and acting on it. As he walks around the room, he collects one thing: clothes. At this point, do not use time sorting the laundry, which would add complication, just gather it up.
When you demonstrate this to your child, move quickly. The goal is to finish this part of the task in under two minutes, the whole job in ten or less. Stay focused, speedily filling your arms with all the clothing you can grab then dropping it onto the bed. You will not get a tidy space immediately, but look – your child is doing something about the messy room!
Step #3:
Gather items that belong in the room.
(2 minutes)
Note: This is where your addiction to baskets actually helps your family. Have a few baskets (boxes, buckets, containers, toy bins, whatever) standing by to help with sorting the big pile of clothes and items. With all of the clothing off the floor, you have two new options: things that stay in the room, and things that do not. Again, using the "full hands" (or basket) principle, move through the room picking up everything you can. When they start to fill up, walk around placing the items where they go, or close to it. Items that do not belong in the room (cups, plates, racoons, welding equipment, animal husbandry supplies), get placed just outside the door in a separate basket. They can be dealt with later. Taking them to their proper home now will prevent you from getting this room clean anytime in the foreseeable EVER.
The time-consuming task of walking each misfit item back to its intended home can be what derails most cleaning efforts. If we shrink our sphere and focus on putting things away within this room only, we can finish the job in the time allotted. Everything sitting outside the door can wait.
Repeat this method, circulating until the only thing left on the floor is garbage.
Step #4:
Get rid of the garbage
(2 minutes)
This is where a well-placed garbage can is really valuable. Set the can in the middle of the room and quickly toss everything that doesn't belong into it. Of course, you will likely still need to vacuum (and release a family of squirrels into their natural habitat), but the result of picking up all that is left on the floor creates a magical environment.
This room is now officially 99% clean.
Step #5:
Separate the clothing
(2 minutes)
This is another either/or proposition. The clothing in the pile is clean or dirty. Separate this pile into two, making sure to inspect each garment to verify it does not have any spots, stains, or "crime scene evidence" tags. In some cases, it may be necessary to employ the sniff test, but a quick visual inspection for children is not out of the question.
Husbands, however, continue to use a version of the sniff test that is less accurate, and one they employed in college. (If it didn't smell TOO much like pledge week, it was good to go. If it did, they would just throw it in the dryer with a dryer sheet.) It is also important to note that middle school children cannot smell. Puberty has rendered their olfactory sense inoperable.
If the clothing is clean, it goes into the clean pile, which will be put away. If it is dirty, it goes into the dirty pile, which will be taken to the laundry room or perhaps thrown into the fires of Mt. Doom.
Keep in mind that the training of children and husbands takes time. On the first attempt, a feeling of "success" is critical, but actual perfection is not. The important thing is to start teaching skills that will help them traumatize their own children someday. As you watch them in the not-so-distant future teach their own children this technique, you can just sit back, with that doll-like creepy old lady smile, and think to yourself with a sense of pride, "now we're even."
You are done!
Tear down the caution tape and celebrate by binge-watching those episodes of America's Next Top Pet Groomer, because you've done enough parenting for one day. You can even take your friend on an impromptu tour of the children's rooms. And, when your friend says, "how do you get your kids to keep it so clean?" You can answer, "You just have to be patient and willing to teach them." But, don't turn your back because she WILL stab you. Maybe it's best just to Instagram it.
………………………………………………………………………………………
You asked for it! We received so many requests to make a printable with these steps! Download a FREE PRINTABLE of these steps to refer to….before you revert to using a blow torch: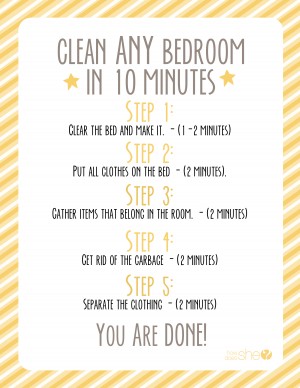 Are you interested in natural cleaning solutions for your home? Check out these 31 Hacks and Tips for NATURAL Cleaning
Now that you've got your kids cleaning their rooms like pros, why stop there? Spring clean your backyard next!
Your home isn't the only thing that could stand a little spring cleaning – your mind can, too! Here are 8 steps to clearing that internal clutter.