Declutter Your Life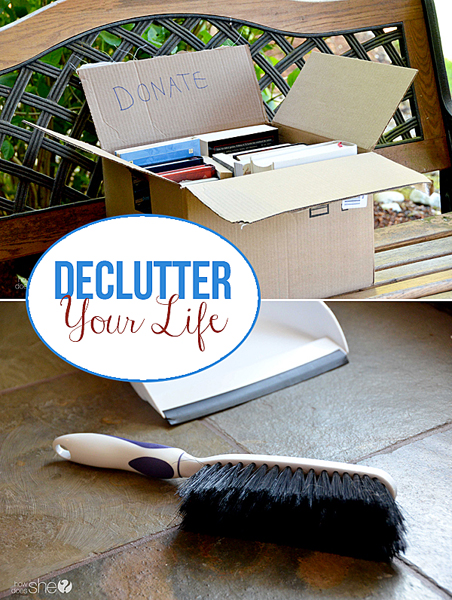 Over spring break, I took spring cleaning to an elevated tier of insanity. It was more of a spring cleansing. Hardly a toy or piece of clothing was left standing. There are several home organization and decluttering books I love because it's more fun to read about cleaning and dejunking than to actually do it. And I had just read my new favorite, The Life-Changing Magic of Tidying Up by Marie Kondo.
There is so much to love about this book, but the most simple and profound teaching is to handle each item in your home individually and ask, "Does this spark joy?" If it doesn't, let it go. It's more about choosing what to keep rather than deciding what to get rid of. You are stocking your home with the things that bring you joy. There isn't room for clutter when this is the goal.
Now, this is easier said than done. Do these soccer cleats in every size bring me joy? Maybe not, but they will bring me joy when I don't have to buy new ones for Wanda every six months for the next seven years. Then there are things that did spark joy when I first received them but that I no longer need or use. They have served their purpose. These are hard to let go, but I've been doing it. It takes time and intense emotional and physical effort.
Marie says it takes about six months to do a thorough tidying and that's probably a pretty close estimate, considering the progress I've made so far. I'm not stopping. I can't stop. Every category I finish adds to my feeling of lightness and freedom. The less I have, the happier I feel because what I'm left with are only the things that light me up.
As I've been deciding what to keep and toss in my home, I've been thinking about the thoughts and emotions I carry around. Do the things I think about spark joy in my life or do they drain me of energy and peace? Can I declutter my mind and heart the way I'm decluttering my environment?
It doesn't work quite the same but the underlying principles are the same.
Handle each item. When we decluttered the kids' rooms, I took absolutely everything out and then added the keepers back in one item at a time. I don't know of an effective way to do this with the brain and heart and, even if I could, I think the process would be too overwhelming. I prefer to handle each thought as it comes up. Practice good meta-cognition. Think about what you're thinking about. Notice your thoughts. Evaluate them.
Does it spark joy? Do the things you spend your time thinking about or even obsessing over bring you joy? Rather than stressing about what negative things could happen, spend time fantasizing about the wonderful things you hope will occur. If a particular thought pattern does not spark joy or positive action, trade it in for something more productive.
Choose what to keep. It's much easier to decide what to focus on than to try not to think about something. The more you try not to think about pink elephants, the more pink elephants become the only thing you can think of. So if there's a particular troubling thought you're having trouble tossing, find something more joyful to replace it with. Every time the troubling thought comes up, switch it. Sometimes in order to move on from a niggling worry, we need to address it. Okay. So what if my toddler does become a drug dealer? What would I do then? Think through the scenario of what ifs and decide how you would handle it. Then the next time it comes up, think, I've already done the mental work on this one. I know how I would handle it. I can think about something else now. Then shift your focus to joy.
Make a place for the things that bring you joy. Can you schedule happiness? Sure you can. Plan to move your body, read a good book, spend time with friends, or simply schedule five minutes on your calendar to fantasize about something that makes you really happy. Consciously choose to fill your brain and your life with goodness.
Avoid adding new useless junk. Content is important. After my second child was born, I suffered from crippling postpartum fear and anxiety. My brain managed to dredge up every terrifying image I had ever seen and trick me into thinking I was in imminent danger through a series of sleeping and waking nightmares. This is a drastic example of how the content we read and watch can affect us, but since that time I am much more careful about what I put in my brain. If my mind goes to Crazy Town again, I want it to have as little scary fuel as possible. I'd rather obsess about beauty, joy and the goodness of people.
Are you holding onto something that's not bringing you joy? Do you have recurring thoughts that generate anger, fear, self-doubt, blame, or worries about the future? You don't have to fill yourself with junk. You are not meant to be the storage receptacle for pain, hatred, fear, or judgement. There is so much more good in the world than bad. Why not mirror that ratio in your home, heart, and brain? What not be even better than the average? Does this post spark joy? If not, close the web page and read something that does! Your personal declutter starts now.
And keep in mind that you don't have to do this alone and rubbish removal contractors, like 1300 Rubbish, can help clear your home of anything that doesn't spark joy.
This is just the tip of the iceberg when it comes to organizational helps we've got just waiting for you! Check out this surefire way to get your child to clean his/her room in just ten minutes. Seriously – it works!
Or check out these 20 mini-missions to improve your life – in one minute or less! I mean, anyone can do these:

If you want to feel really accomplished, you might want to give your to-do list a make-over with these tips: