Household Hacks
15 Hacks for Every Mom Around the Home:  Household Hacks!
  As a mom of 5 kids, I'm always glad to learn about more hacks for an easier day.  How about you?  Here's some fun ones to make things go a bit smoother! Enjoy!
 1. I'm glad I'm not the only one that this bothers!  Use clothes pins for your toothbrushes to keep them off of dirty counters.
2. Instead of buying the expensive scarf organizers, why not make your own?
4. Do your cup holders get full of crumbs and gunk? Make things easy by using some silicon cup cake liners as inserts. Easy clean up!
5. Make a nice outdoor hangout lounge for your baby. Get the yard work done while giving the baby a shady place to play!
6. Do the balls roll around your basement?  Here's a great ball storage solution! 
[sociallocker id="75042″]
8. Make an easy chalkboard door to keep your grocery lists or notes handy.
10. Love the way this solves the problem of burning hands! Try the Sparkler Shield!
12. Repurpose your orphan socks as swiffer covers!
14. This would help a lot in our car that seems to always be full of kids.  Hang up the backpacks with suction cups. Avoid them getting stepped on and keep them handy!  Love it!
15. Next time your kid wants to take the toys out of the toy room, hand them a pillowcase. Easy to pack around and most importantly easy for them to clean up when done! Love this idea!
 They're pretty handy, right?  I'm excited to get started on some of these time savers!
Household Hacks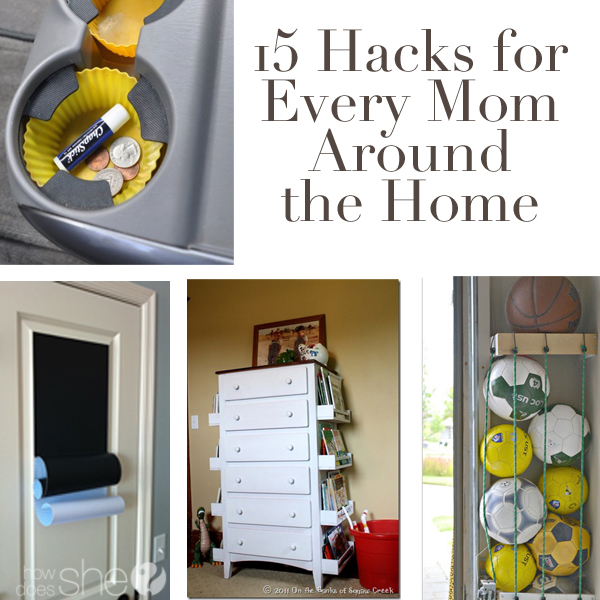 [/sociallocker]