Are you looking for culturally diverse picture books for your kids' shelves? If so, you're not alone.
But, where to start?
In this article, I've reached out to some of my favorite picture book authors and experts to find out which books are their favorites!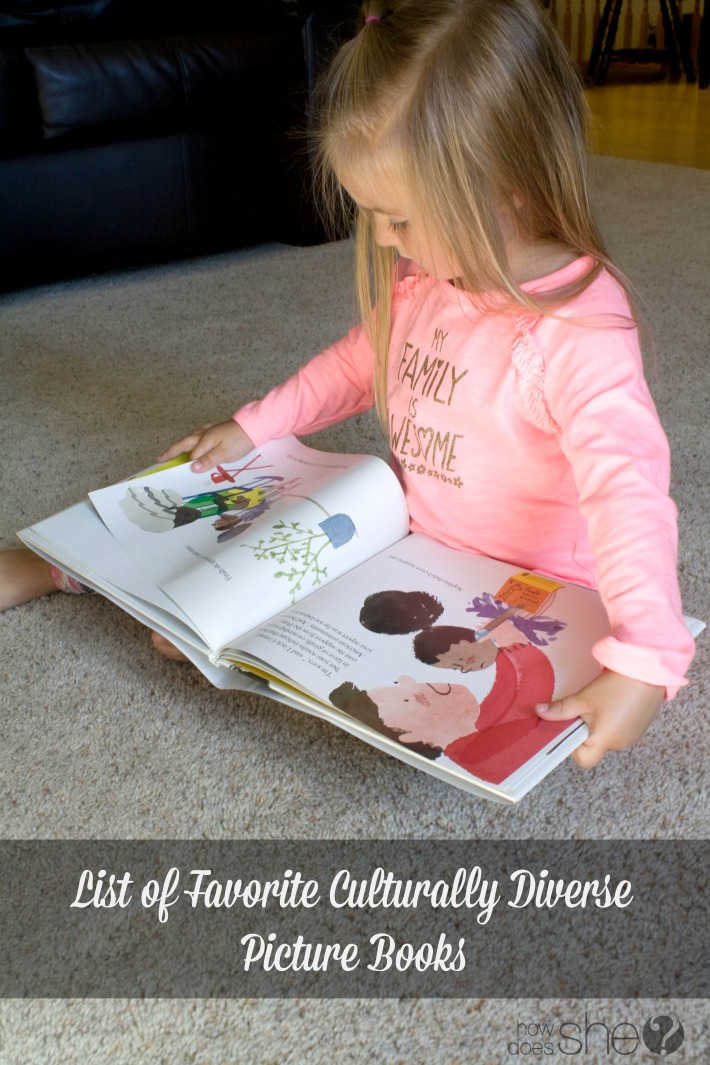 If you're not sure why it's important to have a variety of culturally diverse picture books represented on your child's shelves, I have three words for you: parents are powerful.
They set the tone for the home and they control the information that flows through the doors (and television and devices and books). So, parents, did you know that 40% of the population identifies themselves as non-white, or two or more races, according to the US Census? And if we looked at the entire world, the statistics would be very different from these!
Now let's see if your bookshelves pass the diversity test. Step back and look at your books. Remove all the animal picture books (which are great and we love them, but just go with us on this exercise). Now look at all the faces of the characters staring back at you. How many different cultural books do you see? What are the percentages of different cultures represented? If you're not representing all the cultures you'd like to, consider getting these from the library, or adding them to your permanent home collection.
"…writing and publishing more diverse authors and stories only takes us so far if children never see these books." –@donalynbooks

— John Schu (@MrSchuReads) July 19, 2016
Recommendations for Diverse Picture Books
For this article, I reached out to the Picture Book Summit co-founders. It was difficult for them to narrow down their choices; there are so many great diverse picture books! And even so, I found the list was lacking on the some cultures, like Native American (Hey, publishers, can you pick up more of these?!) But, I ended up with an amazing list of inspiring, funny, and insightful books! The experts below recommended the books, but the reviews are my thoughts and opinions. I broke down the recommendations in alphabetical order by first name (no favorites, right?!).
Emma Walton Hamilton Recommendations:
Marisol McDonald Doesn't Match by Monica Brown (author) and Sara Palacios (illustrator)
&
The Other Side by Jacqueline Woodson (author) and E.B. Lewis (illustrator)
Marisol McDonald Doesn't Match is a book about a girl who likes lots of different things and they don't always go together (aka: match). Like peanut butter and jelly burritos, and speaking English and Spanish (and sometimes both). In this story, Marisol does some things different, but she also does a lot of typical kids things; she plays with friends at recess, engages with her teacher, and enjoys her family at home. I love this story because there are too few fun picture books about kids with a parent from North America and another parent from South America (Peru, in this case).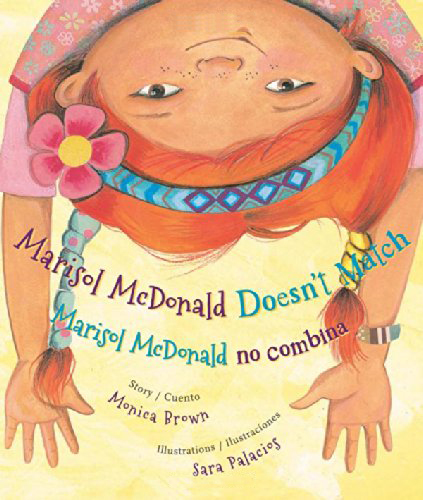 The Other Side is a story set in the old South in the 1950's. There is a fence (an actual, physical fence that's also a metaphor throughout the story) that segregates the town. The narrator, Clover, is told never to cross the fence because it isn't safe. But one day, she sees another girl on the other side. They eventually skirt the rules by sitting on the fence.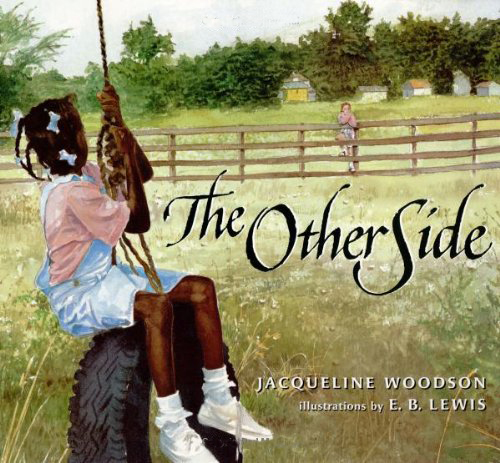 Emma Walton Hamilton is a New York Times bestselling author, and a co-founder of Picture Book Summit. 
Julie Hedlund Recommendations:
One Word from Sophia by Jim Averbeck and Yasmeen Ismail
&
Ella Fitzgerald:The Tale of a Vocal Virtuosa by Andrea Davis Pinkney (author) and Brian Pinkney (illustrator)
When kids read One Word from Sophia, they immediately want to know "what is the one word?" But the answer isn't given until toward the end of the story. In the meantime, we get to find out that Sophia has One True Desire for her birthday, but also four problems. This story has humor and silliness, which my kids appreciated. This family is bi-racial and I liked seeing them together: mom, dad, uncle, grandma and Sophia!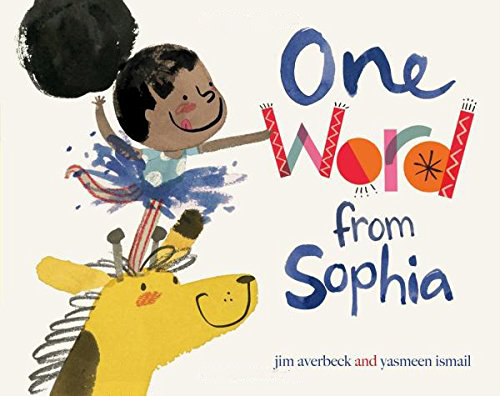 Note: One Word has some bigger words. Don't miss the dictionary in the back. Great opportunity to work on your kids' vocabulary. Bonus!
Ella Fitzgerald:The Tale of a Vocal Virtuosa. During her lifetime, Ella Fitzgerald received 13 Grammy Awards and a Lifetime Achievement Award. Ella was honored by two presidents, Carter and Reagan. President Reagan presented Ella with the National Medal of Arts to recognize her life's achievements. This nonfiction story about Ella has an amazing cadence through the whole narrative, cleverly mirroring what Ms. Fitzgerald was famous for. I heard the author, Andrea Davis Pinkney, recite the first page of this book at last year's Picture Book Summit. They are generously sharing the below clip of the conference with you!
Tell your kids that the story is told from the eyes of an imaginary cat, Scat Cat Monroe. Then click the video below and watch the author recite the words. So cool to hear the words as they were intended to be read!
Note: You can turn this into a whole Jazz music lesson buy picking up some an MP3 or Vinyl. Another option is to find YouTube clips of Ella singing.
Julie Hedlund is the founder of 12 x 12 Picture Book Challenge, and co-founder of Picture Book Summit.
Katie Davis Recommendations:
Niño Wrestles the World
 by Yuyi Morales
&
Too Many Tamales by Gary Soto (Author) and Ed Martinez (Illustrator)
Niño Wrestles the World is primarily in English with a sprinkling of Spanish words. This author/illustrator has won so many awards that her scrapbook and mantle must be overflowing. The joyful and imaginative story is about a little boy, Niño, who is loves wrestling. A great humor book for elementary school age kids.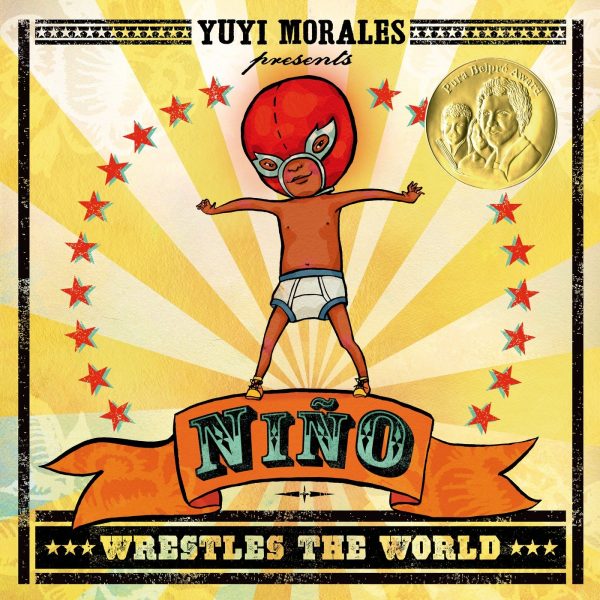 Note: Niño fights an imaginary mummy, a devil, a ghost, and an alien. These could be too scary for the younger set, so use your best judgement. This picture book is spot on for 3rd grade humor (*ahem* teachers!).
Do you pick up holiday books in December? Too Many Tamales is a great Christmastime story to add to your list! This story includes extended family get togethers, gift exchanges and, of course, food. There's an unfortunate mishap and the main character, Maria, must figure a way out of it. The theme of this touching story is honesty, but the story is told in a warm way with a touch of humor. This is a great opportunity to talk about the honesty (at any time of the year)!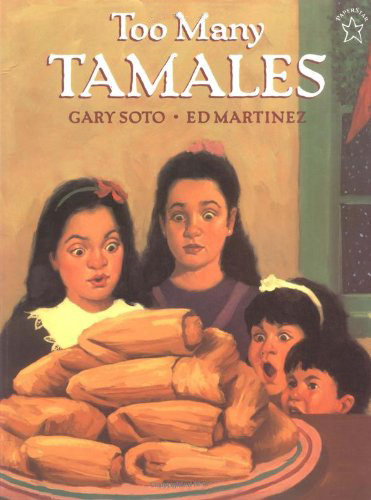 Katie Davis is the owner and director of the Institute of Children's Literature, and a co-founder at Picture Book Summit. 
Kelli Panique Recommendations:
Water is Water by Miranda Paul (author) and Jason Chin (illustrator)
&
Morning with Grandpa by Sylvia Liu (author) and Christina Forshay (illustrator)
Learn about the water cycle in Water is Water. A biracial, brother and sister team teach kids through the author's poetic language and the beautiful illustrations. This is a great early science lesson picture book for kids (or a review for older elementary school kids).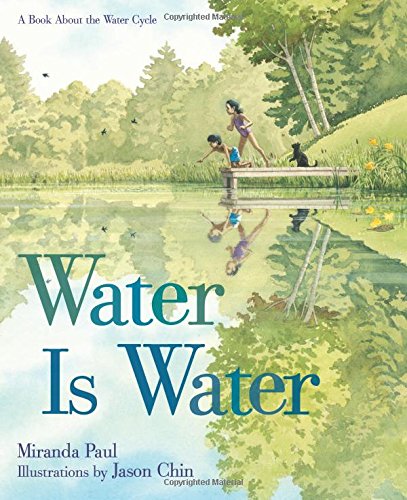 In Morning with Grandpa you can follow along with Mei Mei as she learns tai chi with her grandfather. This is a cheerful book that features a sweet, inter-generational relationship. I love that the story isn't bogged down with the exact specifics and instructions for tai chi, but it is included in the back, at the end of the story.
Kelli Panique is the coordinator for 12 x 12 Picture Book Challenge, Institute for Children's Literature, and Picture Book Summit.
Kristin Ammerman (that's me) Recommendations:
Last Stop on Market Street by Matt de la Peña (author) and Christian Robinson (Illustrator)
&
We're Different, We're the Same (Sesame Street) by Bobbi Kates and Joe Mathieu (illustrator)
Last Stop on Market Street is at the top of everyone's children's literature list this year. Period. Last Stop took home the Newbery Award. The Newbery! This award typically goes to a chapter book or middle grade reader, but this year, the award went to a picture book. Arguably the first time ever! This picture book is as much about socioeconomic class differences as race. This story is about a little boy who's grandmother teaches him to see the beauty all around them. When the little boy compares himself to others, she helps him focus on the more important things in life. I expected this book to sing, but what I didn't expect was for it to choke me up. This book is beautiful – the words and the illustrations.
I love We're Different, We're the Same (Sesame Street) because it's so matter of fact. Everyone has a mouth. All mouths look different. But all mouths can be used for smiling or talking. The story is told from a place that it's fine and good that people look different. It also points out that underneath how people appear, everyone's body functions the same: desire to use their eyes to see, their noses to smell and skin to touch. 
Kristin Ammerman is the literary contributor for HowDoesShe.com and project manager for Picture Book Summit. 
Laura Backes Bard Recommendations:
Grace for President by Kelly DiPucchio (author) and LeUyen Pham (illustrator)
&
This Is Our House by Hyewon Yum
How cool is it that Grace for President showcases an African American girl who wants to be president, and teaches kids about the electoral college? With election season, this seems like the perfect picture book. I like how Grace, the main character, thinks it will be easy to win Class President; this will pave the way for her to be President of the United States. Soon she realizes it won't be so simple. Instead of giving up, she gets to work. It goes without saying that the the author opted to make this story a bit of a girls vs. boys book and Grace goes up against a Caucasian boy (which, to be fair, doesn't this represent most of our presidents?). 
Note: The author cleverly gave the deciding vote to Wyoming, where the first woman was elected to the House. Although, the swing vote could've also been given to Utah in honor of electing the first woman to the Senate! Just sayin'!
This Is Our House opens with a young couple who have moved to the city from a far away land. The story goes on to tell about their children and grandchildren. The focus of the story on their granddaughter, and the way she views their family. The granddaughter, her parents, grandparents and cat all live in the same house. This story of a muli-generational house and family is not a loud, exciting book with twists and turns, but rather a gentle, touching book. This book brushes on immigration and interracial marriage in a sweet and accepting way.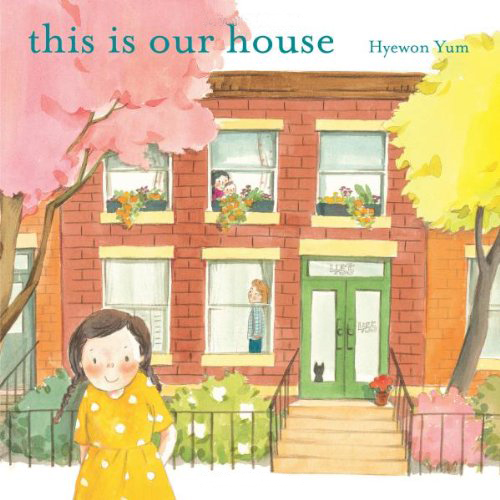 Laura Backes Bard is the co-owner and developer of Writing Blueprints, and co-founder of Picture Book Summit.
Bringing Home Diverse Picture Books:
At the end of the day, changing the world to be a more positive, inclusive place starts with us. It starts with something as simple as bringing home books that feature a diverse cast of characters. Having your children walk in other's shoes builds their empathy and love toward their fellow man.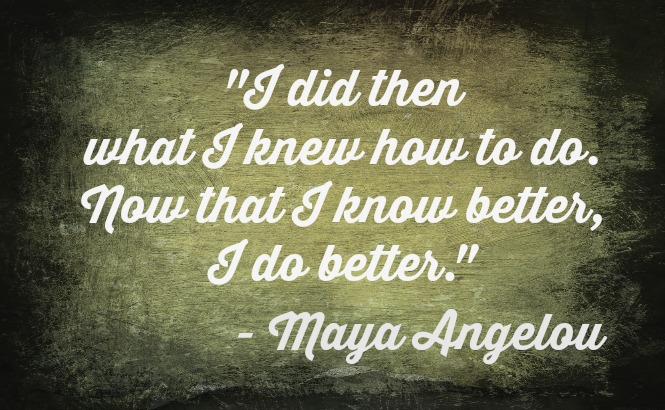 What are your favorite culturally diverse picture books? We'd love to have you share them below!
Disclosure: This post may contain affiliate links. This means, we may receive a small commission if you choose to purchase something from a link we post. Don't worry, it won't cost you anything. This small percentage just helps us keep the power on and the Diet Coke stocked. We appreciate your support!
It's no secret that we LOVE reading around here! It's a vital part of cultivating a good life, isn't it? Here is even more reading inspiration to get the inner avid reader going:
The Best Picture Books You Didn't Hear About in 2015 (But Should Have)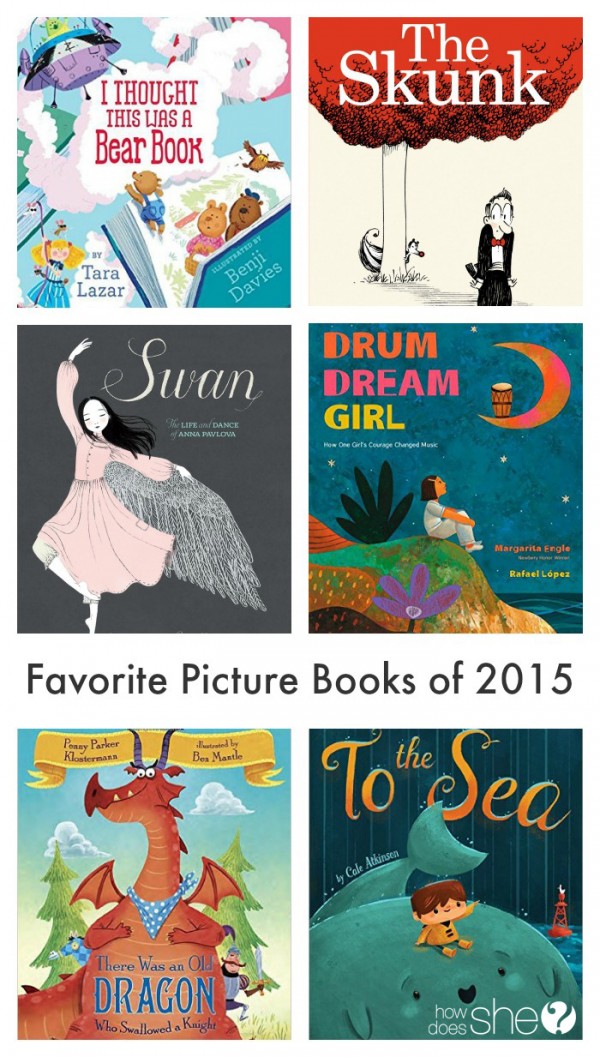 Our Favorite Thanksgiving Books to Help Teach Your Children More About Being Thankful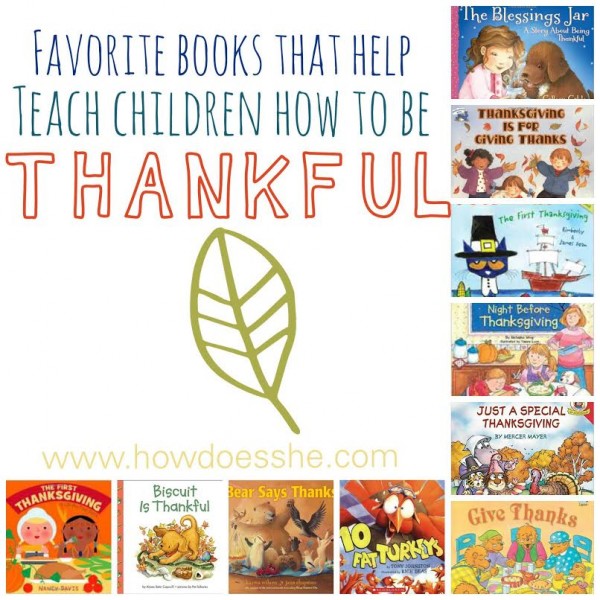 A Quest for Knowledge- Fun At the Library!