This post is one of our Pinterest fans FAVORITES so we thought we'd repost it in case you missed it the first time! What ? You are not following us on Pinterest? Come see why over 350,ooo other people are!…click here, and join us!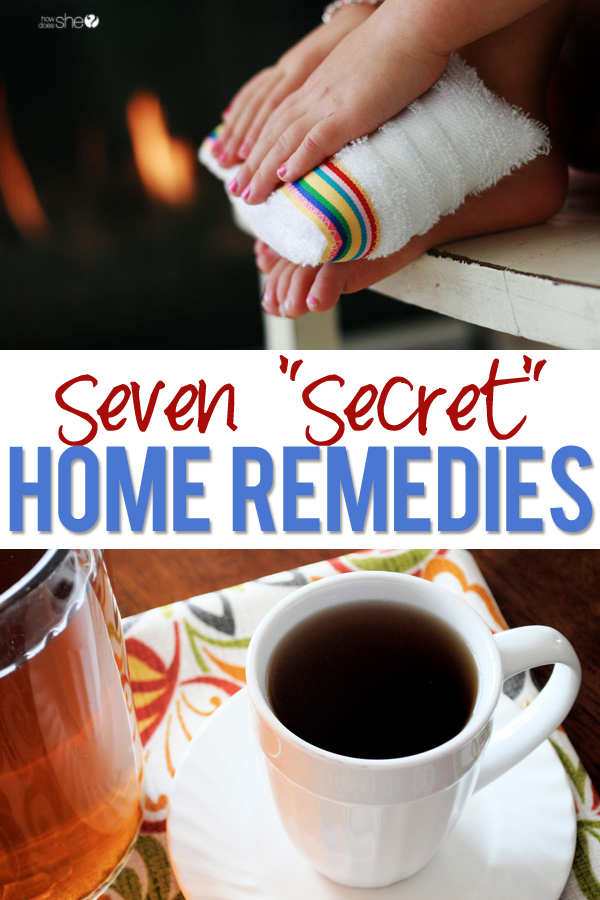 7 Natural Home Remedies
7 Natural Home Remedies to try when your kids are out of sorts.
Now by "out of sorts," I mean sick, not just crabby!
#1. Diarrhea
I swear by the B.R.A.T. diet.
It stands for-
Bananas
Rice
Applesauce
&
Toast
( The toast needs to be white, and my kids usually don't want it toasted. I still say toast, if I didn't, the acronym would be B.R.A.B.!
Then you would have to say you have your kid on the "BRAB" diet, and where is the fun in that?)
#2. Constipation
If you can get your kid to eat it, BLACK LICORICE will cure their constipation nine times out of ten!
I'm not kidding. I swear it works better than anything out there!
#3. Burns
Did you know that the baking soda volcano every kid wants to make for their science project is actually useful?
The chemical reaction between baking soda and vinegar creates a cooling effect that will soothe your child's minor burns.
It works great if they touch hot pans. Just pour equal amounts of the ingredients into a bowl to bathe your child's hand till the burning stops.
You can keep adding each ingredient intermittently to activate the bubbles.
#4. Ear infections
These are being treated less and less these days with antibiotics, but that doesn't mean they aren't painful.
I like to use a hot pack big enough so they can lay their head down to relieve the "ache"!
I can't get over how cute they are!
Now how am I going to go back to my washcloth hot pack without seething with jealousy?
#5. Headache
Before I go for the drugs, I like to try these three things-
I do this one a lot. It really works!
#6. Teething
I hate it, don't you?
I remember when my wisdom teeth started coming through and let me just say, Ouch!
For your little ones, just take a wash cloth,
wet the center with a little water,
roll it up,
then freeze it.
Babies love this b/c it's sweet, chewy, and cold so it numbs their gums!
We actually use all sorts of frozen things for Henry.
As you can see, frozen blueberries are not the best idea if you plan on taking your kid somewhere in the next…
oh I'd say, two DAYS or so!
It takes f-o-r-e-v-e-r
to get the stains off!
#7. Sore Throat
Looking for a few more ideas?