Decorate for Spring on a Budget
.  Decorate for spring on a budgetSpring is finally here!  Here are some great ways to bring Spring to your house!  Take a look around then get ready to decorate!
1. I love how simplistic these mason jar vases look.  They add a splash of color!
2. This vase is gorgeous!  You won't believe where you can get your own…and it's very affordable!
3. This has to be one of the most unique door wreaths I have ever seen, and I love it!!
4. Grow some grass indoors…it will add a punch of green!  And who can resist touching it?!
5. How cute are these upcycled boots?!  I would never have thought of putting flowers in them!
6. Does anything say SPRING like tulips?  Grow them indoors!
8. Want some eggs to use as decor but don't want to spend the money on faux eggs?  You won't believe how easy it is to make your own!
9. This wreath would look amazing on the front door!
10. This looks so classy!  You will never guess where most of this was bought!
11. For a different look other than a wreath…how about fresh flowers on your door?!
12.  How awesome is this flower pot chandelier?  I'm going to have to find me an old one to do this for my deck!
14.  Add new life to your old flower pots!
15. I love this floral wreath!  It would add so much color to an entry way!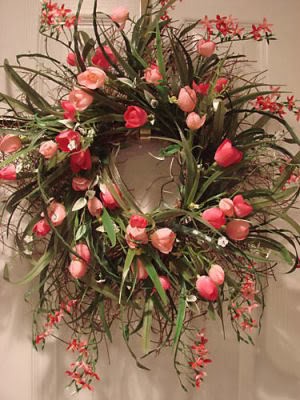 16.  How fun is this sign to put up outdoors?  It will put a smile on someone's face!
18. This sign would look perfect by my front door.  My kids would love it!
19. I love these fun blocks!  They are so simple to make and add so much to a table or shelf!
20. Pillows are a perfect way to add some bright colors to your couch or chair to brighten up your room.
22. These spring flowers are just perfect for a coffee table!
23.  This spring wreath is simple to make and would add a statement to your front door.
25. I love all of the spring flowers!  I would love to have a planter like this on my porch!
26. I am obsessed with this jelly bean tree!
27.  I love how simple this wall art is…and the printables are free!
28. This piece of button art would be so fun to make!  There are so many possibilities!
29. This would add a pop of color to your mantel!  Love Peter Cottontail!
30. This bunny banner is the icing on the cake for me!  I love it!
Now it's time to add some bright colors and flowers!